Posted 15th Nov 2020
"A real blend of youth, experience and players steeped in the culture of this club" – Anna Stembridge excited by 2021 Blue & Gold Superleague squad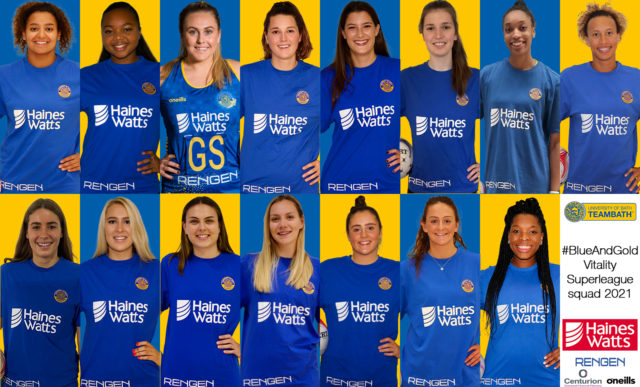 Anna Stembridge says she is excited to see how her star-studded Team Bath Netball squad "rise to the challenge" as they go in search of a sixth Vitality Superleague title in 2021.
Returning England stars Serena Guthrie and Layla Guscoth join fellow Vitality Roses duo Imogen Allison and Sophie Drakeford-Lewis in the Blue & Gold squad, while Commonwealth champion Eboni Usoro-Brown is back just weeks after giving birth to daughter Savannah.
Aussie shooter Kim Commane and England defender Summer Artman, last season's captain and vice-captain respectively, have also recommitted to Team Bath along with fan favourite Rachel Shaw and exciting young talents Betsy Creak, Tash Pavelin, Hannah Passmore and Abi Robson.
Completing the line-up are England Futures player Jess Shaw and former Roses U19 captain Chartie Curtis, both of whom are returning to the Haines Watts-sponsored Blue & Gold for the 2021 campaign, and Kirsty Harris, who has progressed through Team Bath's youth ranks.
Stembridge, Team Bath Netball's Superleague Head Coach, said: "I'm really excited about the squad we have put together this year, it is a real blend of youth, experience and players who are steeped in the culture of this club.
"We've retained the majority of the squad that started last season so brilliantly and strengthened it by bringing back proven world-class players like Serena and Layla, and hungry, ambitious talents in Jess and Chartie.
"All have previous Superleague experience in the Blue & Gold apart from Kirsty but she has been with the club since she was 15 and was a training associate with us last season, so there are existing combinations to build on and partnerships that will continue to develop and mature. They know how we want to play, what the values of this club are and everyone is fully invested in what we are trying to achieve.
"To win a championship this year, perhaps more than any other year, is going to require a full squad effort and I am excited to see how this group rises to the challenge."
For full articles on each of the 15 players named in Team Bath's 2021 Superleague squad, click on the names below:
Team Bath Netball is supported by its Principal Partner, chartered accountants Haines Watts, who are also a pathway partner, and by Rengen Developments and Centurion Chartered Financial Planners. O'Neills are Team Bath's official kit supplier.