Posted 13th Nov 2020
England Futures star Jess Shaw ready to thrive on competition for places after rejoining Blue & Gold for 2021 Superleague season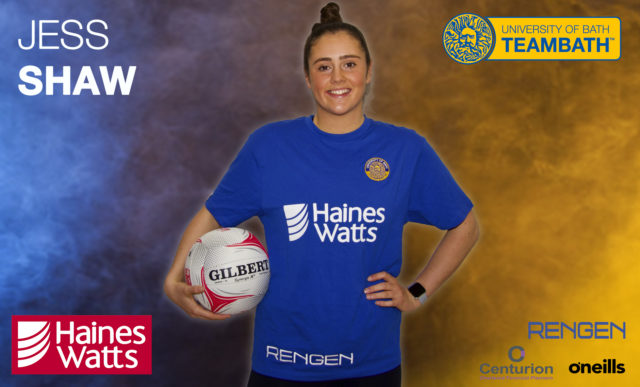 England Futures player Jess Shaw says she is returning to Team Bath Netball as "a more confident player" and looking forward to renewing long-standing partnerships on and off court after signing up for the 2021 Vitality Superleague season.
Shaw, who plays at wing-attack or centre, spent the 2017 and 2018 seasons with the Blue & Gold before gaining more valuable top-flight experience during the past couple of years with Loughborough Lightning.
The younger sister of fellow Team Bath player Rachel, Shaw is also part of the England Roses Futures programme and won U21 Netball World Cup bronze in 2017 alongside Summer Artman, Imogen Allison and Sophie Drakeford-Lewis – players she is excited to be renewing on-court partnerships with in the new season.
"It's really good to be back down here in this environment, the girls have made me feel so welcome again," she said. "Getting that game-time at Loughborough has made me feel a lot more confident and I can't wait to get on court with the Bath girls and see where we can go.
"When I was here last time we got to the semi-finals but I feel with the squad we have this year we can take the title. The coaches for me are among the best in the Superleague, so that was definitely a selling point to come back and be coached by Anna Stembridge as I have masses of respect for her.
"Obviously there is a lot of competition in the mid-court with the likes of Serena Guthrie but I think that is only going to improve my game and push me to be better. I can learn a lot from Serena and Rach, and by coming up against Imo week in, week out in training.
"Imo is from Yorkshire as well, so we've actually been playing together since we were quite young. Summer, Soph, Imo and I were all in the England U21 squad together, so we've all been around each other for quite a while and have good relationships on and off the court.
"I've also been training with Serena, Imo and Soph on the England programme this year, which is great because we've been able to work on combinations in the England environment which we'll be able to bring back to Bath.
"I'm really excited to get stuck in and see where I am at the end of the season. Obviously I would like a starting position which is going to take a lot of hard work but I'm looking forward to that challenge."
Anna Stembridge, Team Bath Netball's Superleague Head Coach, said: "I'm delighted that Jess is coming back to us at Team Bath, she has really matured as an athlete and offers us something different in mid-court. She is a naturally gifted player with great vision and her touch and placement of the ball is up there with the best in the Superleague.
"It will be great to see her renewing the partnership she developed with Sophie Drakeford-Lewis, both at Team Bath and England U21 level, and developing new ones. She has also been training alongside and learning from Serena Guthrie in the England squad, and will now do the same at club level too."
Team Bath Netball is supported by its Principal Partner, chartered accountants Haines Watts, who are also a pathway partner, and by Rengen Developments and Centurion Chartered Financial Planners. O'Neills are Team Bath's official kit supplier.