Posted 13th Nov 2020
New mum Eboni Usoro-Brown back in training and eager to challenge for another title during 11th Superleague season in Blue & Gold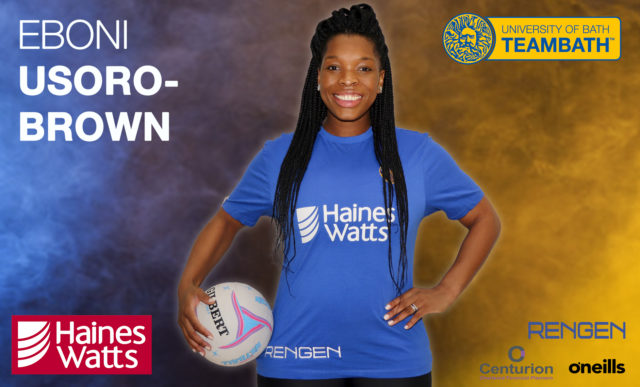 Just weeks after becoming a mother for the first time, England legend Eboni Usoro-Brown has recommitted to Team Bath Netball for the 2021 Vitality Superleague season.
The Commonwealth champion and three-time World Cup medallist gave birth to daughter Savannah in August but has already begun a training programme as she targets a return to the court with the Blue & Gold in the new year.
"I'm looking forward to getting back on the court and having Savannah in the crowd, cheering me along with her gurgles," said Usoro-Brown, who is ready for her 11th season in Team Bath's famous colours.
"I'm absolutely loving motherhood, Savannah is an absolute delight although the early mornings are definitely taking some getting used to! It's been such a joy welcoming her into the world and sharing this occasion with my family, friends and the netball community. My social media has been inundated with well wishes and congratulations which I really appreciate, especially from the Team Bath family so thank you very much.
"Team Bath have been absolutely fantastic throughout. When I announced my pregnancy back in February, Anna [Stembridge] was so supportive and the team were so supportive. They gave me a strength and conditioning programme to follow while I was pregnant. That obviously changed a little when we went into lockdown but in terms of staying active and keeping as strong as possible, I definitely managed to do that.
"Team Bath have also put me in touch with a pelvic floor consultant, Emma Brockwell, and again she will be assisting in guiding and planning my return to netball in the safest way possible. Hopefully my transition back to court will be smooth but also respecting the fact that it is going to take me a little while to get back into shape."
Usoro-Brown hopes her experiences will act as an inspiration to other female athletes who may have previously seen starting a family and playing their sport at an elite level as an either-or choice.
"It's such an important message, that just because you have had a child doesn't mean you can't go back to elite sport," she said. "We have some great role models in people like Serena Williams and Jessica Ennis-Hill.
"You have to respect the journey it is going to take to get back to that level – your body has gone through a major event and it is going to take time to heal – but as long as you have a positive mindset and attitude, the right help and support around you, and you listen to your body there is no reason why you can't step back onto that court or return to any sport you loved."
Usoro-Brown watched from the sidelines for the only three games played by Team Bath during the curtailed 2020 season but was excited by the performances and the squad that is being put together for the new campaign, scheduled to start in February.
"The start of the 2020 season was absolutely phenomenal for Team Bath and really showed how the squad had matured," said the four-time Superleague winner. "It's such a shame that the season got cut short but I'm really excited to see where we build from here.
"Having a player like Serena Guthrie back on board is really going to strengthen the mid-court, there is a good mix of youth and experience in the squad and I really do think this could be a championship-winning team."
Anna Stembridge, Team Bath Netball's Superleague Head Coach, said: "We all know that Eboni is such a fierce competitor and inspirational leader but becoming a mother is such a significant milestone in life and I think it will make her grow as a person.
"It is hugely inspirational that we have more women coming back to netball after giving birth. New Zealand's Ameliaranne Ekenasio, for example, has a two-year-old boy and her form since becoming a mother is better than ever. She talks a lot about family and the sense of calmness that returning to your child after a tough game brings. I genuinely feel that Ebs will be a better player for being a mum.
"I feel proud that Eboni is trusting us to support her on this journey. We supported Asha Francis when she came back to netball after becoming a mother and we learnt a lot from that but everyone's experience is unique. We are working with experts in post-partum fitness, as well as physios and strength and conditioning coaches with a wealth of knowledge in helping athletes return to sport.
"Netball is an extremely demanding sport and it is important that we get this right. It is going to be hard work but both [Team Bath Netball Head Coach] Jo Vann and I have young families too and know what Eboni will be experiencing."
Team Bath Netball is supported by its Principal Partner, chartered accountants Haines Watts, who are also a pathway partner, and by Rengen Developments and Centurion Chartered Financial Planners. O'Neills are Team Bath's official kit supplier.