Posted 12th Nov 2020
Sophie Drakeford-Lewis, "the now and the future" of England netball, signs up for fourth Superleague season with Blue & Gold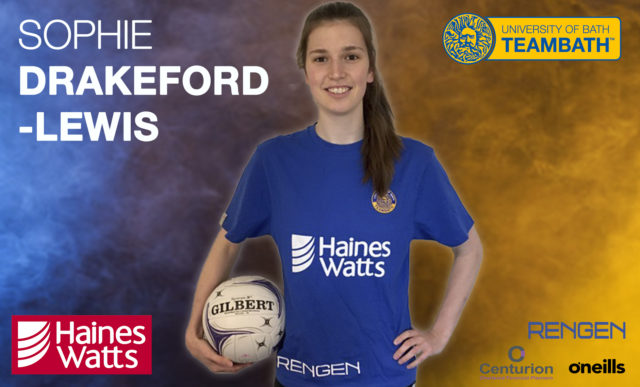 She is described as "the now and the future" of England netball and Sophie Drakeford-Lewis will be back in Team Bath's famous Blue & Gold colours for the 2021 Vitality Superleague season.
Still only 21 years old, the hugely-talented goal-attack is currently on tour with the Vitality Roses in New Zealand, gaining more international experience against the reigning World Champions, before returning to prepare for her fourth season combining top-class study and sport at the University of Bath.
"I can't wait to get back training with the girls and preparing for the 2021 season, the squad is looking great and it's really exciting," said Drakeford-Lewis, who was voted as the Superleague's Young Player of the Year by her peers in 2019.
"I've been back in the England programme since mid-July and only met up with the Bath girls again recently but we've stayed really connected as a squad and had multiple Zoom calls.
"I love the environment at Team Bath, it's such a family and everyone is really nice but they train really hard and are constantly pushing you. The set-up, the coaches and support staff are all incredible.
"The squad this year has a real breadth of experience and youth, and it just makes it a really inspiring environment to train in. Everyone brings something a bit different. It's really exciting to have someone like [England co-captain] Serena Guthrie back in the squad with her leadership and skills.
"It was really disappointing that last season got cut short but we definitely learnt a lot as a group and hopefully we will build on that in 2021, picking up from where we left off as we were on such a high."
Drakeford-Lewis – who studies Integrated Mechanical & Electrical Engineering and is supported by a Bill Whiteley Sports Scholarship – has been a standout performer for Team Bath since first joining for the 2018 season, earning plaudits for her relentless workrate, slick link-up play and unerring shooting accuracy.
That form has led to Drakeford-Lewis being selected for the Vitality Roses' senior squad for the past two seasons and Anna Stembridge, Team Bath Netball Superleague Head Coach, believes she will be an international force for many years to come.
"What's exciting about a player like Sophie is she is both the now and the future of netball," said Stembridge. "She just gets better and better season after season, and her game is going to go to a whole new level as she keeps developing and learning.
"We know she is a hugely talented and intelligent player but she is also a tireless worker and sets such high standards for herself in games and training. As a coach, Sophie is the kind of player you absolutely love to have in your squad as she is always striving for excellence in every aspect of her game."
Team Bath Netball is supported by its Principal Partner, chartered accountants Haines Watts, who are also a pathway partner, and by Rengen Developments and Centurion Chartered Financial Planners. O'Neills are Team Bath's official kit supplier.