Posted 13th Nov 2020
Hannah Passmore excited to start a "new chapter" as student-athlete during third Vitality Netball Superleague season with Blue & Gold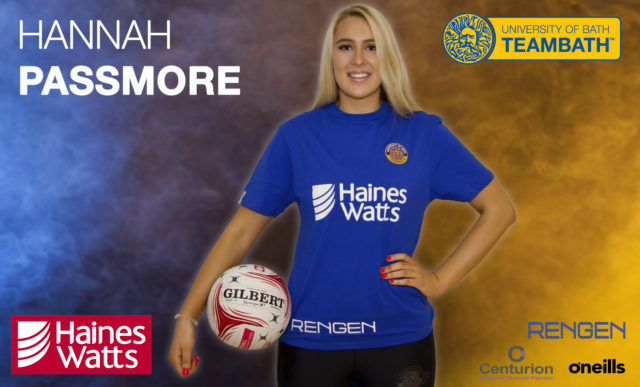 Hannah Passmore says she is excited to write "a whole new chapter" in her life after becoming the latest Team Bath Netball player to combine sport with a top-class education at the University of Bath.
The 19-year-old goal-shooter – who has recommitted to the Blue & Gold for the 2021 Vitality Superleague season – has just started a Criminology degree at the University, whose £35million Sports Training Village (STV) is home to the Blue & Gold.
"I'm in halls of residence about five minutes' walk from the STV, so that's very useful being able to just roll out of bed and come to the gym," said Passmore, who is supported by a Buchan Jones Sporting Scholarship. "I can focus on my studies, focus on my training and not have the pressure of travel in between.
"I'm able to access the facilities full-time and I think that will really benefit me this year. It's a whole new chapter of my life and it's something I'm really excited for, academically and in sport."
She may not turn 20 until December but Passmore is preparing for a third season with Team Bath's Superleague squad having developed through the club's age-group ranks.
"Personally I want to get out on court, play the best I can, have my stats the highest they can be and just always give 100 per cent whether I'm on court, in the gym or training," said Passmore, who was co-captain of Team Bath's U21s last season and is looking forward to representing the University of Bath in BUCS [British Universities & Colleges Sport] competition in 2021.
"We have a good mix in the Superleague squad, a lot of youth and a lot of experience. In training you can see the skills that the experienced players bring and we pick that up. They realise that we're young, we're learning and they want to help you develop, and I think that creates such a great atmosphere.
"That's one of the things I love about Bath. I love attending training because it's never going to be an easy session, there are always going to be people who know more than you and it's making sure you are in line with them. We have different options for different scenarios, and I feel we have covered all the bases with the squad this year."
Anna Stembridge, Team Bath Netball's Superleague Head Coach, added: "It is a great opportunity for Hannah this year as she strives for excellence both academically and in her sport. She seems to take everything in her stride and not much phases her.
"On court she is a calm and considered athlete, which is a real asset for a shooter. We saw that at Fast5 last year – it was Hannah's first experience of playing in front of such a big crowd but she didn't look nervous at all.
"She is another talented young player who has come through our age groups and really understands the values, behaviour and culture of the club. Being part of the BUCS programme this year as well will help Hannah continue to go from strength to strength."
Team Bath Netball is supported by its Principal Partner, chartered accountants Haines Watts, who are also a pathway partner, and by Rengen Developments and Centurion Chartered Financial Planners. O'Neills are Team Bath's official kit supplier.