Posted 13th Nov 2020
From U17s to the Superleague – talented wing-attack Kirsty Harris becomes latest Blue & Gold pathway player to progress to top-flight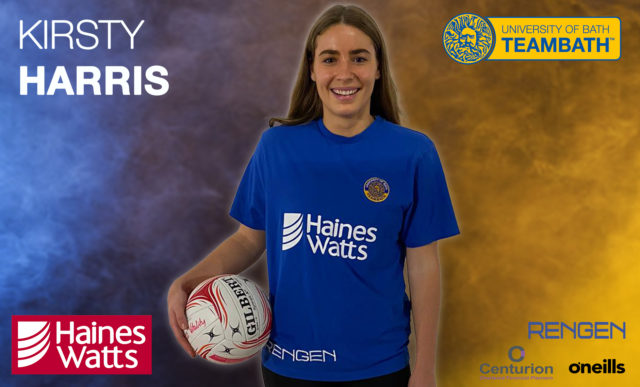 Kirsty Harris has become the latest talented player to progress through the Team Bath Netball youth ranks and into the Superleague squad after being selected for the 2021 season.
The 21-year-old wing attack, from Swindon, first joined Team Bath's prolific Academy pathway programme in 2015 and has worn their famous colours at U17, U19 and U21 level, as well as represent the University of Bath in BUCS [British Universities & Colleges Sport] competition while studying Sports Performance.
She was a training associate with the Superleague squad during the 2020 season and is now making the next step up for the forthcoming campaign.
"I am very happy and very excited to be given this opportunity, it's going to be amazing," said Harris, who will be a familiar face to many young netballers in the South West region after leading coaching camps with both Team Bath Netball and Team Bath Tribe.
"I intend to enjoy every moment and can't wait to learn from some of the best players in the country."
Among her squad mates is Rachel Shaw, who also plays wing attack and is coach of the University's BUCS team that Harris represented for three years before graduating this summer.
"It has been really helpful to be coached by Rachel and then watch how she applies that to her own performances on court," said Harris, who has recently started work as an assistant PE teacher at St Helen & St Katharine School in Abingdon, Oxfordshire.
"I also played alongside Imogen Allison, Sophie Drakeford-Lewis, Chartie Curtis and Tash Pavelin in the BUCS team, all of whom are in the Superleague squad, so it's good to have built those friendships and on-court links too."
Anna Stembridge, Team Bath Netball Superleague Head Coach, said: "Kirsty really impressed me last year, not only as a training associate but she truly held her own when she matched up against some of the best.
"She was outstanding in our practice game against Jamaica in January, for example, really showing what a talent she is and how much more growth she has."
Team Bath Netball is supported by its Principal Partner, chartered accountants Haines Watts, who are also a pathway partner, and by Rengen Developments and Centurion Chartered Financial Planners. O'Neills are Team Bath's official kit supplier.