Posted 12th Nov 2020
Rachel Shaw targeting elusive Grand Final appearance after committing to Blue & Gold for ninth Superleague season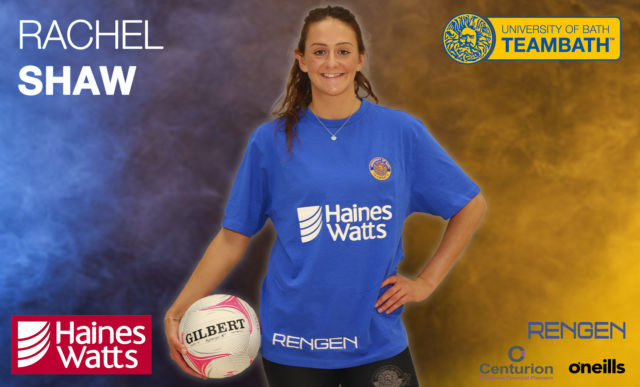 She helped to keep the netball community active and engaged during lockdown, now Rachel Shaw is looking forward to getting back on court after committing to Team Bath Netball for a ninth Vitality Superleague season.
The effervescent England-capped wing-attack streamed weekly online training sessions from her front room during the spring and early summer, which proved to be hugely popular and were enjoyed by thousands of netballers and clubs from across the country and overseas.
Shaw is continuing her coaching remit at Team Bath this season, heading up the high-performance programme at the University of Bath and leading individual and group training sessions, but she remains an integral part of the Superleague set-up and is determined to finally reach a Grand Final after falling narrowly short in eight of her nine seasons with the club.
"It's always a pleasure to play in the Blue & Gold and an honour to be out on court," she said. "There is still a job to do, it's just another season for me and another season to try and get into that Superleague final.
"Here at Team Bath we try to build year on year and I'm really excited by the squad we have put together. We can work on existing combinations – it helps with the game flow when you have played with people for years – but we've also got some new players coming in which will definitely push the players already here to be better.
"We were only able to play three games last season but we showed a lot of people what we are capable of and how to win under different pressures. It showed the resilience we have as a squad and we are definitely going to take all of that through to this season. With the players we are adding, I think we'll be able to push on even further so I'm really excited to get going."
Shaw enjoyed her time as a virtual netball coach during the first UK lockdown but is grateful to be edging back towards some sort of normality as the 2021 season build-up begins.
"We had a lot of positive feedback from those live sessions and it got the girls up and going," she said. "It was a bit weird being in front of a camera at first. As most people will remember, I was kind of having conversations with myself – asking how the viewers were and then remembering they couldn't talk back!
"I definitely think it worked, though. It was really hard during lockdown to get that motivation to push yourself and I think it was great to get the netball community active during those hard times.
"It's been a very strange year. We have been training on our own for much of it since March, which is really weird in a team sport to be training solo for so long. It's been great to see some of the girls back in the bubble training we've been doing. They've come back in good shape, so we did what we needed to do as coaches. I'm just really excited to start the season now, just being back with the girls and doing what we do best."
Anna Stembridge, Team Bath Netball Superleague Head Coach, said: "Rachel is an integral part of our playing squad, a real asset. She is the lynchpin in our attack and brings tremendous speed, athleticism and skill to our game. I call her a Duracell bunny because she is always so full of energy and bounce, on and off the court.
"Where I feel Rachel has really developed in recent seasons is her game sense. She formed a formidable partnership with Serena Guthrie during the 2019 season and it will be good to see that combination back on court next season."
Team Bath Netball is supported by its Principal Partner, chartered accountants Haines Watts, who are also a pathway partner, and by Rengen Developments and Centurion Chartered Financial Planners. O'Neills are Team Bath's official kit supplier.