Posted 13th Nov 2020
"We definitely have unfinished business" – Summer Artman ready to attack 2021 Vitality Superleague season with Blue & Gold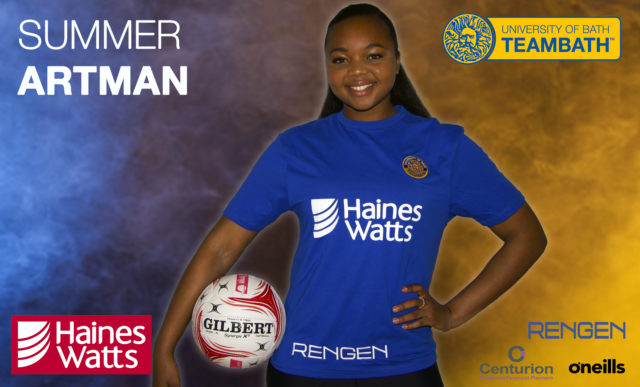 Summer Artman says that she and Team Bath Netball have "unfinished business" in the Vitality Superleague after recommitting to the Blue & Gold for the 2021 season.
The dynamic defender, who has represented England at every age group, was vice-captain during a 2020 campaign that saw Team Bath get off to a storming start, winning all three games in fine style, before being curtailed by the Coronavirus pandemic.
"I'm so excited to be back with Team Bath for another year and we definitely have unfinished business from last season," said Artman.
"I can't wait to get out on court with this team and step it up again, we are just going to attack this season and put our best foot forward each and every game. Who knows what is going to happen but whatever comes our way we will be ready."
Artman came through the Team Bath Talent Development Centre to make her Superleague debut in 2014 before returning to the club two years ago after studying Psychology at Brunel University.
"What's amazing about Team Bath is we really do have a culture of family and supporting one another," said Artman, who is currently remotely studying for a Masters degree in Cultural & Global Mental Health at Queen Mary University of London and doing assistant psychology work with pupils at Aspire Academy in Bath.
"That environment meant we were actually really well prepared when we went into lockdown and, for someone like myself who was shielding, I had such an amazing support network both from my family and my Team Bath family. We were texting each other and checking in, making sure all was OK. We weren't always OK, so it was great to have that support system and someone to lean on, have a joke with.
"I just feel like Team Bath really push you to be the best athlete you can be, both on and off the court, and that is what keeps players coming back. We have a really good retention rate over the past few years and for me, it is definitely because we want to be the best players and best people we can be."
Anna Stembridge, Team Bath Netball Superleague Head Coach, said: "People forget how young Summer is because she has been playing to such a high standard in the Superleague for so long and has been capped for England across all age groups. She is only 23 but brings a huge amount of knowledge and experience.
"She is a really thoughtful athlete too, always asking considered questions and seeking areas of improvement, and brings a wonderful dynamic to the squad with her unassuming nature. That is what I love about this squad we are putting together, they are very different characters but they all get along well and all add to the mix."
Team Bath Netball is supported by its Principal Partner, chartered accountants Haines Watts, who are also a pathway partner, and by Rengen Developments and Centurion Chartered Financial Planners. O'Neills are Team Bath's official kit supplier.