Posted 12th Nov 2020
"I'm feeling refreshed and ready to come back" – England superstar Serena Guthrie returns to Team Bath Netball for 2021 Superleague season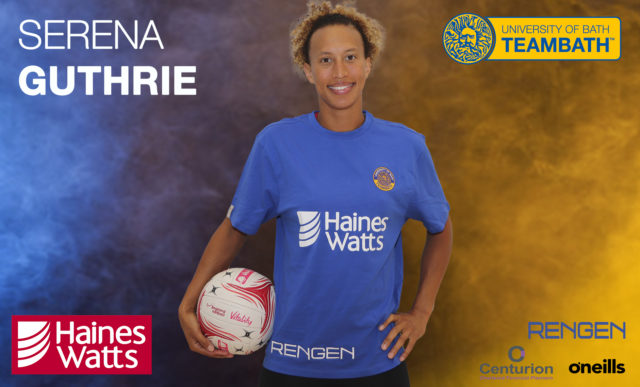 She's refreshed, recharged and raring to go – England superstar Serena Guthrie is back with Team Bath Netball for the 2021 Vitality Superleague season.
The mid-court maestro today made her first competitive outing since July 2019, when she captained England to victory in the bronze-medal match against South Africa at the Netball World Cup in Liverpool, as she led the Roses in their first international match against World Champions New Zealand.
She took time out from the game last season, her first proper break since emerging onto the netball scene as a teenager with Team Bath in 2005, but is today confirmed as the first member of the Blue & Gold Superleague squad for the new campaign.
"I'm looking forward to coming back into the squad, a revamped competition and getting back on court with my team-mates," said Guthrie, who is widely regarded as one of the world's finest mid-court players.
"I didn't quite manage to get all the boxes ticked during my time away. I was intending to get married this year but we've had to postpone that because of Covid-19. However, in terms of having a break and exploring other personal development opportunities, I have had a really nice time away from the game – not just physically but more importantly mentally too, so I'm feeling refreshed and ready to come back."
Guthrie remained fully involved with Team Bath during her break, acting as an ambassador for the Blue & Gold, and is excited to be coming back into a playing environment that showed plenty of potential during the curtailed 2020 Superleague season.
"It was awesome to watch and support them from the sidelines last season, it was a relaxed and happy group and they looked really refreshed," said Guthrie, who is co-captain of the England Roses squad on their current three-match tour of New Zealand.
"We didn't get to see that team fulfil its potential, which was unfortunate as I really felt they had put a stake in the ground in those first few games, but I hope we can continue from that. While it will be a slightly differently group, I think the foundations that have been set will really help us push forward into the new season."
Commonwealth Champion Guthrie had no hesitation in recommitting her future to Team Bath, the club where she developed her outstanding talents as a teenager and won three Superleague titles before returning in 2019 after a hugely-successful four-year spell playing professionally in Australia and New Zealand.
"I'm Team Bath through and through, this is where I started my journey when I was 13 and first stepped through the double doors of the Sports Training Village," she said.
"I am passionate about wanting to contribute and give back as Team Bath has given me a lot. I'm just hoping I can add as much value to Team Bath as Team Bath did to me back at the beginning.
"You come to a point in your career where it's not just about you any more, it's about the journey you have been on and the people you have seen and have influenced you. That was quite an inspirational factor in wanting to come back here and be a part of it. It is a great franchise and it can be even better if we keep pushing and striving to be the best we can be."
Anna Stembridge, Team Bath Netball Superleague Head Coach, said: "We are obviously delighted that Serena is returning to the game and to us at Team Bath. You cannot take for granted the impact she has on and off the court.
"She has a real aura, is both a true leader and a team-first player, is fiercely competitive and contributes so much to the culture of the club with her fun, energy, enthusiasm and determination to get the best out of herself and the people around her."
The 2021 Vitality Superleague season is scheduled to begin in February and Team Bath will be announcing their full 15-player squad over the next couple of days. Visit netball.teambath.com to find out more.
Team Bath Netball is supported by its Principal Partner, chartered accountants Haines Watts, who are also a pathway partner, and by Rengen Developments and Centurion Chartered Financial Planners. O'Neills are Team Bath's official kit supplier.