Posted 12th Nov 2020
Welsh shooter Betsy Creak hungry for more top-flight experience as she signs for second Vitality Superleague season with Blue & Gold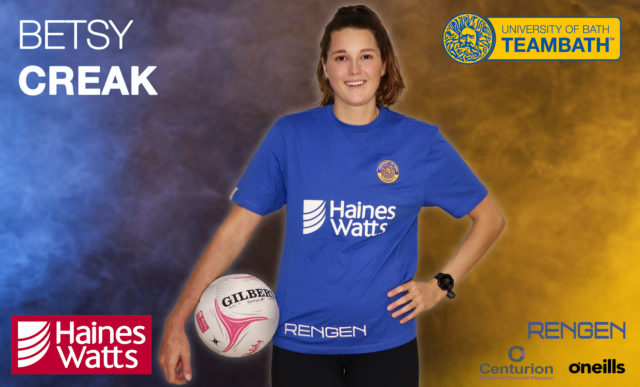 After a fleeting but eye-catching start to her Vitality Superleague career, Welsh shooter Betsy Creak is ambitious to further establish her top-flight credentials after recommitting to Team Bath Netball for the 2021 season.
The 24-year-old came off the bench twice for the Blue & Gold during the curtailed 2020 campaign and impressed both times, looking cool and composed in front of nearly 10,000 spectators on her debut against Loughborough Lightning before converting 100 per cent of her shots against Celtic Dragons.
That was the first experience of Superleague netball for Creak, who had previously played student and club netball in Bristol before successfully trialling for Wales in the summer of 2019 and catching the eye of Team Bath Head Superleague Coach Anna Stembridge in internationals against South Africa and Northern Ireland.
"To be honest, I was so nervous I don't really remember much of my Superleague debut," said Creak. "I remember enjoying it and coming off court feeling good, then feeling like 'I want more of this'.
"I'm nail-bitingly excited to be playing for Team Bath again. I've seen a few of the girls but we've not all been together in person for such a long time. We are a family here at Bath, so it's been a bit weird not seeing everyone and I'm looking forward to being back together."
Creak said it took her a while to adjust from club netball to the intensity of Superleague training but her experiences last season had made her appreciate the sport even more.
"People play netball because they love the sport and that amplified for me when I came to Team Bath," she said.
"I love netball even more after last season and I want to go to training or a game and give even more effort than I did the week before. There is a want and desire here to better yourself with every session and you have players around you who provide inspiration and guidance.
"Going into next season, I want to focus on my core skills – ball skills, maintaining my shooting accuracy, getting in the gym and becoming stronger – and doing the basics really well, which will hopefully reflect on court."
Stembridge added: "What we saw from Betsy last season was a really promising, raw talent and that's what is so exciting about her. She offers us something different in the shooting circle – she's tall and very strong but also has great agility and footwork.
"I think she has potential as both a goal-shooter and goal-attack, and I am looking forward to helping her develop in both positions."
Team Bath Netball is supported by its Principal Partner, chartered accountants Haines Watts, who are also a pathway partner, and by Rengen Developments and Centurion Chartered Financial Planners. O'Neills are Team Bath's official kit supplier.