Posted 12th Nov 2020
New graduate Abi Robson eager to continue sporting education with Blue & Gold during 2021 Superleague season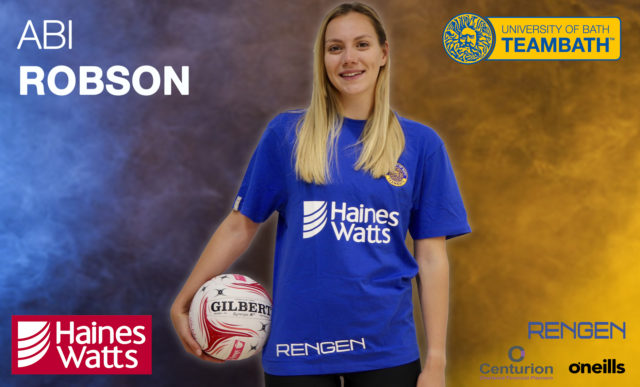 She is educating youngsters in her new job off court but Abi Robson is also ready to continue her own learning on court after extending her long-standing association with Team Bath Netball into the 2021 Vitality Superleague season.
The 22-year-old defensive mid-courter has returned to her alma mater, Monkton Combe School in Bath, as a teaching assistant after graduating with first-class honours from a Geography degree at the University of the West of England in Bristol.
Robson first wore the famous Blue & Gold as a promising junior netballer back in 2012-13 and now she is eagerly looking forward to a fourth season in the Team Bath Superleague squad.
"I have been through the age groups and into the senior side here and I just love it at Team Bath," she said. "Everyone is so supportive and nothing is a silly question, you can be open and honest and be yourself. I love working in that kind of environment.
"I feel like I've been building each year and the group has been building too. We had such a great vibe last season and I am really excited to see what we can do in 2021.
"I think it is going to be another learning and growing season for me. It's so great to have England athletes, who I aspire to be like, as my team-mates and to be able to train alongside them week in, week out. I learn lots from them and I want to keep learning, absorbing more information and trying to master my game.
"I have just graduated from university and am now working at Monkton Combe School. It's super close to the University of Bath where we train, so that is handy, and I'm really enjoying both my netball and work at the moment, it's really good fun."
Anna Stembridge, Team Bath Netball Superleague Head Coach, added: "For me, Abi epitomises the values and culture of Team Bath and I genuinely believe she will be a future captain of the Blue & Gold. It's crazy to think she is still only 22 as she has been around the club and the Superleague squad for so long.
"Her court area is one of the most competitive within our squad but she gets her head down, works hard and is always looking to improve and learn. She is the best player-on-player defender in the squad and is just growing as a netballer year on year."
Team Bath Netball is supported by its Principal Partner, chartered accountants Haines Watts, who are also a pathway partner, and by Rengen Developments and Centurion Chartered Financial Planners. O'Neills are Team Bath's official kit supplier.