Posted 12th Nov 2020
Tash Pavelin looking to build on breakthrough performances after recommitting to Blue & Gold for 2021 Vitality Superleague season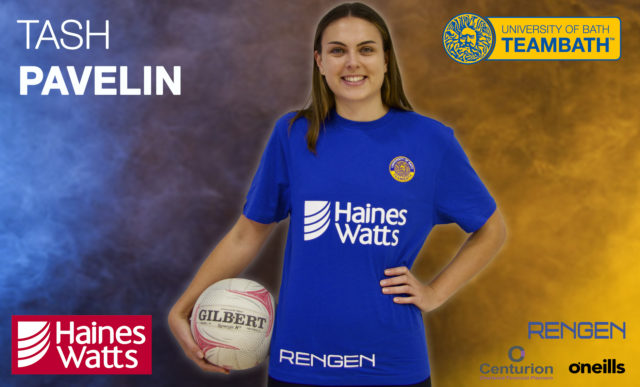 She was one of the Vitality Superleague's breakout stars of the truncated 2020 season and defender Tash Pavelin cannot wait to build on those performances after committing to Team Bath Netball for the 2021 campaign.
The 22-year-old started at goal-defence in all three of the Blue & Gold's matches before lockdown and excelled in each of them, particularly the memorable home victory over Wasps in which she was named as player of the match.
They were Pavelin's first starts at Superleague level, having been used as an impact replacement during her previous season with Team Bath in 2018, and she is keen to gain more experience in the year ahead.
"Last season was such an exciting experience for me, starting all three games and putting out performances that I was really proud of," she said. "It was great to gain that high-level experience that I hadn't necessarily had before.
"I really think I improved throughout pre-season and proved why I should be on the court. I'm hoping that, even with the gap, I can build on those performances and start the new season as I ended the last one.
"Hopefully I can get more starts, more court time and build those connections with the players around me. Ultimately those connections will help the team succeed as well. As a team, we really want to win the title so we are going to put absolutely everything into it that we can.
"The squad last season was really exciting to be a part of, it felt like we valued each other on and off the court and those connections really showed in the performances we put out. Being able to bring that team spirit and energy into this season will hopefully help us put in similar performances.
"We haven't been able to all train together yet but in the small group sessions we've had and the team meetings online, it still feels like we have that inclusiveness in the squad. I'm really excited to build on what we already have and hopefully make it even better next season."
It has also been a big year off the court for Pavelin, who graduated from the University of Bath this summer after completing a Natural Sciences course which included a one-year placement with pharmaceutical giants Pfizer.
"It's going to be a very different challenge for me this season as I'm now working full-time at an accountancy firm in Bath," said Pavelin, who has represented England at U17 and U21 level.
"In studying there was a lot of stuff to do in the evenings and at weekends, especially around exam time. With working, I'll have less flexibility in terms of working hours but I'm also hoping to have less pressure outside work so that will allow me to concentrate in a different way on training and being the best I can be. It's a very different challenge but one I'm excited for."
Anna Stembridge, Team Bath Netball's Head Superleague Coach, said: "I cannot wait to build on the experiences that Tash had last season. She grabbed every opportunity with both hands and really excelled in that GD bib.
"She can play across all three defensive positions and with only having ten players in a squad on match-day, that adaptability is a huge asset for both Tash as a player and us as a team."
Team Bath Netball is supported by its Principal Partner, chartered accountants Haines Watts, who are also a pathway partner, and by Rengen Developments and Centurion Chartered Financial Planners. O'Neills are Team Bath's official kit supplier.