Posted 12th Nov 2020
"It's good to be home" – England defender Layla Guscoth excited to rejoin Blue & Gold for 2021 Vitality Superleague campaign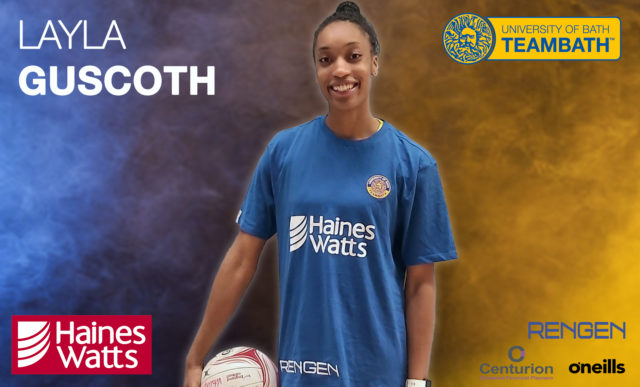 England defender Layla Guscoth says "it feels good to be home" after returning to Team Bath Netball and the Vitality Superleague for the 2021 season.
The 28-year-old's magnificent form during her previous spell in Blue & Gold saw her named in the Superleague Team of the Year in both 2017 and 2018, with her performances all the more impressive as she was combining netball with a demanding off-court career as a trainee doctor.
After completing her two-year Foundation postgraduate medical training programme, Guscoth took the opportunity to play professionally in Australia for Adelaide Thunderbirds in Suncorp Super Netball.
She has also returned to the England squad and while her 2019 Netball World Cup campaign was sadly cut short by an Achilles injury, Guscoth has made a strong recovery and returned to court in impressive style with Thunderbirds this summer.
Now she is heading back to Britain to refocus on her dual careers as doctor and netballer – and says she cannot wait to get back on court in the famous Blue & Gold.
"I'm really excited to be back at Team Bath," said Guscoth. "It was such a strong family environment in the couple of years I was here before and I really loved it, I really felt like I thrived here.
"I think Bath is unique as it has everything in one place, which is quite hard to come by in Superleague – everything you need is here at the Sports Training Village – but what made it feel really homely for me were the players. They are a great group of people and I've known some of them since junior level.
"I've also known Anna Stembridge as a coach since I was about 15 or 16, she is someone who knows me really well as a player and a person, and I find that a great environment to be a part of.
"I had a brilliant experience in Australia. It was something I never thought I would have the opportunity to do, being able to play professionally, and I think I learnt a lot. The Australian style of netball is a bit different to what we play, so I feel I have added a few more strings to my bow.
"I wanted to move back home to be close to my friends and family but also to work a bit more again. That was something I really enjoyed being able to do when I was at Team Bath previously, doing my medical work alongside playing, and I'm hoping to be able to pick that up and develop my career further."
Guscoth made headlines earlier this year when, following the delay to the Super Netball season in Australia, she flew home to her native Birmingham to work in the Queen Elizabeth Hospital during the height of the Coronavirus pandemic.
Anna Stembridge, Team Bath Netball's Superleague Head Coach, said: "That said everything about Layla's character, she saw what was happening and felt she should come back to do what she could. She is a great netballer but, first and foremost, a fabulous person.
"It is very, very exciting to have Layla back at Team Bath and I feel pretty privileged that she has chosen to come back to this club, I think it speak volumes for Team Bath and what we are building here.
"Layla won the Coaches' Player of the Year award in her previous two seasons with us and that was when she was juggling netball with her residency. She really is a remarkable woman who excels at everything she puts her talents to and we can't wait to see her back in the Blue & Gold."
Team Bath Netball is supported by its Principal Partner, chartered accountants Haines Watts, who are also a pathway partner, and by Rengen Developments and Centurion Chartered Financial Planners. O'Neills are Team Bath's official kit supplier.