Posted 13th Oct 2021
Graduate Sophie Drakeford-Lewis gaining Fast5 leadership learning as she continues netball education with Blue & Gold and England in 2022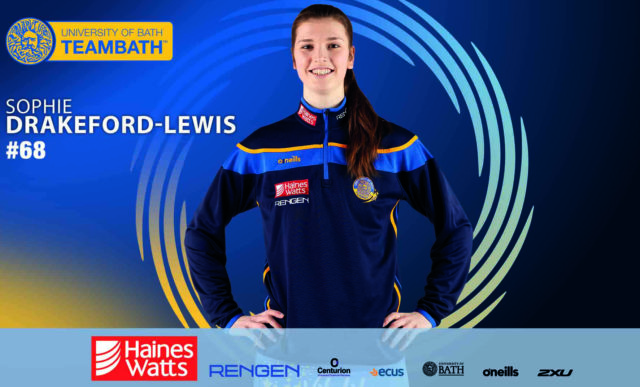 She has completed her degree course but England star Sophie Drakeford-Lewis says there was never any doubt she would continue her netball education with Team Bath after signing up for the 2022 Vitality Superleague season.
The brilliant goal-attack graduated from the University of Bath – home venue for the Haines Watts-sponsored Blue & Gold – in Integrated Mechanical & Electrical Engineering this summer after four years of combining top-class study and sport.
Now she is fully focussed on a huge year of netball including another Superleague title challenge with Team Bath, also supported by Rengen, taking the vice-captaincy role for this month's British Fast5 All-Stars Championship and potentially representing England at the Birmingham 2022 Commonwealth Games.
"I really feel at home in Bath," said Drakeford-Lewis, who was supported by a Bill Whiteley Sports Scholarship during her studies. "I absolutely loved my four years as a student and it was an obvious decision for me to stay down here.
"I love the culture, I love the girls, I love the coaching team and also the facilities here make it so easy for us so it was a clear decision to stay in the Blue & Gold.
"Obviously we were so close to the title in 2021 and I can't wait to see how we develop and grow off the back of that, and bring performances that we are proud of this season.
"I think there are certainly some things we can fine-tune and if we can develop those while also gaining confidence from what we did put out there on court, that will put us in really good stead for hopefully another Finals Weekend."
Drakeford-Lewis is also looking to work on her leadership skills during the year ahead and has been named as vice-captain to fellow England Rose and University of Bath graduate Imogen Allison for the fast-paced British Fast5 All-Stars, taking place at London's Copper Box Arena on Saturday 30th October.
"It's an absolute honour to be asked to be vice-captain for the Blue & Gold," she said. "Getting the call from Anna [Stembridge] was certainly special. Imo is a great leader and I think we'll work well as a team, we know each other really well.
"Everyone has their own ways of leading on and off the court, and I'm looking forward to developing that part of my game. Fast5 is such a fun, exciting and fast competition too, I think it's going to be a great day."
Drakeford-Lewis will also be busy with England over the coming months as they continue their preparations for next summer's home Commonwealth Games and look to build on the recent successful visit to New Zealand.
"That was a really, really special tour," said Drakeford-Lewis, who once again excelled in the Roses attack. "Not only was it such a great opportunity for us to get out on court against the Silver Ferns, and come away with two wins, but also the challenges that we underwent, like quarantine, have only brought us closer as a group.
"I can't wait to see how that will help us in our final preparations leading into Birmingham 2022."
Drakeford-Lewis is the 14th confirmed player in Team Bath's Superleague squad joining fellow returners Allison, Kim Borger, Betsy Creak, Layla Guscoth, Serena Guthrie, Kirsty Harris, Hannah Passmore, Tash Pavelin, Jess Shaw and Rachel Shaw, and newcomers Molly Hole, Lily Jones and Lily-May Catling.
Tickets for the 2022 Superleague season will go on sale later this month. Visit netball.teambath.com/tickets for more information.
Tickets are also on sale for the Fast5 Championships, with the rest of the Team Bath squad to be announced shortly. Visit www.fast5allstars.com for further details.