Posted 6th Oct 2021
Shooting star Lily Jones aiming for the top after progressing from Academy to Blue & Gold 2022 Superleague squad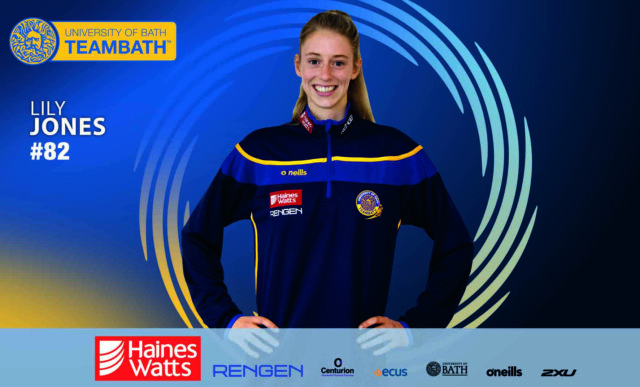 Exciting young shooter Lily Jones says she can't wait to learn from her role models after becoming the latest player to progress through the Team Bath Netball talent development network into the Superleague squad.
The 18-year-old from Jersey has been named in the Haines Watts-sponsored Blue & Gold squad for the 2022 Vitality Superleague campaign after excelling as captain of Team Bath's U19s last season.
She also caught the eye in a number of training matches, which helped the 2021 Superleague team prepare during a Covid-effected pre-season, and gained more top-level development time as part of the England Roses Academy long squad.
"I'm really excited to be stepping up to the Superleague squad this year, pushing on and improving my game," said Jones, who trained at the Team Bath Netball Academy Development Centre at Hartpury College in Gloucestershire last season.
"The U19s trained at the same time as the Superleague squad last season and seeing them really wants to make you work even harder to join them. There are so many role models in the squad, it's just incredible, and they are lovely people too.
"They really try to develop you as a player. My main aim for the year ahead is to improve my game and regularly training alongside people like Kim Borger can only help."
As well as play there for the U19s, former Hartpury College student Jones has also been a regular visitor to the Team Bath Arena as a spectator for Superleague matches – something she is grateful fans will have the chance to do again during 2022 as the competition reverts to a home and away format.
"I've been to watch Superleague games before and it is such a good atmosphere," said Jones, who played club netball for Premier Romans in Bristol and is now with Team Bath Toucans. "To be one of the players I've looked up to, who I've come to watch and thought 'I want to be like you one day', is amazing."
Jones is the second Academy graduate to be promoted to the 2022 Superleague squad, also backed by Rengen, joining England U21 captain Molly Hole in the senior ranks.
Tickets for the 2022 Superleague season will go on sale later this month. Visit netball.teambath.com/tickets for more information.