Posted 9th Oct 2021
Academy grad Kirsty Harris excited to keep learning on and off court ahead of second Superleague season in Blue & Gold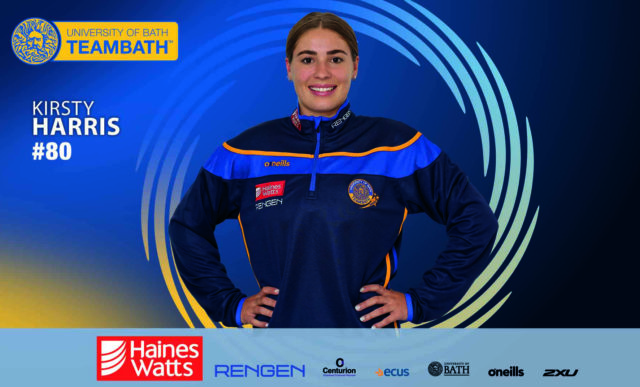 Wing-attack Kirsty Harris says she is excited to keep learning from the best during 2022 after being named in the Team Bath Netball Superleague squad for a second successive season.
The Academy graduate from Swindon made her Superleague debut against London Pulse earlier this year and went on to be a regular member of the Haines Watts-sponsored Blue & Gold's match-day squad during the second half of the season as they reached the Grand Final.
"It was amazing in my first year to be involved in all of those fixtures and so much fun, whether I took to the court or not," said Harris, who had previously played for Team Bath at U17, U19 and U21 level, as well as the University of Bath where she studied Sports Performance.
"Just being there with the girls every week was a great experience. I learnt so much from some of the older players, having that passed down was so beneficial. They have so much knowledge and everything they say is so helpful. I just tried to take as much as I could on board every week in training and matches.
"I'm really excited for my second year. We were so close to getting gold last year. I think we have to use the same process this year – take each game as it comes, always look for the win and what will be will be."
Harris is the tenth player announced in the 2022 squad for the Blue & Gold, who are also supported by Rengen, and is pleased to be joined by two more rising stars who are following the same career progression through the prolific Team Bath Academy talent development network – Molly Hole and Lily Jones.
"I'm really excited for Molly and Lily to be selected into the squad this year," said Harris, who is a PE teacher at St Helen & St Katharine School in Abingdon, Oxfordshire. "I think it is so important for young athletes coming all the way through the pathway to make that step up and get that experience at the top level. It is such an achievement."
Harris is also fired up by the prospect of playing her first Superleague match at the Team Bath Arena, with fans returning to home venues when the 2022 campaign gets under way in February.
"Being back at the Team Bath Arena with our home crowd will be so good," she said. "Fans were so missed last year and I think all the girls will be excited at getting back out there with a big crowd supporting us the whole way.
"I think 2022 will be a year like no other and it will be such a good atmosphere with everyone back together."
Tickets for the 2022 Superleague season will go on sale later this month. Visit netball.teambath.com/tickets for more information.