Posted 8th Oct 2021
Betsy Creak loving life with Blue & Gold Superleague family as shooter looks to push on with club and country during 2022 season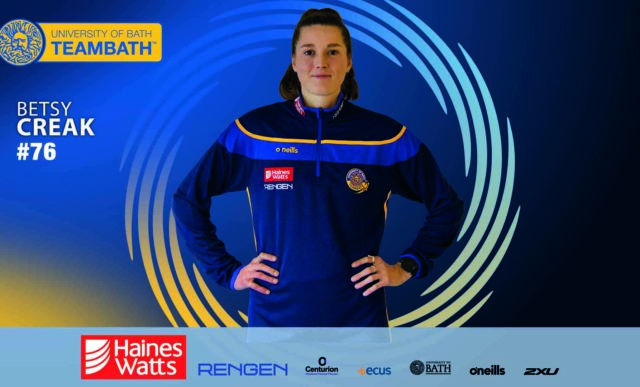 After being named as Most Improved Player during the 2021 season, Welsh shooter Betsy Creak is determined to keep progressing both individually and as a team during 2022 after being confirmed in the Team Bath Netball Vitality Superleague squad for a third year.
Creak produced a series of impactful performances for the Haines Watts-sponsored Blue & Gold last season, using her strength and range to provide a different focal point to the team at shooter and also showing her mobility and versatility by linking well with Kim Borger when used at goal attack.
It was an excellent first full season at Superleague level for Creak, who then gained more international experience over the summer with a Wales squad aiming to qualify for the Birmingham 2022 Commonwealth Games, and she is really enjoying her netball.
"I like pushing myself and if I work a bit harder this year hopefully I can get a bit more court time," she said. "As long as I'm still enjoying it, that's the main thing.
"The thing with Team Bath is I immediately felt part of the family in my first season and now I'm coming into my third year. I just love everyone here – training is fun, gym sessions are fun, the coach journeys are fun. That's what makes things so special."
Team Bath, who are also backed by Rengen, reached the Grand Final last season and Creak, who came on in the second half to gain more invaluable big-match experience, is confident they will be challenging for the biggest prize again during a 2022 season that sees fans return to the Team Bath Arena.
"We know that everyone wants to win the league and it's not going to be easy but we just have to trust the process and we'll see where we are come June," she said.
"I'm really excited to be going back to home and away matches. Having a crowd behind you is a good feeling. We had a bit of that towards the end of last season at the Copper Box but having people coming back into the Team Bath Arena and watching will be really special."
Tickets for the 2022 Superleague season will go on sale later this month. Visit netball.teambath.com/tickets for more information.