Posted 12th Oct 2021
Serena Guthrie can't wait to thrive off 'home game vibe' as England legend recommits to Blue & Gold for 2022 Superleague season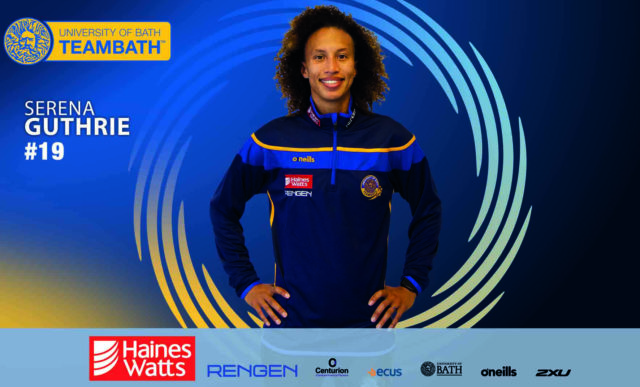 England legend Serena Guthrie cannot wait to run out in front of the Team Bath Netball fans once again during 2022 after recommitting to the club she loves for the new Vitality Superleague season.
The superstar centre, who last month captained the Roses to a historic series win in New Zealand, last had chance to wear the famous Blue & Gold at the Team Bath Arena in May 2019 before taking time out of the sport during the curtailed 2020 season and playing at centralised venues this year.
The competition is reverting to home and away format for the 2022 campaign, which begins in February, and Guthrie is looking forward to getting a vocal home crowd involved again as Haines Watts-sponsored Team Bath pursue a long-awaited sixth Superleague title.
"It's going to be really exciting to run out in front of our home fans again, I've not done it in a very long time," she said. "I'm looking forward to that home game-day vibe and all the energy that the fans bring. You thrive off that as an athlete.
"It's going to be a really exciting season, I think the league has strengthened once again during this signing window and it's really cool to be a part of it. We have home and away fixtures again, fans in the stadiums and the Birmingham 2022 Commonwealth Games around the corner – it's going to be a great year."
Guthrie was a key figure as Team Bath, who are also supported by Rengen, reached their first Grand Final since 2013 earlier this year. The trophy eluded them on this occasion but she is determined to build on that experience and push again in 2022.
"It was a big step for the club to get to the final as we hadn't done that for a number of years," said Guthrie, who won three titles during her first spell with Team Bath.
"This year it will be about building more consistent performances, asking more from our rising stars, getting those connections back and trying to go one further. We feel confident that we're able to step up again and make it into another final."
Guthrie is excited by the squad being put together, with Academy graduates Molly Hole and Lily Jones stepping up to the Superleague and Lily May-Catling returning to the Blue & Gold from Australia.
"It's great to have a couple of young girls coming through from the Academy pathway, it shows that it's working," said Guthrie, who began her own journey with Team Bath aged 13. "We had Molly and Lily in our training environment last year and they are great girls, so it will be lovely to have some fresh young faces to keep us old girls going!
"We've got Lily-May coming over from Aus as well and it's always to have new ideas, new perspectives. That could be what gets the squad over the line."
As well as another Superleague campaign, 2022 will also bring the Birmingham Commonwealth Games and the opportunity for England to defend the title they so famously won for the first time in 2018.
Guthrie, who has more than 100 caps for her country, was part of that title-winning team four years ago and led the Roses to a 2-1 series win over World Champions New Zealand recently but is keen not to get carried away.
"It was great to get those wins in New Zealand, it was another historic moment and to be part of that was really cool," she said. "It was a real team effort and we can take a lot of confidence from it but there is still a long way to go. It was a good win but we're still building as a group."
Tickets for the 2022 Superleague season will go on sale later this month. Visit netball.teambath.com/tickets for more information.