Posted 7th Oct 2021
Tash Pavelin says consistency is the key as talented defender aims for Superleague success with Blue & Gold in 2022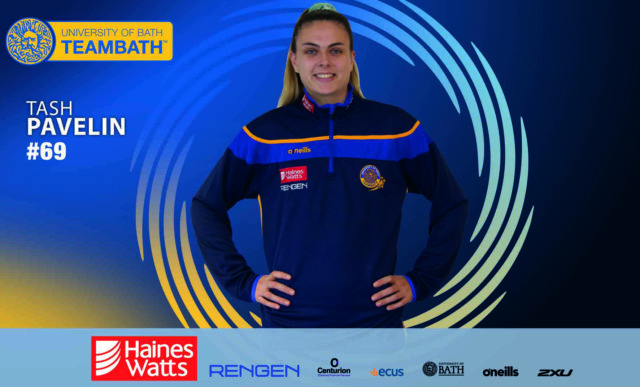 Tash Pavelin believes Team Bath Netball are ready to produce "something special" during the 2022 Vitality Superleague season after the talented defender recommitted to the club for another year.
Pavelin, who plays goal-defence and wing-defence, built on her breakthrough 2020 campaign with some fantastic performances during a 2021 season that saw the Haines Watts-sponsored Blue & Gold reach a first Superleague final in eight years.
They won 18 of their 22 matches across the course of an excellent season but Pavelin believes an exciting Team Bath squad, who are also backed by Rengen, are ready to step up to another level as they pursue the title.
"I think we've got a lot to build on from last season and a lot of unfinished business," said the University of Bath Natural Science graduate, who has previously represented England at U17 and U21 level. "We're ready to hit the ground running and hopefully we can get the end result that we just missed out on last time.
"I think it's about consistency. It's bringing what we did in the semi-final against Manchester Thunder, building on that and aiming to replicate that level of performance time and time again. Hopefully that will be the difference this season if we can put those consistent performances out.
"The group that we've got is really exciting and I think we can put something special out this season. There's a lot we can build on and work on from last season which is really going to help us."
Pavelin, who works at an accountancy firm in Bath, also believes the return of home fans can help Team Bath continue to build and improve during 2022.
"It's so exciting that we'll be able to play at home in front of the Team Bath crowd again," she said. "It's something I personally really missed last season and I think we all did, having that support behind us and our eighth player on court.
"We're really excited to have the stadium full again and cheering us on. We've really missed the interaction with the fans, particularly at the end of games when you'll go around and speak to people who are really interested in netball."
Tickets for the 2022 Superleague season will go on sale later this month. Visit netball.teambath.com/tickets for more information.