Posted 4th Oct 2021
Kim Borger and Team Bath Netball have "unfinished business" as Aussie shooter returns to UK for fourth Vitality Superleague season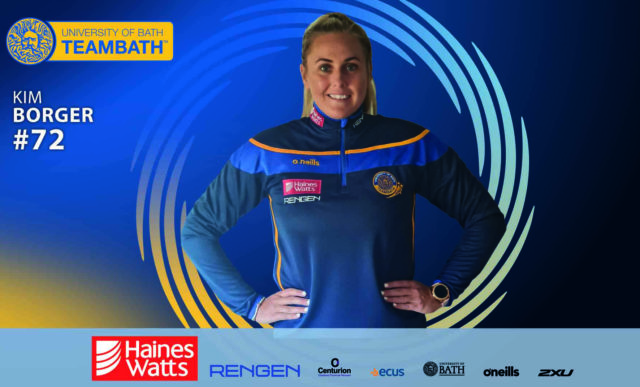 Super shooter Kim Borger says she and her team-mates have "unfinished business" in the Vitality Superleague after being confirmed as the first member of a star-studded Team Bath Netball squad for the 2022 season.
It will be a fourth year in the UK for the inspirational Australian, who topped the Superleague shooting stats with an incredible 93 per cent conversion rate as she helped fire the Haines Watts-sponsored Blue & Gold to the 2021 Superleague Grand Final.
Loughborough Lightning had the edge in the trophy showdown but Borger is confident Team Bath, also backed by Rengen, can take that extra step during a 2022 campaign that will see home matches return to the Team Bath Arena after a season of playing at centralised venues.
"I can't wait to get back to work and finish off what we started," said Borger. "Being so close and getting to the final sits in the back of your mind and I definitely think we have some unfinished business. We're going to be working on new strategies with some new players and I'm looking forward to the challenge.
"There were a couple of times last season where we weren't as consistent as we would like to have been, a couple of games got away from us that made things more difficult in the long run. We need to be more ruthless, take the game into our own hands and make it our own.
"It's always going to be tough, we do have a target on our backs because Team Bath have been so successful in the past, but I'm looking to forward to getting back working with the girls and trying some new things."
Borger is a hugely-popular member of the Superleague squad, having been voted as Team Bath Players' Player of the Year in both of her full seasons in the UK. She was part of the leadership group in 2020 and 2021, wearing the captain's armband in the Grand Final, and feels right at home in her adopted city.
"I love Bath, it's a home from home," she said. "Some people back here in Australia have asked me if I miss Bath and I'm like 'yeah, of course I do' – I love the lifestyle and the people I have around me, including those I've met away from netball. It's almost like a great holiday destination – six months in Bath, six months back home!
"Don't get me wrong, I've been enjoying my time back home with my family but there is that element of missing Bath. There's just something about the place."
Borger is a big favourite among the fans too and she can't wait to see them back in the Team Bath Arena for the 2022 season, which starts in February.
"We have such amazing fans so it's fantastic to have them back," she said. "We had four or five games at the end of last season with a crowd but to have them back in our home arena will make a huge difference and really help us get that momentum going.
"Crowds can really swing a game. We know ourselves that we can win those close games but then having the crowd on board with us will give us that extra little kick to get across the line."
Tickets for the 2022 Superleague season will go on sale later this month. More information will be available at netball.teambath.com/tickets.
We will be announcing the Team Bath Superleague squad over the next 10 days, follow us on social media – @teambathnetball on Twitter and Facebook, @teambathnetball_ on Instagram – to meet the players aiming for gold in 2022.