Posted 5th Oct 2021
England U21 captain Molly Hole completes rise through Blue & Gold ranks after being named in 2022 Superleague squad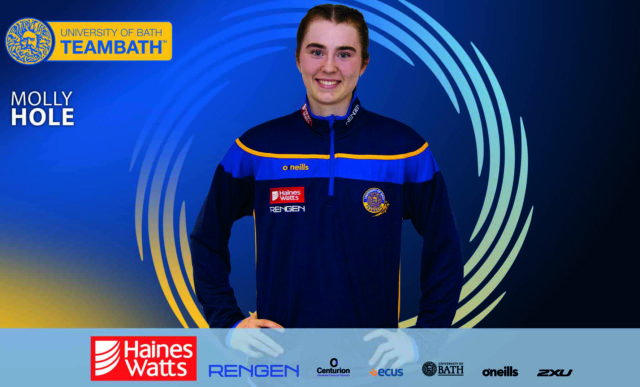 She is one of the most exciting prospects in English netball, can play at both ends of the court, is U21 captain for club and country – and now Molly Hole is also part of the Team Bath Netball Vitality Superleague squad for the 2022 season.
It continues an incredible rise through the ranks for the hugely-talented 18-year-old, who first started with the Haines Watts-sponsored Blue & Gold at their regional hub in Dorset five years ago and has gone on to represent every age group.
As well as developing her skills with the Team Bath Netball pathway – first at Bryanston School and then the Wiltshire Academy Development Centre in Salisbury – and her local club, Weston Park Blades, Hole has also been part of the England Roses Academy since 2018 and has been named as U21 captain for next month's Netball Europe competition – an honour she had previously enjoyed with the U17s.
"It was a massive surprise to be named in the Superleague squad," admitted Hole, who can play at both goal-keeper and goal-shooter. "I didn't know what I was going to be doing this year, whether to go to university, but I decided to have a gap year and was so excited to get a call from Anna [Stembridge] to say I was going to be in the Superleague squad. There are some nerves as I'm going to be playing with my idols but I'm super excited.
"I've been with Team Bath throughout my career. I first started in the hub when I was 13 and have worked my way up. I did two seasons with the U17s, then U19s for a year before captaining the U21s last season. That was really exciting, especially as I was two years younger than most of the players. Now I'm here doing Superleague!
"I think I bring versatility as I play both attack and defence. I can shoot but if they need a defender I'm very happy to go and intercept some balls and get some gains for the team."
As someone who has already worn the captain's armband for club and country, Hole is looking forward to learning from a host of experienced players at Team Bath, who are also backed by Rengen.
"We have some great leaders in the squad and that will help me develop my own leadership role," she said. "Their work ethic is absolutely amazing as well, so hopefully I'll be able to pick up some tips that I can take on board to develop my game."
Hole is also excited at the prospect of playing in front of big crowds as Superleague returns to a home and away format for the 2022 season.
"I've been to a few Superleague games at the Team Bath Arena and the atmosphere has been amazing," she said. "I've never played with a crowd before so I'm hoping, if I do get to play, that they boost my energy, levels and excitement, and that helps me get more turnovers or more ball to be able to shoot."
Hole's elevation to the senior squad continues a proud tradition of promoting and developing young talent at Team Bath. She joins experienced duo Kim Borger and Rachel Shaw among the first confirmed players in the 2022 Superleague squad, with more star names being announced over the next eight days.
The 2022 Superleague season gets under way in February and tickets for matches at the Team Bath Arena will go on sale later this month. Visit netball.teambath.com/tickets for more information.