Posted 6th Oct 2021
Lily-May Catling completes journey from Academy to Superleague via Australia as versatile defender joins Blue & Gold for 2022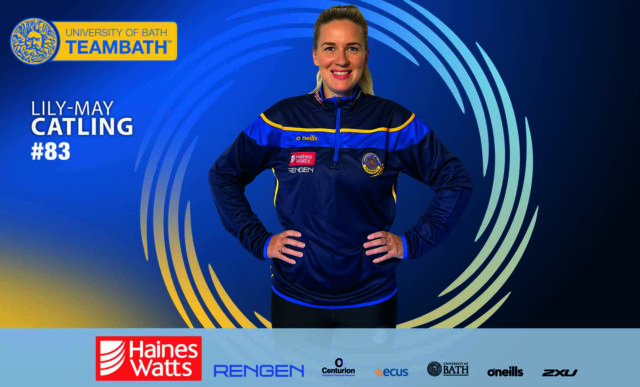 When Lily-May Catling first took to the Team Bath Arena court for a junior tournament at the age of 12, she looked around and thought 'I want to play Superleague netball here'.
Fourteen years on and the defender will get to fulfil that dream in the famous Blue & Gold after joining Haines Watts-sponsored Team Bath Netball for the 2022 Vitality Superleague season.
It's been quite a journey for Catling, who grew up in Wimborne Minster in Dorset and played for Team Bath U19s in NPL after coming through the club's Academy system before moving to Australia after what started as a backpacking adventure turned into a permanent stay.
She continued to play netball in her new country, most recently for USC Thunder on the Sunshine Coast, before returning to the UK earlier this year to play for Wasps in the 2021 Superleague. Now she will continue that top-flight journey with the club from her home region.
"This is a bit of a homecoming for me," said Catling, who can play goal defence, wing defence and goal keeper. "I grew up in the south of England and played all of my junior netball here before moving to Australia when I was 19.
"I first played at the Team Bath Sports Training Village in an U13 competition with Bournemouth Junior Netball Club. I vividly remember walking into the Arena. They had all of the Superleague players' names on big blue and gold cards at the back of the stands, and I remember us all saying 'one day, that's going to be our names on there'.
"It's still a really vivid moment, walking into that sports hall and deciding I wanted to pursue being an athlete.
"I also went to many Team Bath Superleague matches as a fan when I was younger and the atmosphere is just incredible. For me, it is extra special because all of my family live in the south of England so it is really exciting that they'll be able to come and watch me play this year. They haven't really seen me play since I was in the U19s so to know they could be in the stands is incredible, as well as the coaches who played an integral part in my career."
Having come through the Academy, Catling is well aware of the club culture cultivated at Team Bath, also backed by Rengen, and cannot wait to link up with a squad she feels is more than capable of challenging for the Superleague title.
"I had a lovely chat with [Head Coach] Anna Stembridge and after hearing all about the team ethos, the family environment, the professionalism at Bath and how everything is so readily available for players, it just felt like a great opportunity that I couldn't turn down, especially with the calibre of coaches and players here," she said.
"It was really exciting to see Team Bath in the final last year. I think this squad is phenomenal, the quality of athletes is just insane. There is so much talent and so much hard work, it will be a real privilege to train alongside them.
"I'm fully sure this team can go all the way. I'm sure it was bitter-sweet last season, missing out in the final, but the team will have learnt a lot from that experience and it will only serve us well this year."
Catling is the fourth player to be confirmed in Team Bath's Superleague squad for the 2022 season joining the experienced duo of Kim Borger and Rachel Shaw, and fellow Academy graduate Molly Hole. More star names are being announced every day for the next week.
Tickets for the 2022 Superleague season will go on sale later this month. More information will be available at netball.teambath.com/tickets.