Posted 1st Oct 2018
Never a better time to show your Blue & Gold as 2019 Vitality Netball Superleague tickets go on sale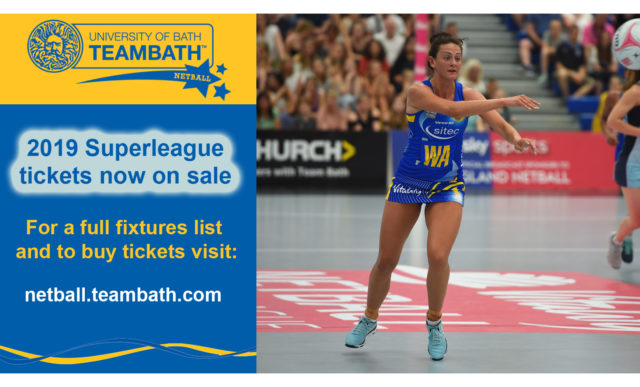 Team Bath Netball's top coaching duo – Jess Thirlby and Anna Stembridge – say there is "never a better time" for fans to show their Blue and Gold as tickets go on sale today for the 2019 Vitality Netball Superleague season.
With the return of world star and England Commonwealth Games gold medallist Serena Guthrie to her home side, fans will have a new-look line-up to get behind.
"Netball as a sport is more exciting than ever," said coach Thirlby. "England took Commonwealth Gold earlier this year and next year we will host the World Cup. Bath is set to play our part in that excitement with a squad that mixes top names with exciting newcomers."
"The atmosphere will be electric, I'm sure," added Stembridge. "We have players like Eboni Beckford Chambers, also a Commonwealth Champion, Imogen Allison, Rachel Shaw and Mia Ritchie re-committing to the Blue and Gold alongside exciting new talents like Summer Artman and Leila Thomas."
Whilst Team Bath Netball has named some of its roster both coaches are hinting at more names to come.
Team Bath's matches are played in the 2,000-seater Team Bath Arena and the first home fixture – against Surrey Storm – will be televised by Sky Sports. Before that the Blue and Gold will travel to the curtain-raising Super Ten at the Birmingham Arena to face Celtic Dragons (January 5) followed by a trip to Scotland to play Strathclyde Sirens (January 11).
This year will see the advent of "gold" and "value" seats, offering a range of opportunity for all fans to watch the team in action for its eight home fixtures. The 2019 Superleague season also features a new mid-season showcase weekend jointly hosted at the Ricoh and Emirates Arena on April 20 and 21.
Team Bath's final home fixture of the league season will be against new franchise London Pulse on Saturday May 4 (subject to allocation of TV fixtures) with the potential for a home semi-final (depending on results) on Saturday May 11.
The full 2019 Vitality Superleague fixture list for Team Bath Netball is as follows:
Team Bath Netball are sponsored by Sitec and supported by partners Mogers Drewett, Soldi and Netball South West. Centurion Chartered Financial Planners are supporting the team's performance analysis and people development capabilities, Viper 10 are their Sportswear Supplier and Skins provide the team with compression wear.