Posted 1st Mar 2019
Tremendous team performance sees Blue & Gold fend off Thunder to record first home win of Vitality Superleague season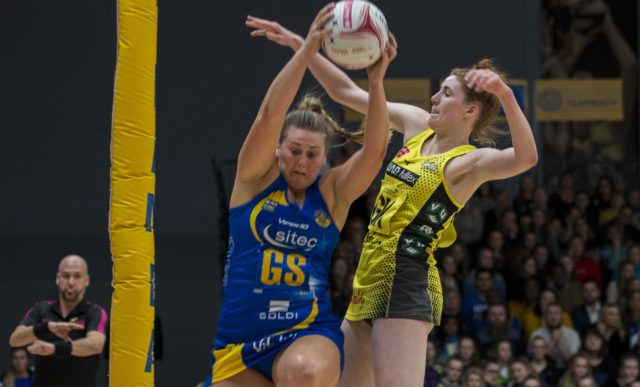 Team Bath Netball produced tremendous performances right across the court to overcome Manchester Thunder in a fantastic game of Vitality Superleague netball on another dramatic evening at the Team Bath Arena.
There was little to choose between the teams throughout a fiercely-contested match that saw Team Bath edge into a five-goal lead at the end of the first quarter before Thunder clawed their way back into the game.
The tension was rising as the teams went goal for goal but every single player in Blue & Gold dug deep to keep the visitors at bay as the Sitec-sponsored Team Bath – roared on by another capacity crowd – deservedly saw out a 60-56 victory to secure their first home win of the 2019 season.
Team Bath Netball Head Superleague Coach Anna Stembridge said: "We knew it was going to be a great game and I think it was a real spectacle. It was a real hard-working performance and I am so proud of the players – in terms of their job description, I think every one of them delivered."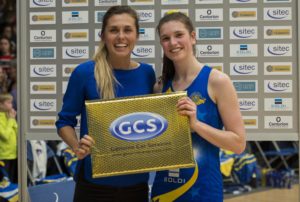 Genuine Car Services Player of the Match Sophie Drakeford-Lewis added: "This win was really important and hopefully it can be the start of a good run for us. It was nice to get a win in front of the home crowd."
The Blue & Gold were looking for an instant response to last week's hard-fought defeat to leaders Wasps and came out in determined mood against a Thunder team that started the evening second in the table.
Both teams moved the ball with terrific speed during an entertaining first quarter, with Mia Ritchie and Rachel Shaw providing some fantastic service to Drakeford-Lewis and Kim Commane who were mobile and intelligent in attack.
Thunder shooter Joyce Mvula was in excellent form at the other end but Team Bath cranked up the defensive pressure as the quarter went on, inspired by some terrific turnovers from Imogen Allison, Eboni Usoro-Brown and Summer Artman.
Once Team Bath had edged in front for the first time midway through the quarter, they were able to gradually build on the lead and by the end of a physical first quarter they held an 18-13 advantage.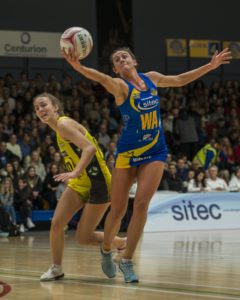 Thunder came out strong at the start of the second period and quickly cut the lead to one. The two teams then traded goals before Team Bath regained the initiative following an outstanding double-tap interception from Ritchie which saw her end up among the home substitutes after taking out an advertising board.
It had the crowd on their feet and provided the spark for Team Bath to restore a four-goal cushion in the closing moments as they took a 32-28 lead into the half-time interval.
It was certainly far from over as a contest, though, and that was evident during a tense third quarter that saw both teams struggle to force turnovers. It was goal for goal for the first eight minutes before Thunder finally put together a burst of scoring to cut the gap to two.
Team Bath responded once again and, with the whole team defending from front to back, they were able to push their lead back up to five, Commane scoring on the buzzer to make it 49-44.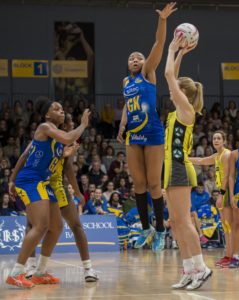 The final quarter had the 1,200-strong crowd on the edge of their seats as Thunder showed tremendous character to cut the deficit to three goals with three minutes remaining.
The fans, sensing the role they had to play, cranked up the volume and the roof nearly came off when Artman produced two magnificent – and critical – interceptions. Team Bath took advantage of both to finally kill the game off.
The Blue & Gold pay their first-ever visit to London Pulse in a televised game on Monday, March 11 before they return to the Team Bath Arena on Saturday, March 16 to face Celtic Dragons (5pm centre-pass) – visit netball.teambath.com/tickets to purchase tickets.
Team Bath Netball are sponsored by Sitec and supported by partners Mogers Drewett, Soldi and Netball South West. Centurion Chartered Financial Planners are supporting the team's performance analysis and people development capabilities, Viper 10 are their Sportswear Supplier and Skins provide the team with compression wear.
Match stats
Team Bath Netball starting 7: GS Kim Commane, GA Sophie Drakeford-Lewis, WA Rachel Shaw, C Mia Ritchie, WD Imogen Allison, GD Eboni Usoro-Brown, GK Summer Artman. Bench: Leila Thomas, Abi Robson, Amanda Varey, Laura Rudland, Beryl Friday.
Manchester Thunder starting 7: GS Joyce Mvula, GA Kathryn Turner, WA Liana Leota, C Caroline O'Hanlon, WD Amy Carter, GD Emma Dovey, GK Kerry Almond. Replacements: Rebekah Airey, Eleanor Cardwell, Paige Kindred, Laura Malcolm, Maria McAndrew.
Replacements: Q2: Malcolm – bench to WD; Carter – WD to bench. Q3: Airey – bench to GK; Almond – GK to bench. Q4: Kindred – bench to GD; Dovey – GD to bench.
Quarter scores (Team Bath first): Q1 18-13. Q2 32-28 (14-15). Q3 49-44 (17-16). Q4 60-56 (11-12).
Attendance: 1,200.
Genuine Car Services Player of the Match: Sophie Drakeford-Lewis.