Posted 16th Mar 2019
Blue & Gold made to dig deep to start home run with Vitality Superleague victory over battling Celtic Dragons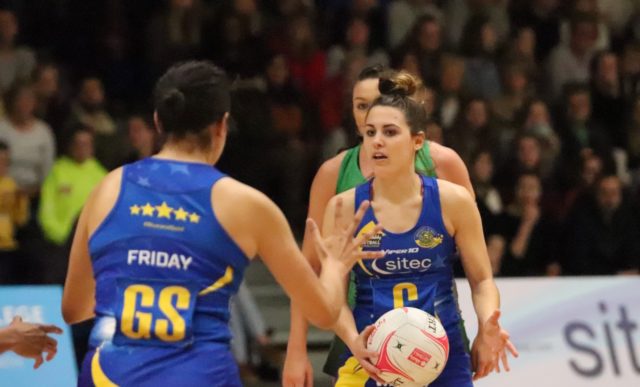 Team Bath Netball kicked off their run of three home Vitality Superleague games in nine days with a hard-fought victory over Celtic Dragons.
The Sitec-sponsored Blue & Gold struggled to produce their best netball as they were put under pressure by spirited opposition, who reduced a five-goal half-time deficit to three going into the final quarter.
Team Bath were eventually able to pull clear and secure a 56-50 victory, their third win a row, but Head Superleague Coach Anna Stembridge is looking for improvements ahead of the forthcoming home matches against Strathclyde Sirens and Severn Stars.
"Ultimately we're pleased to get the win under our belts but there are still things we want to build on and put right," she said. "We were too wasteful in terms of our turnover ball, particularly in the second quarter when we had an opportunity to pull away.
"You never feel comfortable in this league. No opponent is an easy one and we knew Dragons would be tough tonight, they've had some really good performances this season, so we are happy to get the points."
Sophie Drakeford-Lewis, who was named as Genuine Car Services Player of the Match for a third successive game, added: "It was a tough match and Dragons really pushed us, they forced us to keep battling right to the very end.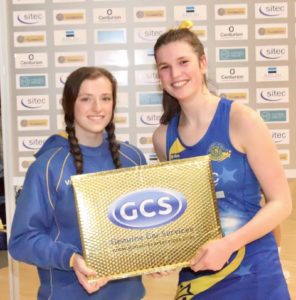 "We could have pulled away in the second and third quarters but errors started to creep in and that is something we will look to improve on for the next match."
Team Bath made just one change to the starting seven that had faced London Pulse on Monday, Mia Ritchie starting at centre as Serena Guthrie continued her return to full fitness.
It took a while for the contest to get going, with just one goal apiece scored in the opening three minutes. The first period continued to be edgy and evenly-contested, with Team Bath twice making the most of turnovers to open up a three-goal lead before Dragons responded in kind.
The scores were locked at 14-14 when Guthrie was introduced for the second period and she made an instant impact, using her telescopic reach to secure a number of interceptions.
Her efforts were matched by defenders Summer Artman and Eboni Usoro-Brown, as well as Imogen Allison and Rachel Shaw, as Team Bath – while still not as fluent as they can be – began to make the most of their possession to score seven unanswered goals.
Dragons fought back well to close the gap to 26-24 with three minutes of the second quarter remaining but another Guthrie intercept inspired a strong finish from the Blue & Gold, with Drakeford-Lewis and Kim Commane's smart shooting securing a hard-fought 30-25 lead at half-time.
Team Bath made an attacking switch in the third quarter as Beryl Friday came on at GA and Drakeford-Lewis moved to GS.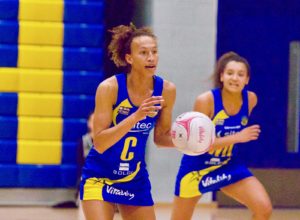 The hosts were looking to push on in the third quarter but instead it was Dragons who responded well again as they cut the lead to three and had possession following an error in attack. However, a brilliant intercept from Shaw got Team Bath back on the front foot and they quickly reestablished a 37-31 advantage.
Back came Dragons again, led by some fine finishing from Lucy Herdman and Kalifa McCollin, and the nervous tension was clear on and off the court as more mistakes crept into the home play.
Team Bath's lead was reduced to 43-40 going into the final quarter, which saw Abi Robson – who had come on during the third period – continue at WD and Ritchie return at C, while Drakeford-Lewis and Friday switched positions in attack.
A brilliant turnover from Robson, converted by Friday, got Team Bath off to the confident start they needed and, while still not firing on all cylinders, good pressure across the court meant they were finally able to pull away and secure a six-goal victory against tough opposition.
Team Bath Netball are sponsored by Sitec and supported by partners Mogers Drewett, Soldi and Netball South West. Centurion Chartered Financial Planners are supporting the team's performance analysis and people development capabilities, Viper 10 are their Sportswear Supplier and Skins provide the team with compression wear.
Match stats
Team Bath Netball starting 7: GS Kim Commane, GA Sophie Drakeford-Lewis, WA Rachel Shaw, C Mia Ritchie, WD Imogen Allison, GD Eboni Usoro-Brown, GK Summer Artman. Replacements: Leila Thomas, Abi Robson, Serena Guthrie, Laura Rudland, Beryl Friday.
Changes: Q2: Guthrie – bench to C; Ritchie – C to bench. Q3: Friday – bench to GA; Drakeford-Lewis – GA to GS; Commane – GS to bench; Robson – bench to WD; Allison – WD to bench. Q4: Ritchie – bench to C; Guthrie – C to bench; Drakeford-Lewis – GS to GA; Friday – GA to GS; Allison – bench to WD; Robson – WD to bench.
Celtic Dragons starting 7: GS Lucy Herdman, GA Kalifa McCollin, WA Suzy Drane, C Kyra Jones, WD Nia Jones, GD Adi Bolakoro, GK Stacian Facey. Replacements: Bethan Dyke, Clare Elsley, Lydia Hitchings, Eleanor Roberts, Abby Tyrrell.
Changes: Q4: Dyke – benck to WA; Drane – WA to bench.
Quarter scores: Q1 14-14. Q2 30-25 (16-11). Q3 43-40 (13-15). Q4
Attendance: 900.
Genuine Car Services Player of the Match: Sophie Drakeford-Lewis.