Posted 28th Jan 2019
Blue and Gold vow to learn lessons from disappointing Surrey Storm Superleague setback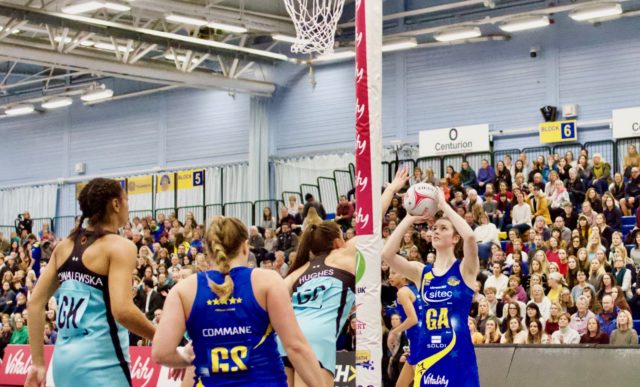 There was disappointment for Team Bath Netball in their first home match of the 2019 Vitality Superleague season as they were beaten 56-50 by Surrey Storm on Monday.
The Sitec-sponsored Blue & Gold had gone into the televised game on the back of two away wins but struggled to find their rhythm against a well-drilled Storm side who were more clinical going forward and deservedly recorded their first victory of the season.
Team Bath Netball Superleague Head Coach Anna Stembridge said: "We knew Storm would provide a tough test and for me I don't think we physically manned up to the challenge well enough. We got a bit clunky at times taking the ball through to goal but credit to Storm for doing their homework and putting us under pressure.
"At times we put their attack under pressure and got clean turnover but we didn't capitalise on it and we definitely were not at our best. We'll make sure we take the lessons from this into Friday's game against Severn Stars."
Genuine Car Services Player of the Match Rachel Shaw added: "I think the problems started in the first quarter when we gave the ball away a few times and gave Storm confidence but there were still plenty of positives to take out of the game and we'll look to bounce back quickly."
England international Eboni Usoro-Brown was ruled out of the match, which was sponsored by King Edward's School, as a precaution after picking up a knock during the recent Quad Series.
That meant University of Bath student Chartie Curtis started at GD, as she had in the last match at Strathclyde Sirens, and she did well alongside Summer Artman during a first quarter that saw momentum ebb and flow as both teams forced a number of turnovers and errors.
Team Bath raced into a 3-0 lead, then found themselves 8-6 down before regaining the initiative to draw level at 10-10. A late push saw the hosts restore their three-goal advantage but a goal on the buzzer from Sigi Burger cut the Blue and Gold's quarter lead to 14-12.
It continued to be nip and tuck in the second period as the teams traded goals but also missed chances. Storm eventually began to find more composure in attack and when they edged into the lead, Team Bath made a change as Beryl Friday replaced fellow Australian Kim Commane at goal-shooter.
She quickly found her feet, converting her first three shots, but South African shooter Burger – who linked brilliantly with Rhea Dixon – was equally ruthless at the other end as Storm opened up a 28-26 lead at half-time.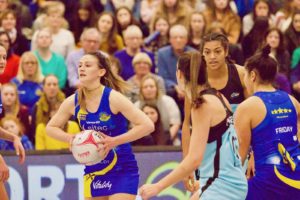 It was the first quarter that Team Bath had lost this season and they made further changes at the interval, sending on U21 captain Abi Robson at WD and Laura Rudland at GA, but it was Storm who made the brighter start to the third period as they doubled their advantage to four goals.
The 800-strong home crowd turned up the volume in a bid to inspire their team but the Blue & Gold were struggling to find any rhythm and a slicker Storm side took full advantage to move 38-31 ahead.
Another switch saw Mia Ritchie come on at centre and captain Serena Guthrie move to WD but while a brief rally saw Team Bath close the gap to five, the hosts were not firing on all cylinders and Storm went into the final quarter with a healthy 43-37 lead.
Sophie Drakeford-Lewis returned to GA for a last 15 minutes that saw the home side go all out to claw their way back into the game. Some good interceptions had the crowd on their feet and the lead was quickly cut to four but, try as they might, Team Bath couldn't get any closer as Storm saw out a well-deserved first victory of the 2019 season.
The Blue & Gold are back in action this Friday (February 1) when they play host to West Country rivals Severn Stars. Centre-pass is 7.30pm and remaining tickets are available at netball.teambath.com/tickets.
The match will be preceded by two NPL contests between Team Bath and Stars, with the U21s meeting at 3pm and the U19s at 5pm. Both fixtures are free to watch.
Team Bath Netball are sponsored by Sitec and supported by partners Mogers Drewett, Soldi and Netball South West. Centurion Chartered Financial Planners are supporting the team's performance analysis and people development capabilities, Viper 10 are their Sportswear Supplier and Skins provide the team with compression wear.
Match stats
Team Bath Netball starting 7: GS Kim Commane, GA Sophie Drakeford-Lewis, WA Rachel Shaw, C Serena Guthrie, WD Imogen Allison, GD Sophie Drakeford-Lewis, GK Summer Artman. Replacements: Beryl Friday, Mia Ritchie, Abi Robson, Laura Rudland, Leila Thomas.
Changes: Q2: Friday – bench to GS; Commane – GS to bench. Q3: Rudland – bench to GA; Drakeford-Lewis – GA to bench; Robson – bench to WD; Allison – WD to bench; Robson – WD to bench; Ritchie – bench to C; Guthrie – C to WD. Q4: Drakeford-Lewis – bench to GA; Rudland – GA to bench.
Surrey Storm starting 7: GS Sigi Burger, GA Rhea Dixon, WA Yasmin Parsons, C Mikki Austin, WD Shadine Van der Merve, GD Katy Holland, GK Lorraine Kowalewska. Replacements: Emily Gulvin, Alima Priest, Yasmin Hodge-England, Laura Morton, Nic Humphreys.
Quarter scores: Q1 14-12. Q2 26-28 (12-16). Q3 37-43 (11-15). Q4 50-56 (13-13).
Attendance: 800.
Genuine Car Services Player of the Match: Rachel Shaw.