Posted 4th May 2019
Perfect home send-off for Jess Thirlby as brilliant Blue & Gold secure Vitality Superleague semi-final place with big win over London Pulse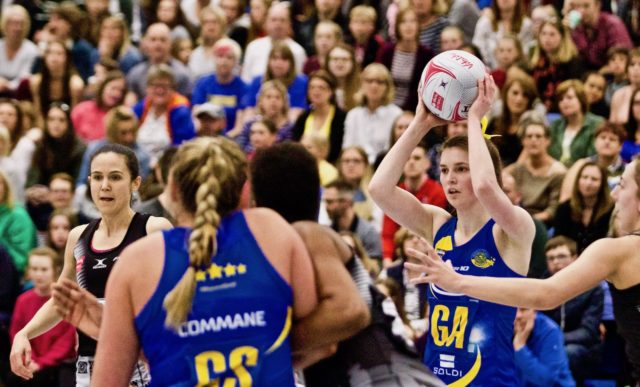 Team Bath Netball are through to their 13th Vitality Superleague semi-final in 14 years after completing their league campaign with a convincing 72-50 victory over London Pulse.
Roared on by another sell-out 1,300-strong crowd at the Team Bath Arena, the Sitec-sponsored Blue & Gold knew a win would guarantee their place in the top four and quickly calmed the nerves by racing into an early 8-0 lead.
Pulse battled away but Team Bath remained dominant as a formidable performance saw them ease to the victory that secured third place in the final table, level on points with runners-up Manchester Thunder who they will visit in the semi-finals next Saturday (May 11, 7pm centre-pass).
Loughborough Lightning clinched fourth spot with victory against Celtic Dragons, meaning they will face Wasps in the other semi-final – the Grand Final is taking place at London's Copper Box Arena on Saturday, May 18.
Superleague Head Coach Anna Stembridge said: "Credit to the girls, there were some moments of absolute brilliance tonight and it was great to get a scoreline like that to help build confidence and conviction going into the semi-finals."
Shooter Kim Commane, who was named as the Genuine Car Services Player of the Match, added: "I'm stoked for the girls, they did an absolutely killer performance tonight. That scoreline was a real team effort and I'm really looking forward to what next week holds for us."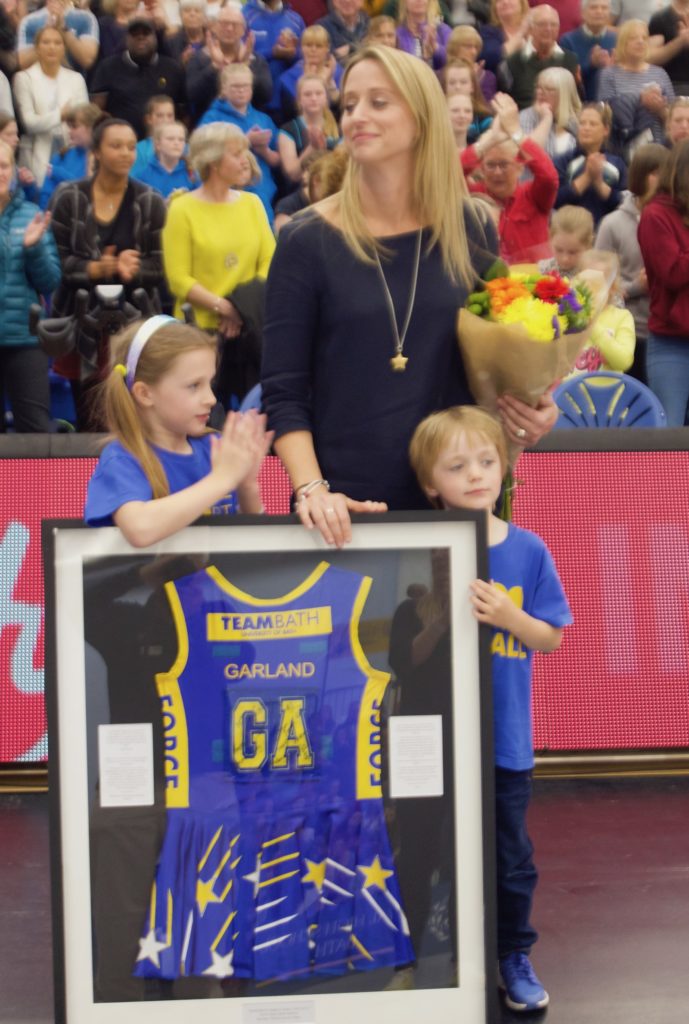 Victory was the perfect finish to the last home game for Team Bath Netball Head Coach Jess Thirlby, who is moving on this summer after 20 years of outstanding service to the Blue & Gold as both player and coach.
Former Team Bath Director of Sport Ged Roddy and Franchise Chair Sarah Mansfield presented Thirlby with flowers and a framed Blue & Gold dress during an emotional on-court ceremony after the game.
"I just want to say how much of an honour and privilege it has been to be part of Team Bath," she said. "I absolutely love this place and if you can't me open I am absolutely running Blue and Gold through and through.
"This year more than ever, to look around and see so many full houses has made me so proud. Bring on the semi-finals!"
Thirlby's two children helped co-captains Serena Guthrie and Eboni Usoro-Brown lead the Blue & Gold out onto the court for what was a must-win game.
A supremely confident start saw Team Bath surge into an 8-0 lead as they zipped the ball around court with speed, flare and accuracy. Imogen Allison, Summer Artman and Guthrie all forced early turnovers as the hosts took a stranglehold on the game.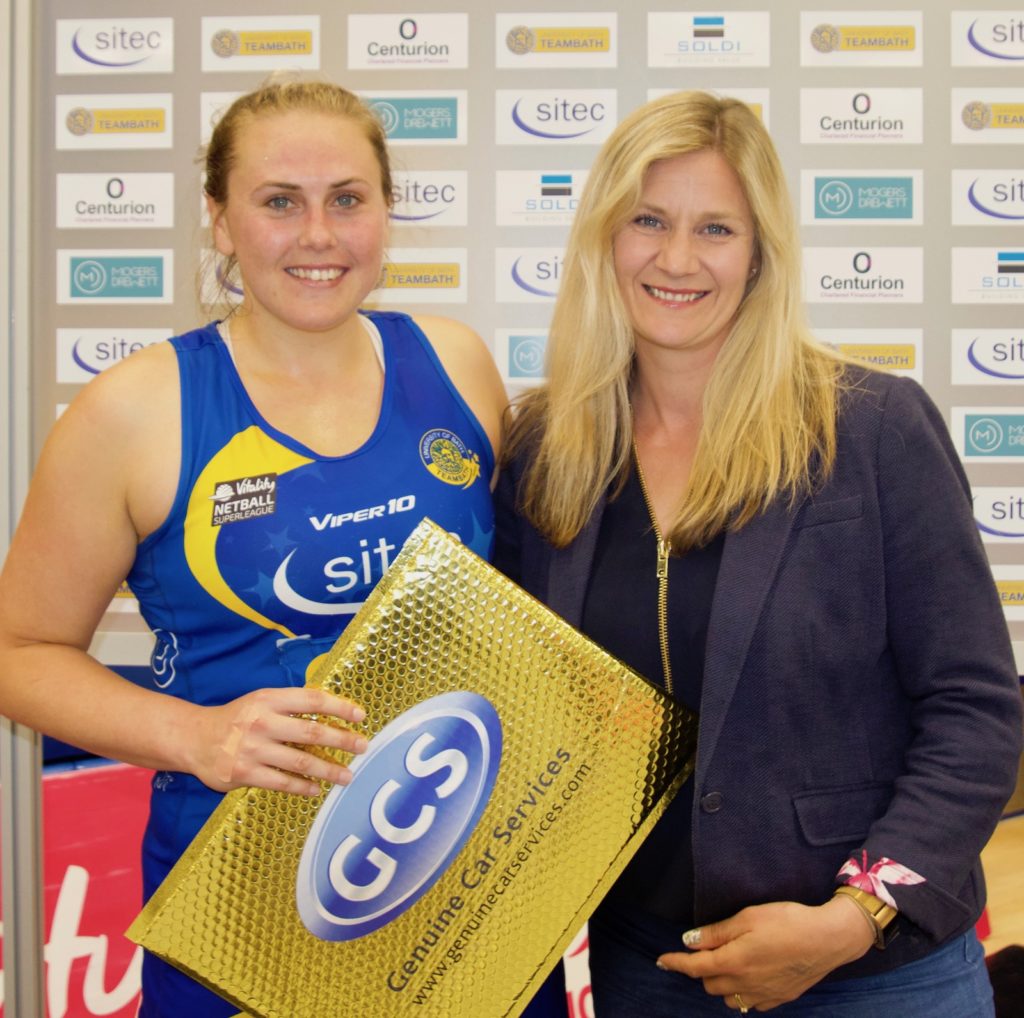 Pulse gradually settled into the match, with former Team Bath shooter Shantal Slater and Chiara Semple impressing in attack, but Sophie Drakeford-Lewis and Commane were equally clinical at the other end as the hosts maintained an 18-11 lead.
Four goals either side of the quarter break from Slater saw Pulse – who had introduced another former Blue & Gold star, England captain Ama Agbeze, at GD – close the gap to three but Team Bath quickly regained the initiative with a four-goal burst of their own.
Fantastic defensive pressure from Artman, Usoro-Brown and Allison helped to cut off the Pulse supply line, while Guthrie and Rachel Shaw were providing a steady flow of opportunities at the other end as Team Bath pulled clear once again.
The excellent Commane scored on the buzzer to give Team Bath a commanding 39-24 lead at half-time but Pulse – in their first Superleague season – were refusing to go down without a fight and rallied well in the third quarter.
They capitalised on errors from the hosts to cut the lead to 45-35 with five minutes of the quarter remaining but Team Bath found their feet again and, while they lost the quarter 15-13, they still held a comfortable 52-39 advantage going into the final 15 minutes of the league season.
Team Bath were determined to finish strongly in front of their home fans and did just that during a one-sided fourth quarter. Laura Rudland and Mia Ritchie both made a strong impact on the game after coming off the bench as the hosts wrapped up an impressive victory – their 13th of the season.
Next up is a semi-final visit to Manchester Thunder, who recovered from a third-quarter deficit to win 60-55 at Surrey Storm. The two teams met last weekend, where the Blue & Gold recorded a vital 56-53 victory to complete a league double over Thunder.
Co-captain Usoro-Brown said: "We have two very important weeks coming up and we hope to see plenty of fans in Blue & Gold behind us at the games."
Team Bath Netball are sponsored by Sitec and supported by partners Mogers Drewett, Soldi and Netball South West. Centurion Chartered Financial Planners are supporting the team's performance analysis and people development capabilities, Viper 10 are their Sportswear Supplier and Skins provide the team with compression wear.
Match stats
Team Bath Netball starting 7: GS Kim Commane, GA Sophie Drakeford-Lewis, WA Rachel Shaw, C Serena Guthrie, WD Imogen Allison, GD Eboni Usoro-Brown, GK Summer Artman. Replacements: Leila Thomas, Abi Robson, Mia Ritchie, Laura Rudland, Beryl Friday.
Replacements: Q4: Rudland – bench to GA; Drakeford-Lewis – GA to bench; Ritchie – bench to C; Guthrie – C to WD; Allison – WD to bench.
London Pulse starting 7: GS Shantal Slater, GA Chiara Semple, WA Ashleigh Neal, C Rose Long, WD Fionnuala Toner, GD Bea Skingsley, GK Loreen Ngwira. Replacements: Ama Agbeze, Taylor Cullen, Honor de Winton, Brie Grierson, Frankie Wells.
Replacements: Q2: Agbeze – bench to GD; Skingsley – GD to bench. Q3: Grierson – bench to WA; Neal – WA to bench. Q4: Wells – bench to GS; Slater – GS to bench.
Quarter scores (Team Bath first): Q1 18-13. Q2 39-24 (21-11). Q3 52-39 (13-15). Q4 72-50 (20-11).
Attendance: 1,300.
Genuine Car Services Player of the Match: Kim Commane.