Posted 22nd Feb 2019
Wasps' second-quarter surge proves decisive as Blue & Gold go down fighting against Superleague champions
A frustrating second quarter ultimately proved to be Team Bath Netball's undoing as they went down fighting against Vitality Superleague leaders Wasps in front of a capacity crowd on Friday.
The Sitec-sponsored Blue & Gold went toe to toe with the two-times champions in a pulsating first quarter that finished all square, only for the game to get away from them during a feisty second period that Wasps won 17-7.
Roared by a noisy 1,200-strong crowd, Team Bath kept battling right to the end and got to within five goals in the final quarter but the damage had been done, with unbeaten Wasps using all their quality and experience to see out a 57-46 success.
Anna Stembridge, Team Bath Netball Superleague Head Coach, said: "Credit to Wasps, they are the reigning champions so we would expect a hard, well-contested match but we're disappointed that we lost.
"I felt we had a good opportunity in that first quarter to actually come out ahead rather than level and ultimately we want to make sure we are winning that match next time.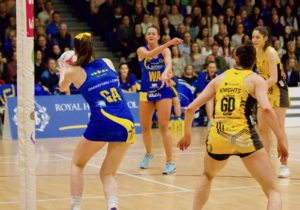 "We had young players out there who competed brilliantly and I was extremely proud of how the likes of Imogen Allison and Abi Robson competed against experienced opposition, that was a real positive to take from the game."
Team Bath welcomed Commonwealth champion Eboni Usoro-Brown back into the starting seven for the first time since the opening day of the season but her co-captain and fellow England star Serena Guthrie was unable to feature following illness, although she was able to sit on the bench.
The Team Bath Arena was buzzing before centre-pass and the capacity crowd were treated to a fast and furious opening quarter which saw both teams go goal for goal.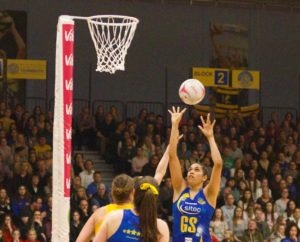 There was tremendous defensive right across the court but Mia Ritchie and Rachel Shaw were able to find the space to provide an attacking spark for the hosts, providing good supply for Sophie Drakeford-Lewis and Beryl Friday in attack.
They were able to twice give Team Bath three-goal advantages, leading 6-3 and 9-6, but former Blue & Gold shooter Rachel Dunn was in fine form once again at the other end as Wasps kept coming back to ensure a pulsating quarter finished all square at 11-11.
Wasps edged ahead for the first time two minutes into the second period and capitalised on their advantage ruthlessly, rapidly extending their advantage to 18-12 as they moved the ball with speed and precision.
Team Bath were struggling to find a route into the shooting circle and became more frustrated as an increasingly feisty, physical quarter went on. At one stage they were only able to score once in response to 13 goals from Wasps as the visitors piled on the pressure.
With the encouragement of the crowd, Team Bath cleared their heads in the last five minutes of the quarter and worked their way back into the contest. Kim Commane came off the bench as the hosts scored four unanswered goals of their own to close the gap to 28-18 going into the break.
Team Bath carried the momentum into the third period and, with Chartie Curtis on at GD, continued eating into the Wasps lead as they scored five of the first six goals in the quarter.
However, despite some excellent attacking play that had the crowd on their feet, they couldn't get any close than six goals and then lost their momentum in the closing stages of the quarter as they lost both Allison and Curtis to injury in quick succession.
Wasps went on to score four unanswered goals as Team Bath reorganised their defence, ensuring they had restored their ten-goal advantage going into the final 15 minutes.
The Blue & Gold rallied once again and, with Genuine Car Services Player of the Match Commane in fantastic shooting form, they had the home crowd roaring as they halved the lead to just five goals.
However, as in the third quarter, Wasps were able to hold them at bay before using their experience and quality to pull away again in the closing stages to record an impressive victory.
Team Bath's next home Superleague game, against Manchester Thunder next Friday (March 1), is also a sell-out but tickets are available for the other matches taking place at the Team Bath Arena in 2019 – visit netball.teambath.com/tickets to find out more.
Team Bath Netball are sponsored by Sitec and supported by partners Mogers Drewett, Soldi and Netball South West. Centurion Chartered Financial Planners are supporting the team's performance analysis and people development capabilities, Viper 10 are their Sportswear Supplier and Skins provide the team with compression wear.
Match stats
Team Bath Netball starting 7: GS Beryl Friday, GA Sophie Drakeford-Lewis, WA Rachel Shaw, C Mia Ritchie, WD Imogen Allison, GD Eboni Usoro-Brown, GK Summer Artman. Bench: Chartie Curtis, Leila Thomas, Abi Robson, Laura Rudland, Kim Commane.
Replacements: Q2: Commane – bench to GS; Friday – GS to bench. Q3: Curtis – bench to GD; Usoro-Brown – GD to bench; Usoro-Brown – bench to GK; Artman – GK to bench; Robson – bench to WD; Allison – WD to bench; Curtis – GD to bench; Usoro-Brown – GK to GD; Artman – bench to GK.
Wasps Netball starting 7: GS Rachel Dunn, GA Katie Harris, WA Bongi Msomi, C Jade Clarke, WD Amy Flanagan, GD Hannah Knights, GK Josie Huckle. Bench: Sophia Candappa, Chloe Essam, Sam May, Tamsin Moala, Fran Williams.
Replacements: Q3: Flanagan – WD to C; Clarke – C to bench; May – bench to GK; Huckle – GK to bench; Williams – bench to WD; Candappa – bench to WA; Msomi – WA to bench. Q4: Clarke – bench to C; Flanagan – C to bench; Huckle – bench to GK; May – GK to bench.
Quarter scores (Team Bath first): Q1 11-11. Q2 18-28 (7-17). Q3 32-42 (14-14). Q4 46-57 (14-15).
Attendance: 1,200.
Genuine Car Services Player of the Match: Kim Commane.