Posted 11th May 2019
Blue & Gold battle to the end of scintillating semi-final but clinical Manchester Thunder have the edge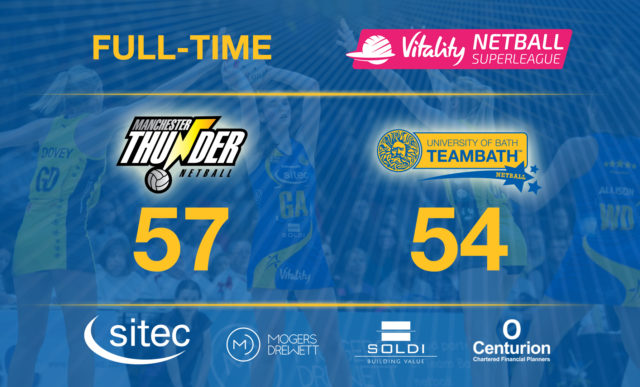 Team Bath Netball's dreams of a sixth Vitality Superleague title were dashed at the semi-final stages for a fourth successive season as they were edged out 57-54 at Manchester Thunder tonight.
An outstanding contest played at tremendous intensity and breakneck speed by both teams saw the Sitec-sponsored Blue & Gold take an early lead, then respond brilliantly to a Thunder fightback to win the second quarter and cut the gap to 28-27 at half-time.
Thunder began and finished an otherwise evenly-matched third quarter strongly, capitalising on Team Bath errors at key moments, and that ultimately proved decisive as they were able to take a 44-39 lead into the final period.
That gap grew to eight but Team Bath dug into their physical and mental reserves to claw their way back into the contest again and there were just three goals in it during the increasingly tense closing stages.
However, that was as close as the visitors could get as Thunder held on to secure their place in the Grand Final against Wasps while Team Bath go into the third-placed play-off against Loughborough Lightning. Both matches will take place at the Copper Box Arena on Saturday, May 18.
Team Bath Netball Head Coach Jess Thirlby was proud of the effort shown by her players, telling Sky Sports: "I honestly could not be more proud of that team, I am just so grateful to get to work with these girls.
"The match could have been over at the end of the third quarter but we gave ourselves three chances [to get right back in it] in the final quarter. We just weren't quite good enough at critical moments.
"I thought Manchester Thunder were excellent tonight in terms of how clinical they were. I thought it was a fantastic match and I'm proud to have been a part of it. Of course it's disappointing to come out on the wrong side – we just needed that extra one per cent at key moments but the future is bright."
The Blue & Gold made a strong start to the game, with Rachel Shaw setting the tone as she brilliantly intercepted the first centre-pass. That defensive pressure was replicated right across the court as the visitors pushed into a 10-6 lead.
Thunder fought back strongly, though, and managed to wrestle away the momentum as a five-goal blitz gave them the lead for the first time. The wind was now in their sails and they were able to take advantage of a couple of Team Bath errors to lead 18-14 at the end of the first quarter.
Team Bath needed a strong start to the second period and they got it as four goals quickly drew them level. It was evenly matched on the scoreboard and on court as the teams went goal for goal during 15 absorbing minutes.
The intensity from both sets of players was outstanding and whenever Thunder looked to have gained the initiative, brilliant interceptions from Serena Guthrie and Imogen Allison or defensive turnovers from Summer Artman and Eboni Usoro-Brown – converted confidently by Kim Commane and Sophie Drakeford-Lewis at the other end – brought Team Bath back to all square.
A Joyce Mvula goal in the dying seconds gave Thunder a narrow 28-27 advantage at half-time and they were able to stretch the gap to 31-27 just after the restart but the contest soon reverted to goal for goal.
Team Bath were giving everything they had as they refused to let Thunder get away while going in search of that all-elusive turnover. It finally came in the last five minutes of the quarter and the visitors had the chance to cut the lead to one but the opportunity was missed and ruthless Thunder took full advantage to stretch the gap to 44-39.
The physical intensity of the game was evident to see but Team Bath were determined to leave everything on the court and, after going eight goals down early in the fourth quarter, they showed tremendous character to drag themselves back into the contest.
A five-goal burst by Commane put the match right back in the balance but Team Bath couldn't quite get any closer and Thunder were able to hold on for a 57-54 victory.
Ticket information for Team Bath's third-placed play-off against Lightning is available here.
Team Bath Netball are sponsored by Sitec and supported by partners Mogers Drewett, Soldi and Netball South West. Centurion Chartered Financial Planners are supporting the team's performance analysis and people development capabilities, Viper 10 are their Sportswear Supplier and Skins provide the team with compression wear.
Match stats
Manchester Thunder starting 7: GS Joyce Mvula, GA Kathryn Turner, WA Liana Leota, C Caroline O'Hanlon, WD Laura Malcolm, GD Emma Dovey, GK Kerry Almond. Bench: Rebekah Airey, Eleanor Cardwell, Amy Carter, Paige Kindred, Ally Thomas.
Team Bath Netball starting 7: GS Kim Commane, GA Sophie Drakeford-Lewis, WA Rachel Shaw, C Serena Guthrie, WD Imogen Allison, GD Eboni Usoro-Brown, GK Summer Artman. Bench: Leila Thomas, Abi Robson, Mia Ritchie, Laura Rudland, Beryl Friday.
Quarter scores (Thunder first): Q1 18-14. Q2 28-27 (10-13). Q3 44-39 (16-12). Q4 57-54 (13-15).