Posted 2nd Dec 2019
England and South Africa internationals among big stars set to shine at Team Bath Netball's The BiG Showdown tournament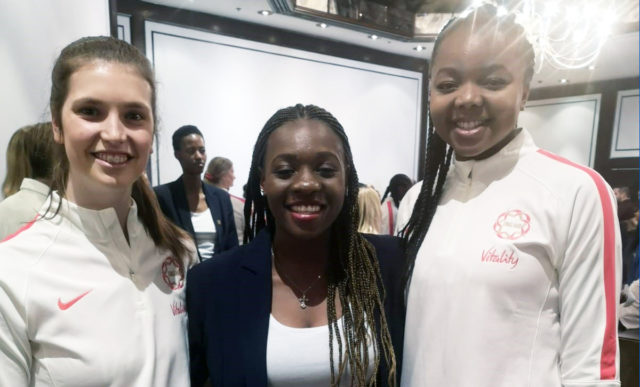 Eight players who featured in the international test series between England and South Africa are among star-studded squads provisionally announced for this weekend's The BiG Showdown tournament at Team Bath Netball.
Roses stars Sophie Drakeford-Lewis and Summer Artman will be on the same side as Proteas ace Khanyisa Chawane this time as they run-out in the Blue & Gold of the host club for the two-day pre-season showdown, taking place at the Team Bath Arena on Saturday and Sunday (December 7&8) – the three are pictured together above.
Exciting mid-court talent Chawane isn't the only new face that Team Bath fans can look forward to seeing in action, with Northern Ireland World Cup star Fionnuala Toner and Welsh international shooter Betsy Creak also in the home squad along with a host of returning favourites.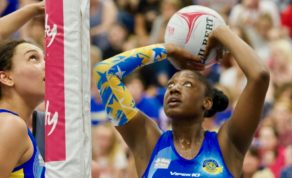 Saracens Mavericks have named England internationals Kadeen Corbin, George Fisher, Gabby Marshall and Razia Quashie in a strong squad, while South African defender Zanele Vimbela will line-up for Strathclyde Sirens. She is one of two former Team Bath stars in the Scottish franchise's squad, the other being Claire Maxwell who captained her country at this summer's Netball World Cup.
There are a number of familiar faces in the provisional Severn Stars squad including new signing Ama Agbeze, who captained England to Commonwealth Games gold in 2018, while Surrey Storm will once again be led on and off court by inspirational player-coach Mikki Austin.
Adding spice to the mix is the presence of Knights, the UK's leading men's netball team who are now coached by former Storm player Talissa Haynes.
All six teams will face each other in a round-robin competition played over two action-packed days at the Team Bath Arena, with the top two teams playing off in a final on Sunday afternoon for the inaugural Lyn Gunson Trophy – named to honour the player-development guru who was instrumental in forging a successful netball culture for both Team Bath and England.
Anna Stembridge, Head Superleague Coach for Team Bath Netball, said: "We are absolutely delighted to host such a fantastic pre-season tournament which will enable fans to get their first glimpse of not only our new-look squad but a further four Superleague sides as well, plus the bonus of the Knights.
"These types of opportunities are a critical part of our 2020 season preparation and player development, particularly in light of Superleague match-day squads going down to ten players.
"For anyone that can get down on either day, or both, I would highly recommend that you do as there will be some highly competitive, fast and furious netball on show – see you there!"
Tickets for The BiG Showdown are on sale now, either for individual days or the weekend at a discounted price. The action runs from 10am-7pm on Saturday and 9.30am-5pm on Sunday – the second day will also be streamed live on BBC Sport. Fans will also be available to pay on the door on both days. Click here for a full schedule and to purchase tickets.
Team Bath and England legend Serena Guthrie will also be inducted into the University of Bath Hall of Fame for Sport during a special on-court ceremony at 3.50pm on Saturday.
Team Bath Netball is partnering with local charity Sporting Family Change in 2020 to help make a difference through sport. Centurion Chartered Financial Partners are Team Bath's people development partner and Rengen Developments also support the netball programme as part of their overall partnership with Team Bath.
The BiG Showdown provisional squads
Team Bath Netball: Imogen Allison, Summer Artman, Khanyisa Chawane, Kim Commane, Betsy Creak, Sophie Drakeford-Lewis, Hannah Passmore, Tash Pavelin, Mia Ritchie, Abi Robson, Laura Rudland, Rachel Shaw, Fionnuala Toner, Eboni Usoro-Brown.
Saracens Mavericks: Steph Collard, Kadeen Corbin, Sasha Corbin, Beth Ecuyer Dale, Chloe Essam, George Fisher, Jodie Gibson, Georgia Lees, Gabby Marshall, Rachel Mulloy, Jo Trip, Razia Quashie, Frankie Wells, Aliyah Zaranyika.
Severn Stars: Nia Jones, Bethan Dyke, Lucy Harris, Lucy Herdman, Paige Reed, Georgia Rowe, Chloe Carchrie, Ellie Gibbons, Jane Taylor, Hannah Howl, Harriet Sanderson, Ama Agbeze, Ella Powell Davies.
Strathclyde Sirens: Lauren Tait, Natalie Bright, Zanele Vimbela, Emily Nicholl, Taylor Cullen, Nicola McCleery, Claire Maxwell, Gia Abernethy, Lynsey Gallagher, Kelly Boyle, Niamh McCall, Cerys Cairns.
Surrey Storm: Mikki Austin, Katy Hughes, Leah Middleton, Karyn Bailey, Sophia Hankin, Yasmin Hodge-England, Alima Priest, Leah Goss, Emily Gulvin, Ellie Kelk, Laura Morton, Jess Dale, Niamh Cooper.
Knights: Lewis Keeling, Jesse Badger, Dan Rix, Daniel Jolley, Simon Taylor, Geoff Mackay, Jesse Hadfield, Klem Speck, Chris Green, Patrick Buckley, James O'Connor, Dan Ryan.