Posted 25th Nov 2019
Come and support netball star Serena Guthrie's induction into Team Bath Hall of Fame for Sport during The BiG Showdown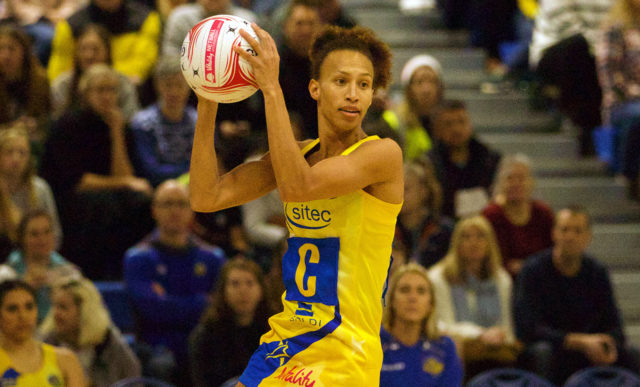 Team Bath and England legend Serena Guthrie will be inducted into the University of Bath Hall of Fame for Sport during a special on-court ceremony at The BiG Showdown – the pre-Christmas treat for netball fans ahead of the 2020 Superleague season.
Supporters will be able to show their appreciation for the mid-court maestro when the induction takes place in the Team Bath Arena at 3.50pm on Saturday, December 7 – the first day of an action-packed weekend that will see 16 matches featuring the Blue & Gold, four other Superleague sides and Knight's, the UK's leading men's team.
Guthrie is widely recognised as one of the world's finest netballers and played a pivotal role as England won a historic gold medal at the 2018 Commonwealth Games in Australia.
She also captained the Roses to a third successive bronze medal at this year's Netball World Cup and has won three Superleague titles during a stellar career with Team Bath that began when she was just 16.
Guthrie is taking a year out of netball but remains very much part of the Blue & Gold family and is serving as an ambassador both for the club and Sporting Family Change, the Bath-based charity that is partnering with Team Bath Netball in 2020 to make a difference through sport.  
Among the netball icons she will be joining in the University's Hall of Fame for Sport are fellow England stars Pamela Cookey and Stacey Francis plus hugely-influential coach Lyn Gunson, who the winners' trophy at The BiG Showdown is named after and celebrates.
Joining Team Bath at the tournament are Saracens Mavericks, Severn Stars, Strathclyde Sirens and Surrey Storm, giving netball fans an early chance to assess the new-look squads ahead of the 2020 Superleague season.
Day tickets are priced at £20 for adults, £10 concessions and £40 for a family ticket (two adults and two children or one adult and three children). There is a ten per cent discount for spectators buying tickets for both days.
Click here to buy tickets or get more information about The BiG Showdown.