Posted 18th Nov 2019
Breakthrough Welsh shooting "gem" Betsy Creak all set for debut Superleague season after joining Blue & Gold for 2020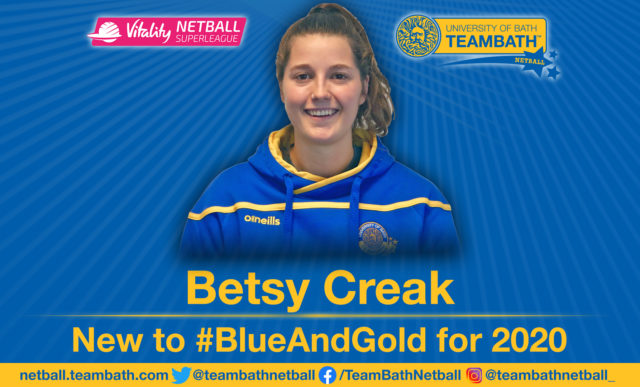 She made her international debut for Wales this year and now breakthrough shooting star Betsy Creak is all set for her first-ever Vitality Superleague campaign after joining Team Bath Netball for 2020.
The 23-year-old impressed Blue & Gold Superleague Head Coach Anna Stembridge with some eye-catching displays in Wales' Summer Series against the likes of South Africa and Northern Ireland.
Now, having made the step-up from club and student netball in Bristol, Creak is determined to make the most of her chance to compete at the highest level.
"I have been given this opportunity and I'm going to give it 100 per cent," she said. "Whatever happens, I want to look back at the end of the season and say I enjoyed it and gave it absolutely everything.
"This is my first exposure to Superleague netball and I'm really enjoying it so far, everyone has been so lovely and very welcoming. I felt nervous for the first five minutes of the first session but quickly realised that everyone was amazing.
"I love training with the players here, you are pushed to your limits every time and you come off court feeling really good. All the girls are really supportive and it's a nice environment to be in."
Creak played student netball for the University of Bristol before joining Premier Romans, one of Bristol's most successful clubs, where she competed in National League Premier 1 alongside fellow Team Bath attacker Laura Rudland.
She decided to see if she could take the next step in her career earlier this year by attending open trial sessions with Wales. It proved to be successful and Creak was among six senior debutants selected for the week-long Summer Series in Cardiff during July.
"It was really cool and has given me a taste for playing at that level and becoming a better athlete, which is something I want to build on this season," she said.
"Anna watched me in a few of the matches and got in touch about coming to Team Bath. I was quite surprised but it was a nice surprise."
Creak is no stranger to the University of Bath Sports Training Village, albeit not in a netball capacity as she has previously competed there in school athletics competitions while growing up in Oxford.
Away from the court she teaches Biology at Badminton School near Bristol. Among her work colleagues is Clare Elsley, Assistant Director of Sport at Badminton and a former England netball international who won two Superleague titles with Team Bath.
"I have known Clare for a while as she plays for Premier Romans as well," said Creak. "She has helped me loads over the years, on and off the court. It's quite hard to manage netball and teaching so whenever I have a wobble I can speak to her and get some advice and reassurance which is really nice."
Stembridge said: "Betsy was definitely one of the gems to come out of the Wales Summer Series. I was very impressed with her composure, consistency and attitude in her debut against South Africa, especially as it was against one of the best defenders in the world in Karla Pretorius.
"Although she entered the game after the first quarter in the slightly unfamiliar position of GA, she wasn't afraid to go to post at any distance and held her own. More importantly she backed up her performance the next day in Wales' second game against the Proteas, as well as at both GS and GA against Malawi, Trinidad & Tobago and Grenada.
"I am really enjoying working with Betsy and believe her physical abilities, her willingness to learn and her ability to offer both GS and GA options will put her in a strong position not only for this season but for seasons to come."
Creak is set to experience playing in the Team Bath Arena for the first time during The BiG Showdown on December 7&8, a two-day netball tournament where the Blue & Gold will take on Saracens Mavericks, Severn Stars, Strathclyde Sirens, Surrey Storm and Knights, the UK's leading men's netball team. Tickets are on sale now – click here for full details.
Team Bath Netball is partnering with local charity Sporting Family Change in 2020 to help make a difference through sport. Centurion Chartered Financial Partners are Team Bath's people development partner and Rengen Developments also support the netball programme as part of their overall partnership with Team Bath.