Posted 29th Oct 2019
Young Player of the Year and emerging England Netball star Sophie Drakeford-Lewis back in Blue & Gold for 2020 Superleague season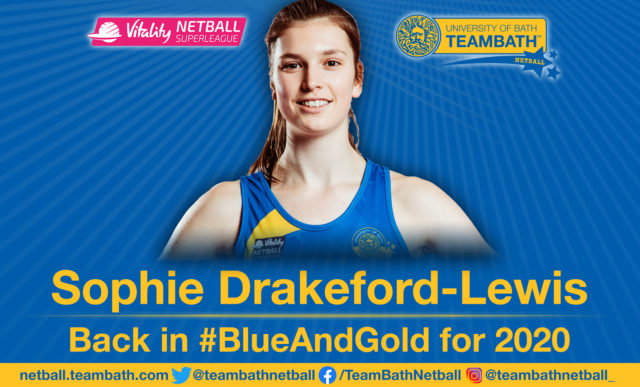 She is the current Vitality Superleague Young Player of the Year, one of the brightest stars in the new generation of England Roses – and she is back in Blue & Gold for 2020.
Sophie Drakeford-Lewis is today confirmed as a Team Bath Netball player for a third successive Superleague season and, as a member of the new-look England squad as well, she is eagerly looking forward to a big year ahead.
"I am really excited to be back in the Blue & Gold for a third season," said the 20-year-old goal attack. "I am always looking to learn, improve and develop as a player and I feel Team Bath is the best place to do that, I really enjoy the environment here."
Drakeford-Lewis was one of the league's standout performers last season, impressing with her slick link-up play, unerring shooting accuracy and tireless work ethic. She also forged an excellent understanding with shooter Kim Commane and is keen to develop that further in 2020.
"I love Kim's movement and the fact that she leads the line and holds the ball so well," said Drakeford-Lewis. "I have already learnt so much from her and I'm looking forward to building on that connection.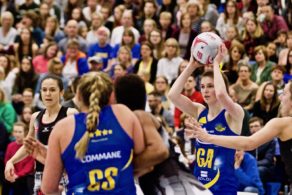 "The squad is looking good for 2020. We've kept a lot of the players from last year, so we already have those connections, and to have netballers of the quality of Khanyisa Chawane and Fi Toner coming in is really exciting."
Drakeford-Lewis's superb form since joining Team Bath in 2017 has earned her a place in the senior England squad and she has spent much of the past two months with Jess Thirlby's Roses, attending training camps and playing in behind-closed-doors matches in Australia and New Zealand.
On top of that she has also started the third year of an Integrated Mechanical & Electrical Engineering degree at the University of Bath, where she is supported by a Bill Whiteley Sports Scholarship.
"I have been quite busy to say the least but I wouldn't have it any other way," said Drakeford-Lewis.
"Training with England over the past couple of months has been very intense but I have had so many amazing experiences. Obviously the highlight was travelling to Australia and New Zealand. We played seven games out there and I learned so much coming up against that caliber of opposition.
"I haven't actually been in Bath much since the start of term but I am really lucky in that all of my lectures are recorded so I can catch up while I am on training camp. My lecturers and tutors are also incredibly supportive and I am really grateful for their help and understanding."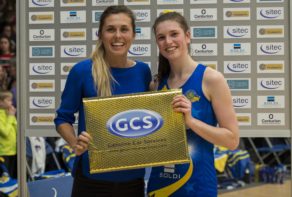 Team Bath Netball Superleague Head Coach Anna Stembridge said: "Sophie, for me, is one of the most exciting young attacking talents in the game. She epitomises excellence in everything she does, both on and off the court, and I am very happy that she will be a part of our 2020 squad.
"Last season her consistency across our 20 games was notable. She built a brilliant connection with Kim and Rachel Shaw in our attacking end, finished the season with an overall shooting average of 87 per cent and, most impressively, put in an absolute shift in both attack and defence – making a name for herself with those trademark interceptions.
"I can't wait for her to be back in the Team Bath Arena, driving this new-look squad on and displaying the learning she has taken from both last season and her recent England experiences."
Drakeford-Lewis and her team-mates in Blue & Gold will enjoy their first test of pre-season on December 7&8 when The BiG Showdown takes place at the Team Bath Arena.
Also taking part in the two-day tournament are her former club, Saracens Mavericks, and Severn Stars, Strathclyde Sirens and Surrey Storm plus Knights, the UK's leading men's netball team.
There will be 16 matches over the course of the weekend and tickets for the tournament on sale now – click here for further details. Tickets are also on sale for Team Bath's 2020 Superleague home fixtures – click here to find out more.
Team Bath Netball is partnering with local charity Sporting Family Change in 2020 to help make a difference through sport. Centurion Chartered Financial Partners are Team Bath's people development partner and Rengen Developments also support the netball programme as part of their overall partnership with Team Bath.