Posted 12th Nov 2019
England star Summer Artman ready for big year with club and country after recommitting to Blue & Gold for 2020 Superleague season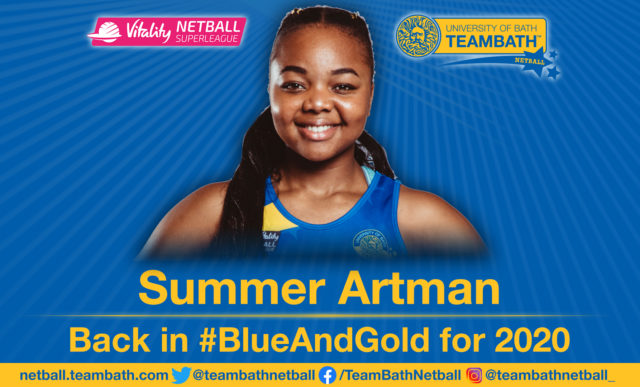 England star Summer Artman is excited to help Team Bath Netball build on the promise shown last season after being confirmed in Blue & Gold for the 2020 Vitality Superleague campaign.
Artman underlined her status as one of the country's most talented young defenders with a string of impressive performances alongside Eboni Usoro-Brown as Team Bath finished third overall in the 2019 Superleague.
She is confident they will be challenging for the title when the new season begins in February, particular with the support of the Blue & Gold faithful driving them on.
"I think we are definitely more than just a top-four team and we are aiming high," said the 22-year-old, who has been named as a training partner with the England squad for this month's test series in South Africa.
"We aren't starting from scratch, we are building on where we left off last season and that is really promising and exciting. We have retained the majority of our squad and that puts us in really good stead because everything we built in terms of culture and relationships on and off court is there for us to push on from.
"There is also plenty of scope for the new players coming in to make their mark. In defence we have Fi Toner coming in and she is renowned for coming out of nowhere to win the ball. With games coming down to really small margins, as we saw last year, you need players who can turn the ball over like that.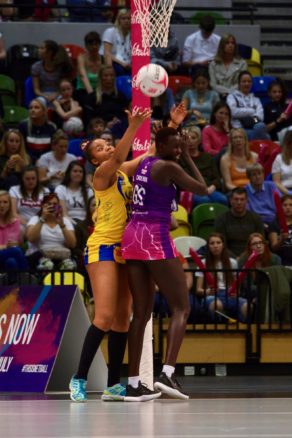 "We also have our fans who make a massive difference in those situations. They got behind us so well last season – in some of the games where there were just one or two goals in it, it was literally the crowd who pulled us through, so more of that please!"
Artman – a former pupil at King Edward's School in Bath who came through the Team Bath Talent Development Centre – is ready to play a big role for both club and country after being named in the England full-time training programme for 2019-20.
She went on the Roses' behind-closed-doors tour of Australia and New Zealand in September, along with fellow Team Bath players Imogen Allison and Sophie Drakeford-Lewis, and will gain more international experience with the Roses in South Africa from November 29 to December 1.
"It's been pretty much non-stop with England over the past few weeks but I've loved it, it is such a good group of players," said Artman.
"September's tour was good to see how we match up against Australia and New Zealand, who are also at the start of a new four-year cycle, and check out some of the players we might not know.
"I'm looking forward to the South Africa tour too. My first experience of a senior match abroad with England was there in 2017, so I have good memories of that, and I loved South Africa – the people were amazing, the culture was amazing.
"I'm going as a training partner but there are lots of ways I can have impact on the tour and help to ensure the team are the best they can be out on court."
Anna Stembridge, Team Bath Netball Superleague Head Coach, said: "I am so pleased that we have been able to retain Summer for our 2020 squad, allowing us to build upon the solid connections she formed with the likes of Eboni and Imo in defence.
"She was instrumental to our campaign last year, displaying consistency across the season with some stand-out performances against Manchester Thunder at home and Loughborough Lightning in our bronze play-off. She was calm in attack and dominant in defence, winning ball at critical times.
"Summer's desire to be the best she can be, both in relation to herself and the team, is commendable. I love working with athletes like her – they demand the most from their environment, their coaches, their team and themselves, which keeps you on your toes and makes you accountable in delivering the best you can week in week out.
"I really look forward to working with her again this year and pushing on both in relation to her own individual performances and those of the team."
Artman is the 11th confirmed member of the Team Bath 2020 Superleague squad and fans will have chance to watch them in action before Christmas when The BiG Showdown takes place at the Team Bath Arena on December 7-8.
Saracens Mavericks, Severn Stars, Strathclyde Sirens and Surrey Storm are also taking part in the action-packed two-day tournament as well as Knights, the UK's leading men's team. There will be 16 matches in total to enjoy over the weekend as fans get an early glimpse of the squads for 2020.
Tickets for The BiG Showdown, as well as Team Bath's nine home Superleague matches in 2020, are on sale now – visit netball.teambath.com for full details.
Team Bath Netball is partnering with local charity Sporting Family Change in 2020 to help make a difference through sport. Centurion Chartered Financial Partners are Team Bath's people development partner and Rengen Developments also support the netball programme as part of their overall partnership with Team Bath.