Posted 4th Oct 2019
"This young gun is dynamic, fast and very athletic" – Netball World Cup star Khanyisa Chawane joins Blue & Gold for 2020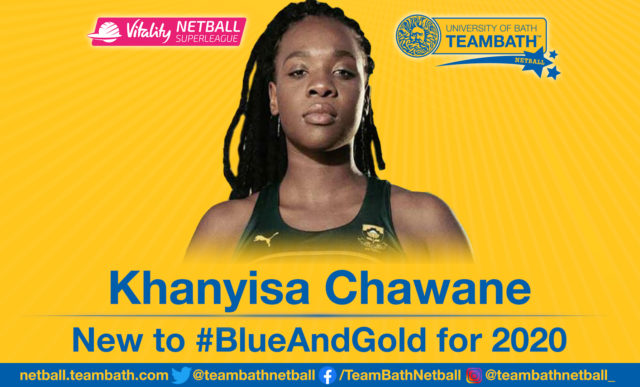 Exciting young South African star Khanyisa Chawane says the opportunity to play for Team Bath Netball in the 2020 Vitality Superleague is such an honour that it "still brings tears to my eyes".
The talented mid-courter will wear the famous Blue & Gold next year after being one of the stars of this summer's Netball World Cup for the SPAR Proteas, impressing in both defence and attack as South Africa finished fourth overall and went mighty close to stunning Australia in the semi-finals.
Chawane had previously captained her country's U21 team at the 2017 Netball World Youth Cup in Botswana and played domestically for University of the Free State in Bloemfontein, the alma mater of former Team Bath netballer Karla Pretorius (nee Mostert).
"I am really thrilled to have signed with Team Bath, it's absolutely amazing to know I'm going to be part of one of the best teams in the UK," said Chawane.
"There is no doubt I'm going to come out a better player and I'm grateful to have been scouted and given this opportunity to play for such a big team, it still brings tears to my eyes when I think about it.
"I had a chat with Karla and she said Team Bath was definitely a place she would recommend to everyone. I've heard about the good environment that has been created and how well the players are taken care of. I don't know much about the city but I'm hoping to enjoy it and have a great time.
"My goal has always been to play abroad and challenge myself. I always strive to better myself and give my best on and off court. Hopefully my skills and abilities will be of great contribution to Team Bath in 2020."
Chawane, who is 23 years old, will be the fourth South African to play for Team Bath following Pretorius, Lenize Potgieter and Zanele Vimbela.
She joins Imogen Allison, Mia Ritchie, Abi Robson and Rachel Shaw in an exciting mid-court for the Blue & Gold and Head Superleague Coach Anna Stembridge believes Chawane will make a big impact in the Superleague.
Team Bath Netball Head Superleague Coach, Anna Stembridge, said:
'Khanyisa was one of the stars of the 2019 World Cup and I am excited that she will be joining our squad for our 2020 campaign.
"This South-African young gun is dynamic, fast and very athletic, she demonstrated at the World Cup just how good she is and how good she could be with her ability to have great impact off the bench in critical games, as well as hold her own against some of the world's best centres (one of them being a blue and gold fav, Serena Guthrie!).
"I am really looking forward to working with her and can't wait to have her here with the team".
Season and individual match-day tickets are now on sale for the 2020 Vitality Superleague season. Visit netball.teambath.com/tickets for more information.
Team Bath Netball is partnering with local charity Sporting Family Change in 2020 to help make a difference through sport. Centurion Chartered Financial Partners are Team Bath's people development partner.