Posted 10th Apr 2021
Scrappy performance but another win as Blue & Gold finish first half of Vitality Superleague season with victory over London Pulse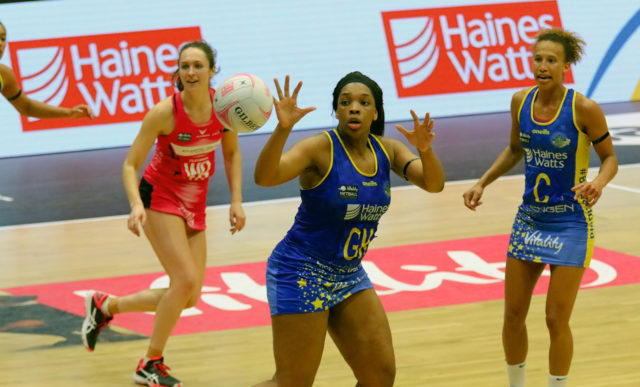 Team Bath Netball made it 10 wins from 11 matches in Wakefield on Saturday as they concluded the first half of the 2021 Vitality Superleague season with a scrappy 37-27 victory over London Pulse.
The Haines Watts-sponsored Blue & Gold, off the back of Friday night's hard-earned 52-46 win against league newcomers Leeds Rhinos, stormed out of the blocks with the opening seven goals of the game and led 15-3 at one stage in the first quarter before Pulse were finally able to get a foothold.
They rotated their squad to good effect to knock the league leaders out of their attacking stride and restricted the Blue & Gold to just 22 goals during the remaining three quarters, winning the final period 7-6.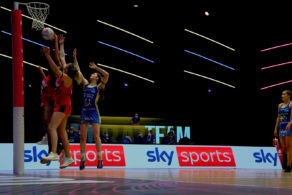 However, Team Bath had done enough to record their second victory over Pulse in a fortnight and while Superleague Head Coach Anna Stembridge was not happy with the performance, she was pleased to finish the first half of the season on a winning note and also hand a debut to wing-attack Kirsty Harris.
"I'm pretty disappointed with that game but happy to get the points," she said. "We weren't as consistent as we wanted to be in building across each quarter and I think we fell short in terms of our flow but fair play to Pulse, they really brought it today.
"We've loved coming up here to Wakefield and I feel we are building as a team. There have been games where our attack has really delivered and others where we've been strong in defence but I don't think we've delivered the full package yet. It was great to get Kirsty out there, as well as Betsy [Creak] and Tash [Pavelin], making sure they get that exposure and pressure.
"The second half of the season is going to be even tougher because all the teams now have more information on each other so it's really important we refresh."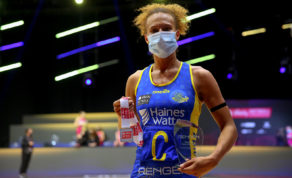 Rengen Player of the Match Serena Guthrie added: "I'm quite disappointed with how we finished the game but we got the win and there is so much growth to do as a team. There was a little inconsistency throughout both our games this weekend but we have a bye week coming up to recharge and then it's about coming out hard at the Copper Box."
The match – as with all Superleague games this weekend – was preceded by a two-minute silence in honour of HRH Prince Philip, the Duke of Edinburgh, and all players wore black armbands.
Rengen-backed Team Bath quickly stamped their authority on proceedings with seven unanswered goals during the opening five minutes. They continued to dominate all areas of the court, hunting the ball and moving it quickly and confidently to Kim Borger and Sophie Drakeford-Lewis who converted all of their shots to stretch the lead to 15-3.
A youthful Pulse side showed good spirit to bag the final four goals of the quarter and, after making a host of changes, they continued to grow in confidence during a closely-contested second period.
Team Bath were now finding it difficult to get the ball into the attacking circle as Pulse, with the experienced Lindsay Keable on at goal-keeper, applied more defensive pressure and the quarter finished even at 8-8, which meant the Blue & Gold held a 23-15 lead at half-time.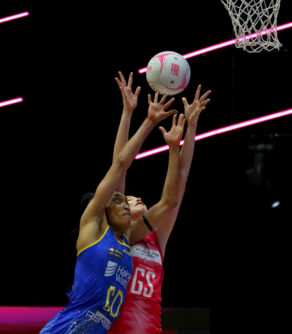 Team Bath freshened things up in attack for the third quarter with Betsy Creak coming on at goal-shooter, while Pulse made three more changes of their own, but play was scrappy and just five goals were scored in the opening six minutes.
Both teams were struggling to create and convert chances under good defensive pressure, with Eboni Usoro-Brown and Layla Guscoth again looking strong for Team Bath, but the Blue & Gold did enough to stretch their advantage to 31-20 going into the fourth quarter.
Stembridge made more changes to her line-up, with Tash Pavelin coming on at goal-defence and fellow University of Bath graduate Harris making her Superleague debut at wing-attack. Borger also returned at goal-shooter, with Creak moving to goal-attack, but Team Bath struggled to regain their attacking momentum and netted just six times.
Pulse continued to change things up well, particularly in defence, and they edged a low-scoring quarter 7-6 but it was Team Bath who took the points. You can watch the game again in full here:
There are five more Superleague matches in Wakefield on Sunday and Monday before the action moves south to the Copper Box Arena in London for the remaining nine rounds of the regular season.
First up for Team Bath is a match against Welsh rivals Celtic Dragons on Sunday, April 25 (12pm centre-pass). It is being shown live and for free on Sky Sports YouTube and the link will be available at netball.teambath.com/fixtures.
Team Bath Netball is supported by its Principal Partner, chartered accountants Haines Watts, who are also a pathway partner, and by Rengen and Centurion Chartered Financial Planners. O'Neills are Team Bath's official kit supplier.
Match stats
Team Bath Netball starting 7: GS Kim Borger, GA Sophie Drakeford-Lewis, WA Rachel Shaw, C Serena Guthrie, WD Imogen Allison, GD Layla Guscoth, GK Eboni Usoro-Brown. Replacements: Summer Artman, Tash Pavelin, Abi Robson, Kirsty Harris, Betsy Creak.
Changes: Q3: Creak – bench to GS; Borger – GS to bench. Q4: Pavelin – bench to GD; Guscoth – GD to bench; Harris – bench to WA; Shaw – WA to bench; Borger – bench to GS; Creak – GS to GA; Drakeford-Lewis – GA to bench.
London Pulse starting 7: GS Sigi Burger, GA Lefebre Rademan, WA Michelle Drayne, C Ellie Rattu, WD Funmi Fadoju, GD Zara Everitt, GK Halimat Adio. Replacements: Adean Thomas, Olivia Tchine, Kira Rothwell, Lindsay Keable, Ashleigh Dekker.
Changes: Q2: Rothwell – bench to GA; Dekker – bench to WA; Adio – GK to GD; Keable – bench to GK; Rademan – GA to bench; Drayne – WA to bench; Everitt – GD to bench. Q3: Everitt – bench to WD; Drayne – bench to C; Tchine – bench to GS; Fadoju – WD to bench; Rattu – C to bench; Burger – GS to bench; Rademan – bench to GA; Rothwell – GA to bench. Q4: Keable – GK to GD; Adio – GD to GK; Burger – bench to GS; Tchine – GS to bench.
Quarter scores (Team Bath first): Q1 15-7; Q2 23-15 (8-8); Q3 31-20 (8-5). Q4 37-27 (6-7).
Rengen Player of the Match: Serena Guthrie (Team Bath Netball).