Posted 1st Dec 2020
Meet the next generation of aspiring Blue & Gold stars as 2020-21 Academy Development Centre squads are announced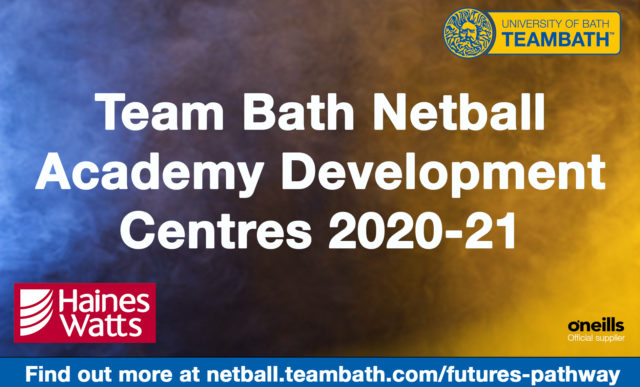 Nearly 150 of the most talented young netballers in the South West of England will benefit from additional top-level coaching this season after being selected for Team Bath Netball's Academy Development Centre (ADC) programme.
The players – all aged between 15 and 18 years old – will have access to coaching and lifestyle support from the Blue & Gold within their home region at ADCs located in seven host venues across the South West – Bristol, Truro, Exeter, Blandford, Gloucester, Glastonbury and Salisbury.
More than 450 aspiring netballers applied to join the talent-development programme, supported by Team Bath's Principal Partner Haines Watts, and attended screening during September and October.
The successful applicants receive on-court technical training and strength & conditioning coaching at their ADC on Monday evenings, although those sessions have been taking place online during lockdown.
They have also received a Team Bath induction presentation, sharing the values and goals that the Blue & Gold aspire to, and also have access to brand-new Athlete Performance Manager software.
Team Bath has a proud tradition of developing players through the performance pathway and onto the national and international stage. Nine of this year's ADC intake have been selected to trial for England at U17 and U19 level during December, while recent Academy players Kirsty Harris, Hannah Passmore and Abi Robson have all been named in the Blue & Gold's 2021 Vitality Superleague squad.
---
Team Bath Netball Academy Development Centre squads 2020-21
Isobel Bailey, Maddie Birch, Eleanor Blakeway, Ashleigh Browne, Lauren Corn, Milly Davis, Elisa Dewhirst, Grace Farrar, Sophie Jackson, Amber Marlowe, Leyla Nalbantoglu, Bryony O'Hare, Emily Padfield, Eve Stickland, Daisy Taylor, Jamilla Thompson, Olivia Veale, Bevin-Mae White, Amy Wood.
Lead coach: Sonja Payne. Assistant coaches: Kerry Walsh, Roni Peck. Strength & Conditioning coach: Jack Phillips.
Phoebe Aisher, Laila Akenzua Al-Kareem, Maisie Arnold, Millie Bombroff, Lucy Creed, Annie Davis, Holly Gaiger, Maddi Giles, Bronte Goddard-Lock, Molly Goult, Elizabeth Hardie, Sophie Harrison, Rebecca Hinkins, Hannah Jackson, Jess Lewis, Molly Livesey, India Monllor, Roisin O'Rourke, Nancy Read, Lily Rogers, Lowri Stephens.
Lead coach: Tammie Anderson. Assistant coach: Frankie Nutt. Strength & Conditioning coach: Jack Davies.
Izzy Baker, Alice Bickley, Josie Bulled, Tia Chaloner, Natalie Charity, Emily Churchill, Amy Cornish, Amelia Disney, Caitlyn Fee, Louisa Gibbins, Annie Grief, Megan Hamilton-Strong, Daisy Harrison, Gemma Hughes, Faye Kinsella, Nevie Milne, Eden Robinson, Reese Robinson, Kitty Sampson, Charlotte Steer, Lily Tomlinson, Ella Williams.
Lead coach: Chantelle Cox. Assistant coach: Sandra Wood. Strength & Conditioning coach: Steve Petrie.
Sarah Bugeja, Lucy Chatwin, Alice Clark, Fleur Florin, Abi Greenslade, Sophie Hamilton, Sasha Hartley, Katie Honeywell, Rosa Lauder, Madison Lewis, Sarah Long, Isabelle MacKenzie, Neve Mortimer, Isla Jessica Niddrie, Fechi Okafor, Ella Porter, Olivia Ralph, Maisie Robins, Catrin Roy, Jessie Smyth-Lees, Bella Valeur-Adu, Ella Williams, Isabella Woollard.
Lead coach: Jenna Adamson. Assistant coach: Maddie Heywood. Strength & Conditioning coach: Ash Stoneman.
Jemima Bennett, Isabelle Claxton, Zoe Dibble, Natasha Englefield, Jasmine Gabriel, Amaya Herold, Ineke Johson, Lily Jones, Megan Lawrence, Fearne Maine, Rebecca Moore, Grace Orgill, Rose Orgill, Victoria Procter, Amelie Reid, Thea Rhodes, Abigail Richardson, Effie Robinson, Coco Sanger-Davies, Imogen Thirlby, Marsha-May Townsend, Olivia Wilson.
Lead coach: Nikki Lloyd. Assistant Coach: Stacey Richmond. Strength & Conditioning coach: Meganwy Roberts.
Olivia Anderson, Jasmine Antunovic-Fry, Eloise Beattie, Sarah Bromfield, Giselle Burnett, Olivia Busher, Skye Dowling, Ellie Glasgow, Alice Hines, Molly Hole, Lara Makin, Diba Mansourian, Molly Martindale, Phoebe Moloney, Abigail Moss, Daisy Pointon, Charlotte Rankine, Scarlett Williams.
Lead coach: Leanne Lewis. Assistant coach: Sian Robbins. Strength & Conditioning coach: Ash Stoneman.
Lucy Bate, Annabelle Bull, Fabienne Bull, Bryher Croker, Jessie Dixon, Isla Harvey, Anya Hocking, Sienna Le Moine, Martha Lushington, Bethany Mather, Holly May, Olivia May, Ayana Mills, Lynty Misselbrook, Abigail Morcom-Harneis, Merryn O'Conaill, Lareesa Parrott, Freya Prodger, Mia Rickwood, Drew Robinson, Freya Rowse, Tilly Waters, Jennifer Wilson, Libby Worrall.
Lead coach: Jean Davies. Assistant coaches: Ameilia Grigg, Jess Colwill. Strength & Conditioning coach: Atis Amaglo.