Posted 6th Nov 2020
Quartet of exciting Team Bath Netball Academy players "with great potential" selected to trial for England U19 squad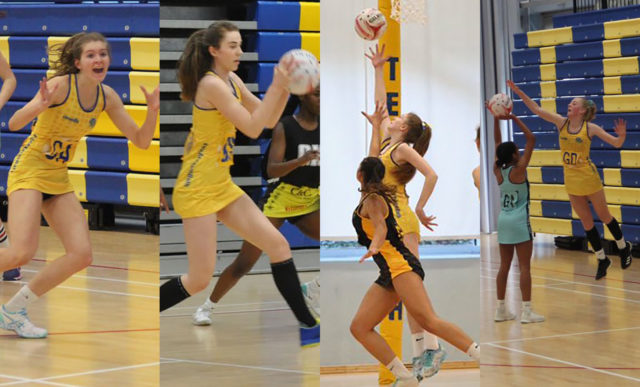 Four rising Team Bath Netball stars have been selected to trial for the England Roses U19 squad for the 2020-21 season.
Rosie Bartlett, Molly Hole, Lily Jones and Isla May have all been part of the Blue & Gold's Academy Development Centre (ADC) programme, based across the South West of England and supported by Team Bath's principal sponsor Haines Watts, and represented Team Bath in NPL (Netball Performance League) competition.
Bartlett, from Cornwall, is an existing Roses athlete having been part of the England U19 squad last season. The dynamic shooter is currently at Kingswood School in Bath and plays for Team Bath Community Club.
Hole has also made her mark at international level having captained England U17s to victory at the Netball Europe competition in March. The South Wilts Grammar School sixth-former plays club netball for Weston Park Blades and is a member of the Wiltshire Team Bath ADC at Bishop Wordsworth's School in Salisbury.
Shooter Jones is currently at Hartpury College in Gloucestershire having come over from Jersey where she was part of the Jersey Netball Association and the Team Bath pathway. While still qualifying for U17s, she played a key role in Team Bath's U19 squad last season.
Another standout player for Team Bath's U19s in 2019-20 was defender May, who is from Devon and goes to Taunton School. She also plays club netball for Galmington and will be looking to secure an international call-up when the England age-group trials take place next month.
Natalie Roddy, Team Bath Netball's Academy Head Coach, said: "We wish our athletes every success as they take on the challenge of screening in November. They are all very talented players with great potential for the future.
"Rosie's explosive movement and positional awareness provides a real challenge to defenders, while Molly is a rare talent able to play at both ends of the court. This transition to U19s will be a big step for her but one we are confident she will take in her stride.
"Isla's agility, ability to read the game and win possession has really caught the eye of selectors and Lily is a talented shooter who demonstrates a defensive tenacity that has a real impact on the game.
"We are excited for all four to have this opportunity and looking forward to them embracing the challenge."