Posted 9th Mar 2020
Pride as Blue & Gold NPL star Molly Hole captains England U17 to successful Netball Europe title defence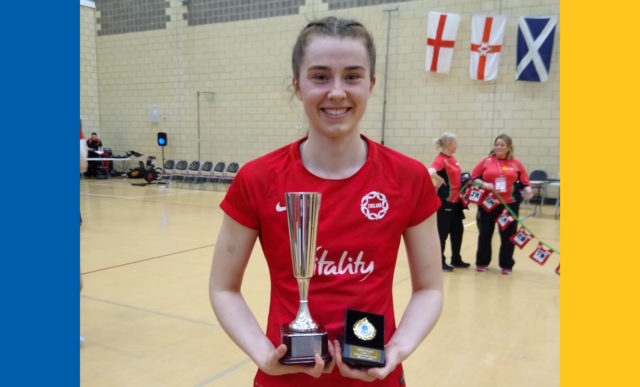 Team Bath Netball NPL player Molly Hole led by example as she captained England U17s to a successful defence of their Netball Europe title in Wales.
Hole, who is a member of the Blue & Gold's U19 NPL squad, started at goal-shooter as England began their campaign with an 89-22 victory over Scotland.
She then came off the bench in the 96-19 win against Northern Ireland before lining up at goal-attack as England continued their unbeaten run with a 122-16 success against Switzerland.
That set up a gold-medal decider against host nation Wales and, with Vitality Roses Head Coach and former Team Bath player and coach Jess Thirlby in the crowd, Hole's impressive shooting helped her team to a 74-37 victory.
It was a second successive Netball Europe U17 title with England for Hole, who has been part of the Team Bath programme since it was launched in 2017 and also plays for Western Park Blades in Hampshire.
Natalie Roddy, Team Bath Netball Academy Head Coach, said: "Congratulations to Molly on her captaincy and to England on their success. Molly is an inspiring athlete who leads by example both on and off the court. She is a huge asset to her Team Bath squad and we are looking forward to supporting Molly in her journey."
Team Bath Netball Head Coach Jo Vann added: "Molly has taken great ownership of her training programme and has applied herself brilliantly both at Team Bath and in her personal sessions in her home environment. She has adapted to maximise opportunities and her effort is relentless. The resulting success is a strong reflection of her curiosity and dedication."