Posted 26th May 2021
Blue & Gold excited to see fans back in stands for Vitality Superleague double header against Stars and Sirens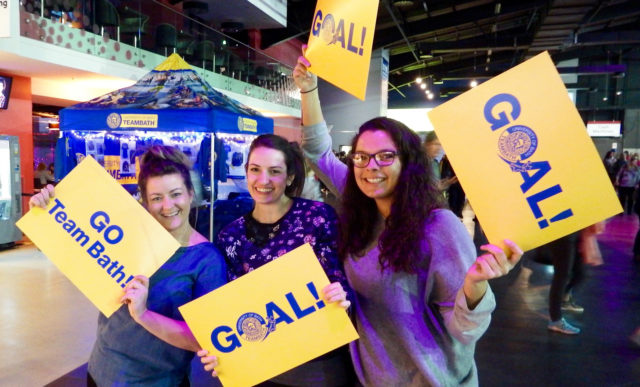 Anna Stembridge says the welcome return of fans to Vitality Superleague matches will give her Team Bath Netball side another massive lift as they go into their final double header of the regular season.
There will be up to 1,000 socially-distanced spectators in London's Copper Box Arena on both Friday and Saturday when the Haines Watts-sponsored Blue & Gold take on local rivals Severn Stars (7.15pm) and top-four contenders Strathclyde Sirens (6pm) respectively.
They will be the first fans to attend top-flight netball in the UK since March 2020 and Stembridge, Team Bath's Superleague Head Coach, is thrilled that spectators will be able to enjoy the business end of the season both in person and online via the Sky Sports YouTube live streams.
"We are so excited to have the fans back and can't wait to feel that atmosphere in the Arena again," she said. "We have had to generate the atmosphere ourselves so far this season, which our bench has done brilliantly, but there is no substitute for having the fans behind you.
"We've always had amazing support at our home games and whenever we've played at centralised venues in the past, and we are looking forward to seeing some familiar faces in the stands again.
"The girls are always so proud when they put on the Blue & Gold dress but they've missed having that direct connection with the fans. Having them back will be a lift for everyone going into the last few games.
"One of our driving forces this year has been to give the fans plenty to enjoy. We hope we've done that and now we get to experience the business end of the season together, with them supporting us in person."
Rengen-backed Team Bath have booked their place in the end-of-season play-offs but Stembridge said there will be no easing up during the last four matches of the regular campaign.
"These next few matches matter as much as, if not more than, our previous fixtures as they are so important in building and maintaining momentum," she said. "I feel the team is getting better game by game and we are still learning more about ourselves every time we go on court.
"This weekend is going to be a good challenge. You can never underestimate Stars especially now they have Liana Leota back from injury, she is such an influential player, and Sirens are just outside the top four with everything still to play for. Both teams gave us a good run for our money earlier in the season so we cannot rest on our laurels.
"We have prepared really well for these two games. Both teams have tall timbers as shooters, dynamic defences and clinical mid-court players so they will pose similar problems and, as always, we will give them the respect they deserve."
Tickets for the four remaining rounds of Superleague fixtures at the Copper Box Arena are now on general sale – visit tickets.englandnetball.co.uk to purchase. This week's games against Stars and Sirens will also be streamed live and for free on Sky Sports YouTube, with all the links available by clicking here.
Team Bath Netball is supported by its Principal Partner, chartered accountants Haines Watts, who are also a pathway partner, and by Rengen and Centurion Chartered Financial Planners. O'Neills are Team Bath's official kit supplier and 2XU are their compression wear suppliers.