Posted 16th May 2021
Team Bath secure semi spot
Team Bath Netball subdued a determined Surrey Storm 55-39 at the Copper Box to secure a top four 2021 Vitality Netball Superleague finish on Sunday afternoon.
Whilst it was 'job done, tick' for the Haines Watts-backed Blue and Gold, this was a game marked by both up-tempo fluidity and lack-lustre phases.
Both sides put in strong defensive sets as a valiant Surrey Storm outfit fought for a better result than the last time these two teams met in the regular season.
Surrey, coached by Mikki Austin, seemed to have done their homework and were pleased to take four goals off their deficit from their earlier season loss against Team Bath despite the second defeat of 2021.
Meanwhile Team Bath struggled at times to come out of second gear in the opening quarter as highlighted by captain Kim Borger in her halftime interview.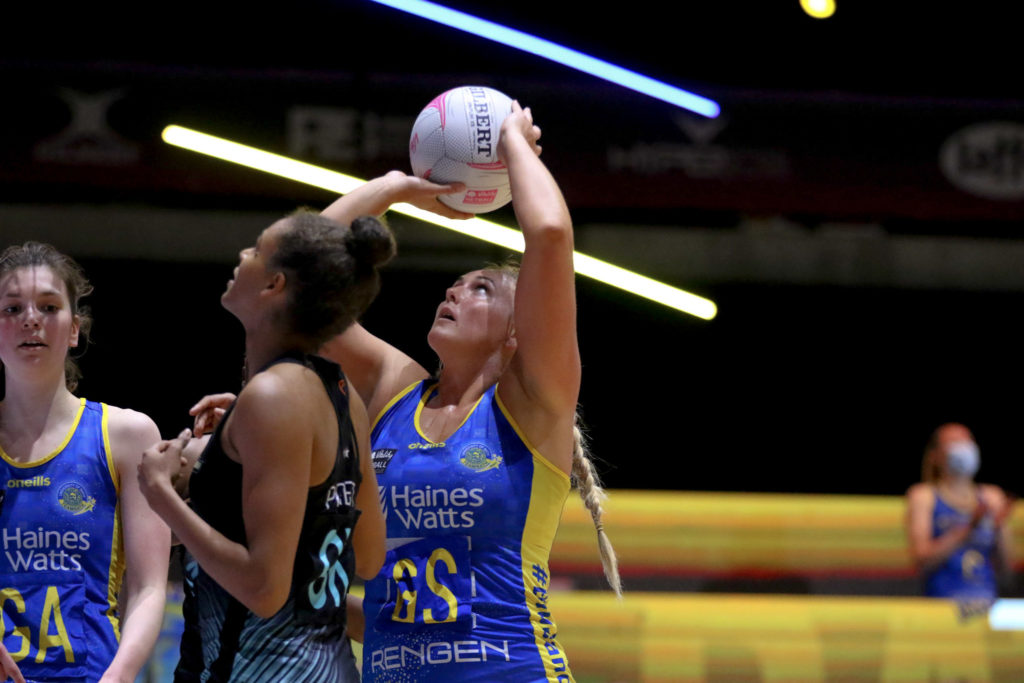 However, Bath's defensive set was nothing short of immense, Imogen Allison at wing-defence shone as the connecting centrepiece, synergizing well with Serena Guthrie at centre to provide excellent coverage and centre pass defence, stalling many of Storm's attacking attempts.
Unsurprisingly, following the match's completion, Imogen Allison was named RENGEN player of the match. Allison provided a very honest post match interview, echoing her captain's tone at halftime; "I think we definitely built into the game, we needed to turn over more ball but that came as we went along."
Looking ahead to the next league games and the semi-finals, Allison had this to say; "I think we just continue as we were, we don't need to put too much pressure on what we're working towards, we just need to go game by game."
Both teams traded goals in the opening quarter on Sunday. Two big interceptions came from the Bath defensive unit, with Layla Guscoth and Allison both stealing possession away from Storm.
Following Rachel Shaw's strong performance against Rhinos, it was clear that Surrey's plan was to put double coverage on the Bath wing-attack. Despite this, Shaw still managed to make a number of plays, weaving the ball through to the attacking unit to create scoring opportunities. Bath started to gain the upper hand as the quarter ticked on, stringing a number of goals together consecutively, cruising ahead to a 16-11 lead at the end of the first quarter.Contrary to their previous matches, the Rengen-backed Team Bath had a much less dominant second quarter. Bath remained in the lead, out-scoring Surrey 13 goals to 10 to stay ahead by 8 goals, 29-21 at the break. Surrey Storm stepped up in the quarter, providing a suitable answer to Bath's rotating shooting combo of Sophie Drakeford-Lewis and Borger. Yasmin Parsons played an impressive second quarter for Storm, highlighted by a stellar play; bundling Layla Guscoth out the way to intercept possession before weaving a ball through to Bailey for the score. A late change in the quarter saw Sulivan replace Kwanga at goal-defence as Storm tried to change tack and provide some answers.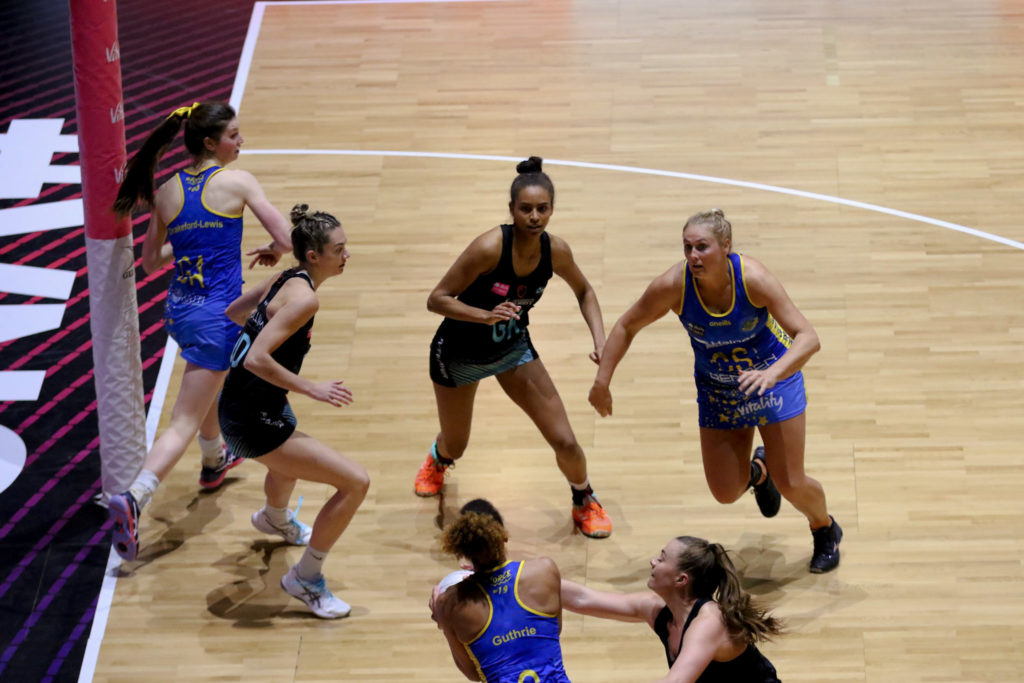 Bath, benefiting from the half time reset, launched themselves into the third quarter with a rejuvenated tempo, striking early and increasing their lead to 14. However, Surrey were not to be out-done, a heavy momentum shift in the later half of the quarter saw Storm battle back, reducing the lead back to 10. This could well have been a major turning point in the match, as without this resurgence it felt like Bath could have run away with the match. Bath managed to recover, edging out Storm in the scoring quarter 13-10, going into the final stage of the match 42-31.
Team Bath's fourth quarter saw them control and subdue Storm to close out the game with their lead maintained. Imogen Allison stepped up, finding another interception and routinely causing frustration for Storm's attack for the remainder of her contribution.
Team Bath coach Anna Stembridge evidently had the next stage of the season in mind, as the fourth quarter showed Bath emptying their replacements bench, with Summer Artman, Tash Pavelin, Abi Robson, youngster Kirsty Harris and Betsy Creak all coming on.
Borger, with a 94% strike rate today, passed the shooting duties to the 'tiggerish' Creak who energised once more the Bath attacking circle. The replacements provided a surge of verve for the favourites, shutting out any possible doubts regarding the conclusion of the game. Bath maintained the pressure, closing out the scoring quarter 13-8 to win 55-39 at the close of play.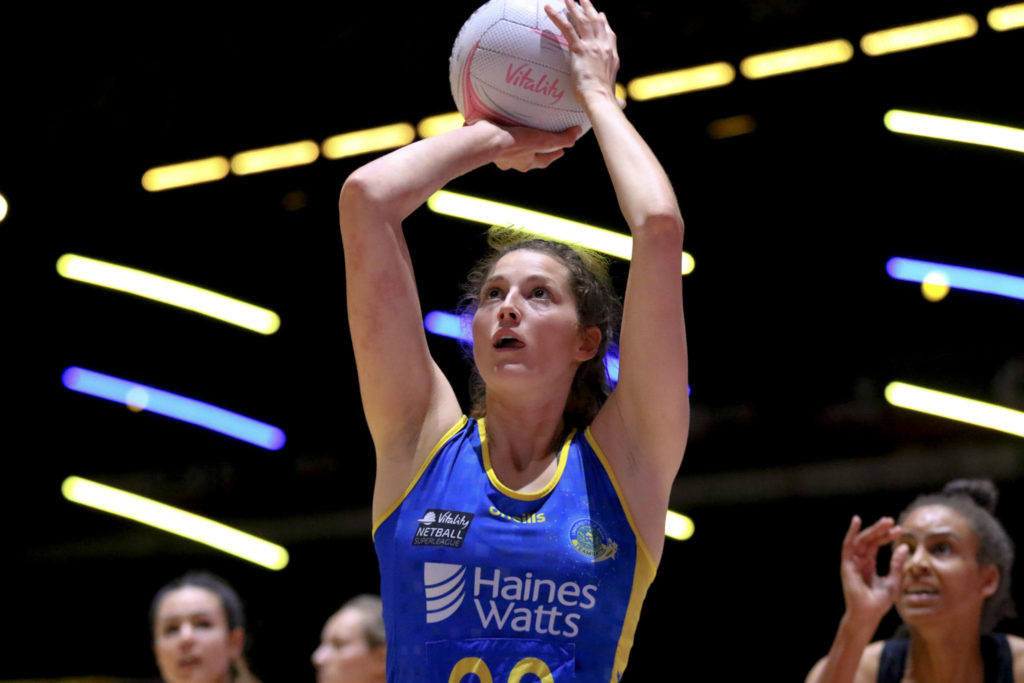 Anna Stembridge, Bath's head coach, commended Storm's performance and spoke of the need to keep her starting seven on court to overcome the adversity; "credit to Storm, they put the pressure on us, actually I felt like we needed to leave them (the starting 7) out there to work through some things."
"I think, like Imogen said, defensively we weren't generating as many turnovers as we would have liked, we eventually did and the pressure built."
Stembridge still feels there is work to be done before the semi-finals; "I think we were a bit lethargic to start off with and I think that was a bit disappointing because we talked about building upon what we had last week and coming out of the blocks strong."
"Next week we'll definitely have a lighter week, I think the girls deserve that just because of the load that we have had, both in travel and in terms of games …. Ultimately we are still building, so it's great that we have secured top 4, but we still have 4 big games ahead of us and we don't want to lose that momentum."
Team Bath's next opponents are Severn Stars, the match will take place at 19:15 on Friday 28th of May at the Copper Box Arena in London. Full match coverage provided by SkySports.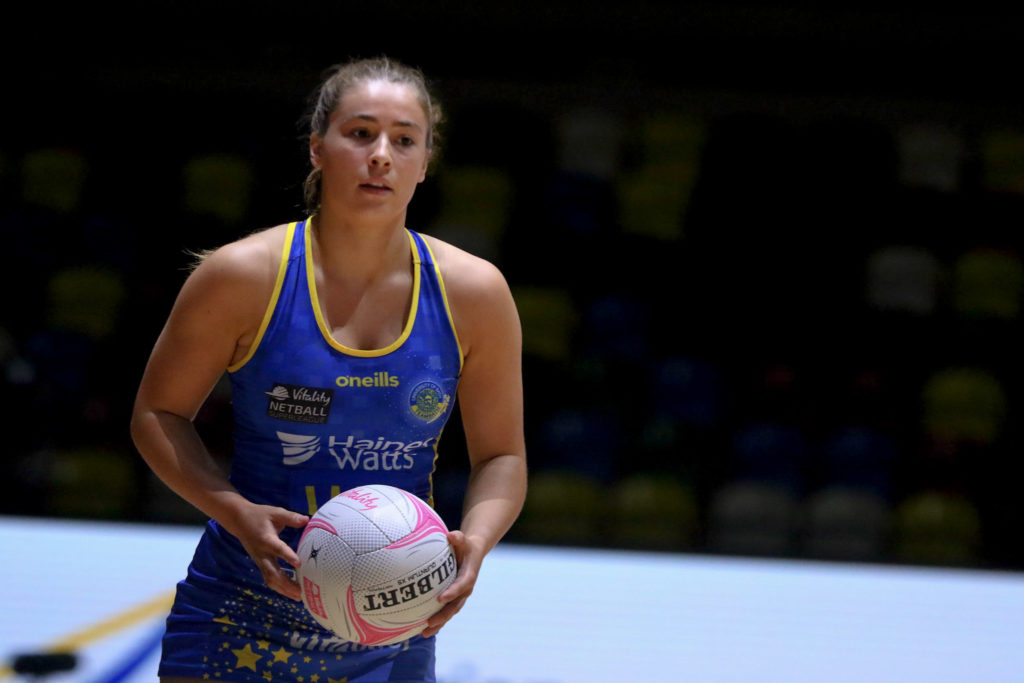 Team Bath Netball is the Superleague franchise for the South West of England and has Academy Training Centres in every district – Bristol, Cornwall, Devon, Dorset, Gloucestershire, Somerset and Wiltshire. The club is supported by its Principal Partner, chartered accountants Haines Watts, who are also a pathway partner, and by Rengen Developments and Centurion Chartered Financial Planners. O'Neills are Team Bath's official kit supplier and 2XU are their compression wear suppliers
Team Bath Netball starting seven: GS Kim Borger, GA Sophie Drakeford-Lewis, WA Rachel Shaw, C Serena Guthrie, WD Imogen Allison, GD Layla Guscoth, GK Eboni Usoro-Brown. Replacements: Summer Artman, Betsy Creak, Kirsty Harris, Tash Pavelin, Abi Robson.
Changes: Q4: Shaw – WA to bench, Harris – bench to WA, Borger – GS to bench, Creak – bench to GS, Guthrie – C to bench, Robson – bench to C, Usoro-Brown – GK to bench, Artman – bench to GK, Guscoth – GD to bench, Pavelin – bench to GD
Surrey Storm Netball starting seven: GS Karyn Bailey, GA Frankie Wells, WA Yasmin Parsons, C Mikki Austin, WD Niamh Cooper, GD Felitis Kwanga, GK Alima Priest. Replacements: Gulvin, Humpfreys, Jay, Kelly, Sulivan
Changes: Q2: Kwanga – GD to bench, Sulivan – bench to GD
Quarter Scores: Q1: 16-11 Q2: 29-21 (13-10) Q3: 42-31 (13-10) Q4: 55-39 (13-8)

Rengen Player of the Match: Imogen Allison