Posted 20th May 2021
Tickets now on general sale for remaining Vitality Netball Superleague matches at Copper Box Arena including four Team Bath fixtures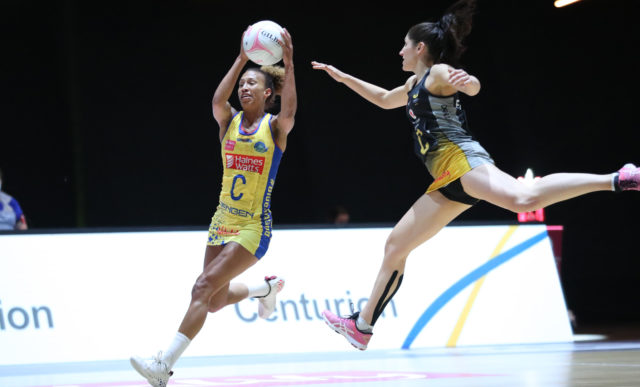 To the delight of netball fans, spectators are set to return to the Vitality Netball Superleague (VNSL) under the Government's Coronavirus roadmap arrangements for indoor sports.
The move comes in time for Team Bath's match against local rivals Severn Stars, taking place on May 28th at the Copper Box in London's Olympic Park.
Limited tickets will go on sale from Friday at midday (21 May) with Blue and Gold season ticket holders amongst the loyal fans of the sport who will enjoy a window of opportunity for a portion of the 1000 tickets on offer per day (to view multiple matches) from England Netball, before the general sale of tickets starts on Monday at midday. Click here to purchase.
"We are delighted that many of our fans will now have the opportunity to go to the Copper Box to cheer us on in such an exciting season", said Team Bath Netball franchise manager, Alicia John. Team Bath are experiencing a successful run of form, currently topping the table and having already qualified for the semis with games to spare.
Tickets will give fans access to a whole day's netball with the Blue and Gold in action in London on these dates:
28 May v Stars (19.15)
29 May v Sirens (18.00)
13 June v Mavericks (16.00)
21 June v Lightning (19.15)
The early sales window will be against a ticket code which will be individualised and sent to all Team Bath season ticket holders from the 2019 season. No information is yet available about the semi-finals and final weekend of 26 and 27 June.
As well as restricted numbers each day at the venue, fans will also be required to wear masks at all times, will be temperature-checked on arrival and will be encouraged to applaud rather than shout or sing under the government guidelines aimed at minimising the risk of transfer of coronavirus.
Tickets can be purchased in groups of up to a maximum of six and all six can be from different households. Whatever the size of the group, two seats will be left vacant on either side to allow for Coronavirus regulations.
Tickets are expected to sell quickly with fans being able to watch some of netball's biggest homegrown and international stars take to the court live in the VNSL for the first time since April 2020.
Fran Connolly, CEO of England Netball, said: "The return of fans is an exciting moment for clubs, athletes, coaches, volunteers and everyone who has been working hard behind the scenes to deliver the 2021 season so far.
"The VNSL season has been a spectacular one to date, with world class competition and talent on court week in week out, and whilst we've enjoyed having more eyes on the game than ever before with Sky Sports streaming all of the action live this season, it'll be so special to see fans back in venue supporting our VNSL clubs and athletes.
England Netball and Team Bath's season ticket holders will be emailed directly with a link to priority tickets on 21 May.