Posted 23rd Feb 2021
Fantastic first half sets Blue & Gold on their way to impressive victory over Wasps as winning start to Superleague season continues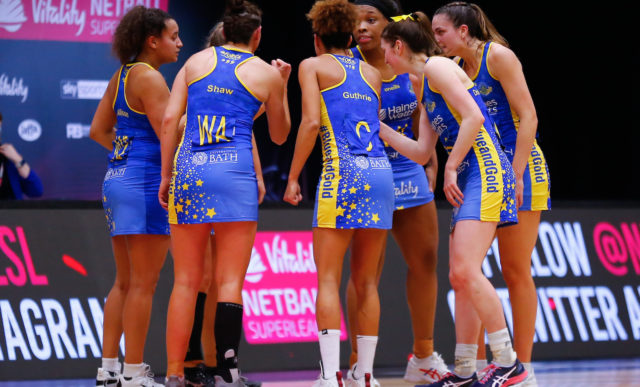 A dominant first-half performance set the platform for a 44-39 victory over Wasps on Monday night as Team Bath Netball made it three wins from three at the start of the 2021 Vitality Superleague season.
The Haines Watts-sponsored Blue & Gold, buoyed by their opening weekend successes against Celtic Dragons and Loughborough Lightning, were outstanding against very strong opposition during the opening two quarters as they took a ten-goal lead into the interval.
Wasps, champions in 2017 and 2018, came back strongly in the second half and halved the deficit in the final quarter but Team Bath were able to see out the victory.
Watch highlights of the match here:
Anna Stembridge, Team Bath Superleague Head Coach, said: "We are pleased to get the win but I'm definitely not fully happy, I think it was a part performance. Tactically we stuck to task in the first half but we deviated from the plan in the last quarter and I don't feel we dealt particularly well with Wasps' physicality at times so there is room for improvement."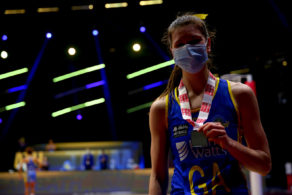 Player of the match Sophie Drakeford-Lewis, who once again impressed at goal-attack, added: "We knew it was going to be a battle against Wasps, that they would come out hard at us, and we are really pleased with how we brought it to the court during those first three quarters.
"We have definitely got some room for improvement looking at that fourth quarter but I'm really proud of these girls and I can't wait to see what this team can do come the end of the season."
With the vastly experienced duo of England internationals Eboni Usoro-Brown and Rachel Shaw in the starting seven for the first time this season, Rengen-backed Team Bath took an instant grip on the game as they dominated the opening quarter.
The Blue & Gold combinations were slick right across the court as they opened up a 12-7 lead before really stamping their authority on the game during an outstanding second quarter.
With Serena Guthrie and Shaw providing a constant flow of assists to University of Bath sporting scholar Drakeford-Lewis and Kim Borger, Team Bath stretched their advantage to 12 goals at one stage before taking a healthy 25-15 lead into half-time.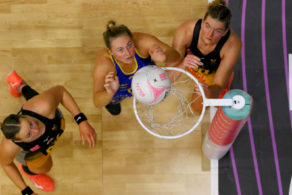 Re-energised by a number of changes, Wasps fought back during a well-matched third quarter that finished level at 13-13. They carried that form into the final period and began to chip away at the lead but Team Bath held firm to deservedly secure their third win of the season.
The Blue & Gold now have a chance to recharge after a busy first nine days of the season, with their next matches – against defending champions Manchester Thunder and local rivals Severn Stars – taking place on March 12 and 13 respectively.
Team Bath Netball is supported by its Principal Partner, chartered accountants Haines Watts, who are also a pathway partner, and by Rengen and Centurion Chartered Financial Planners. O'Neills are Team Bath's official kit supplier.
Match stats
Wasps starting 7: GS Rachel Dunn, GA Katie Harris, WA Sophie Candappa, C Iona Christian, WD Amy Flanagan, GD Francesca Williams, GK Josie Huckley. Replacements: Ally Housley, Ella Powell-Davies, Lily-May Catling, Leah Goss, Gezelle Allison.
Team Bath Netball starting 7: GS Kim Borger, GA Sophie Drakeford-Lewis, WA Rachel Shaw, C Serena Guthrie, WD Imogen Allison, GD Tash Pavelin, GK Eboni Usoro-Brown. Replacements: Summer Artman, Layla Guscoth, Abi Robson, Jess Shaw, Betsy Creak.
Quarter scores (Wasps first): Q1 7-12; Q2 15-25 (8-13); Q3 26-36 (11-11); Q4 39-44 (13-8).
Player of the match: Sophie Drakeford-Lewis.