Posted 14th Feb 2021
All smiles as Blue & Gold come through tough battle with Loughborough Lightning to complete winning weekend in Wakefield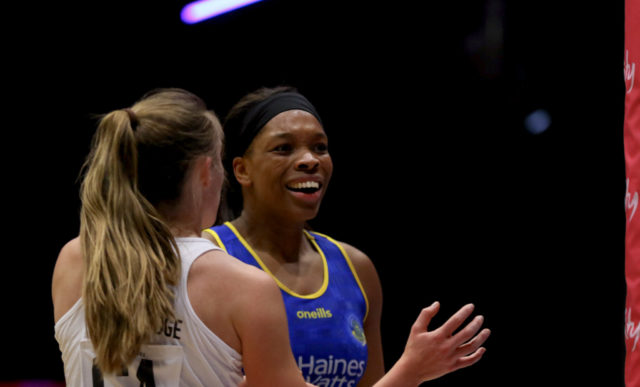 Team Bath Netball completed a winning weekend in the 2021 Vitality Superleague as they came through a hard-fought encounter against Loughborough Lightning with a 48-44 victory on Sunday.
After leading throughout their opening match against Celtic Dragons on Saturday, the Haines Watts-sponsored Blue & Gold had to show tremendous fight and resilience to take the points from their second game in 24 hours at the central venue in Wakefield.
There was nothing to choose between the sides during a first half that finished locked at 25-25 but Team Bath were finally able to edge into a four-goal lead in the third quarter before digging deep to maintain their 100 per cent record.
Anna Stembridge, Team Bath Netball Superleague Head Coach, said: "We were expecting it to be a really competitive game and it was good to see us get put under that kind of pressure, stick to the task and come out with the win.
"Lightning are a good team and you know you have to ride the wave against them, that they are going to keep coming back at you. The changes we made had such a positive impact again, which was pleasing to see, and we are obviously delighted to finish the weekend with two wins."
Vitality Player of the Match Serena Guthrie added: "That was a really tough game, Loughborough are historically a 'finals' side so we knew it was going to be a real step up from yesterday. I'm so proud how we just managed to hold it and pull away in the third quarter, that gave us that bit of a buffer we needed for the final period."
Rengen-backed Team Bath named the same seven that had started Saturday's impressive 61-29 win over Celtic Dragons, while Lightning were making their first appearance of the 2021 Superleague season.
There have been a host of close-fought contests between the sides during the Superleague's 16-year history and the first half of this encounter continued that tradition with very little to separate the sides.
An absorbing first quarter saw Lightning twice have mini advantages overturned by the Blue & Gold, who eventually edged the opening 12 minutes 14-13.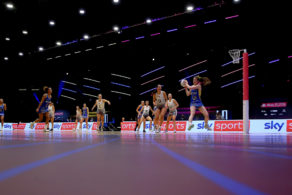 Turnovers had proved hard to come by but Team Bath managed to force a couple in the opening minute of the second quarter as they quickly extended their advantage to 17-13.
They were able to maintain that gap for the next ten minutes as the teams went goal for goal but Lightning upped the defensive pressure in the closing stages, with replacement goal-defence Jasmin Odeogberin making a crucial intercept with her first touch as Lightning rallied from 24-22 to lead 25-24. However, Kim Borger had the final say of a hugely-entertaining half to deservedly send the sides into the interval all square.
Team Bath sent on the experienced duo of Rachel Shaw and Eboni Usoro-Brown for the third quarter and both made a massive impact as the Blue & Gold finally managed to put some space between themselves and Lightning.
Usoro-Brown made three fantastic interceptions, while Shaw linked up superbly up with Guthrie, Sophie Drakeford-Lewis and the clinical Borger in attack as Team Bath fought hard to take a 38-34 lead into the final quarter.
With Imogen Allison and the excellent Tash Pavelin working tirelessly to close down the space that Lightning had to work in going forward, Team Bath were able to maintain their advantage during a tight fourth period before seeing out a 48-44 success.
Team Bath are next in action on Monday, February 22nd against Wasps (7.15pm centre-pass) in a match being shown live on Sky Sports YouTube.
Team Bath Netball is supported by its Principal Partner, chartered accountants Haines Watts, who are also a pathway partner, and by Rengen and Centurion Chartered Financial Planners. O'Neills are Team Bath's official kit supplier.
Match stats
Team Bath Netball starting 7: GS Kim Borger, GA Sophie Drakeford-Lewis, WA Jess Shaw, C Serena Guthrie, WD Imogen Allison, GD Tash Pavelin, GK Summer Artman. Replacements: Eboni Usoro-Brown, Chartie Curtis, Abi Robson, Rachel Shaw, Betsy Creak.
Changes: Q3: Usoro-Brown – bench to GK; R Shaw – bench to WA; Artman – GK to bench; J Shaw – WA to bench.
Loughborough Lightning starting 7: GS Mary Cholhok, GA Suzie Liverseidge, WA Hannah Joseph, C Nat Panagarry, WD Beth Cobden, GD Sam May, GK Alice Harvey. Replacements: Jasmin Odeogberin, Hannah Williams.
Changes: Q2: Odeogberin – bench to GD; May – GD to bench. Q3: Williams – WA to bench; Joseph – bench to WA. Q4: Joseph – bench; Williams – WA to C; Panagarry – C to bench.
Quarter scores (Team Bath first): Q1 14-13; Q2 25-25 (11-12); Q3 38-34 (13-9); Q4 48-44 (10-10).
Player of the match: Serena Guthrie (Team Bath Netball).