Posted 13th Feb 2021
Brilliant Blue & Gold get 2021 Vitality Superleague season up and running with impressive victory over Celtic Dragons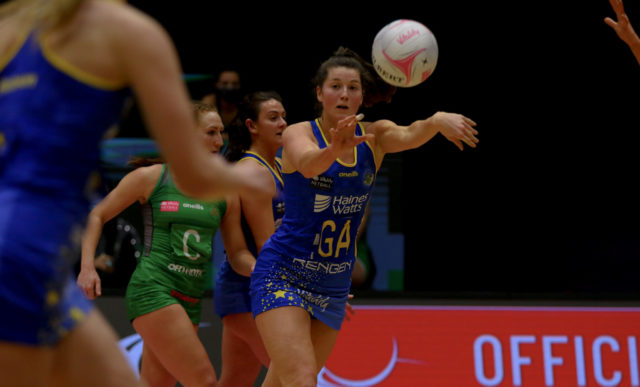 Team Bath Netball got their 2021 Vitality Superleague season off to an impressive start as they eased to a 61-29 victory over Celtic Dragons on Saturday.
The Haines Watts-sponsored Blue & Gold, playing their first Superleague match for 11 months, held a narrow 13-9 lead after the first quarter but stepped it up another level during a dominant second quarter, looking sharp right across the court as they extended the lead to 16 goals, before keeping their foot firmly on the pedal to stretch away.
All 12 of the matchday squad got a run-out for Team Bath, including England legend Eboni Usoro-Brown who made her first competitive appearance since becoming a mum in August.
Anna Stembridge, Team Bath Netball Superleague Head Coach, said: "It's good to get that first game under our belts and we definitely built quarter by quarter. What was really exciting from our perspective was seeing all of the players make important contributions and the way we used the different combinations and different styles to keep testing the opposition."
While Rengen-backed Team Bath were playing their first game since last March, Celtic Dragons were lining up for their second fixture in less than 24 hours after appearing in the opening match of the 2021 season – a 65-35 defeat to Superleague newcomers Leeds Rhinos.
Team Bath quickly found their feet, with Jess Shaw – starting at WA on her return to the Blue & Gold after two years away – forging a slick attacking partnership with Kim Borger and Sophie Drakeford-Lewis as they eased into a 10-4 lead.
Dragons dug in well and closed the gap to 13-9 at the end of the quarter but they had no answer as Team Bath moved up a gear in the second period.
Usoro-Brown came on at GK and forged a dominant defensive partnership with Tash Pavelin, who produced several interceptions early in the quarter as Team Bath raced into a 22-11 lead.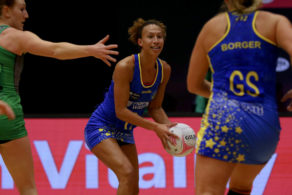 The outstanding Imogen Allison and fellow England star Serena Guthrie completely bossed the mid-court area, snuffing out Dragons attacks and linking fluidly with their own front three, and not even the lights briefly going out on court at the central venue in Wakefield could stop Team Bath from taking the second quarter 18-6.
With a 31-15 lead under their belts, Team Bath were able to make more changes in the third quarter as University of Bath sporting scholar Chartie Curtis came on for her first Superleague appearance since suffering an anterior cruciate ligament injury two years ago.
Abi Robson and Welsh international shooter Betsy Creak also entered the fray but, despite the changes, there was no let-up in Team Bath's intensity and all the replacements made impressive contributions as they stretched their lead
Creak – who was named as Vitality Player of the Match – showed her versatility by producing an equally eye-catching performance after moving to goal attack for the final quarter as Borger, Summer Artman and Guthrie all returned to the court. Rachel Shaw, who had an ankle injury during pre-season, also came on for the final 12 minutes in place of sister Jess.
Dragons – who featured former Team Bath Superleague players Laura Rudland and Leila Thomas in their line-up – continued to battle away during a closer final quarter but the Blue & Gold won it 12-9 to wrap up an excellent victory.
Creak said: "It was really fun, I think we all wanted to go out and enjoy it today and we managed to do that and we put out a whole team performance."
Stembridge added: "I think Betsy was a bit taken aback when she was named as player of the match but it was great to see a young up-and-coming talent like her come on and have such a big impact. I also thought Imogen was excellent and there were lots of strong performances right throughout the team."
Team Bath are back in action on Sunday afternoon against Loughborough Lightning (2pm centre-pass) in a match being shown live on Sky Sports Mix and Sky Sports YouTube. Watch on the link below:
Team Bath Netball is supported by its Principal Partner, chartered accountants Haines Watts, who are also a pathway partner, and by Rengen and Centurion Chartered Financial Planners. O'Neills are Team Bath's official kit supplier.
Match stats
Team Bath Netball starting 7: GS Kim Borger, GA Sophie Drakeford-Lewis, WA Jess Shaw, C Serena Guthrie, WD Imogen Allison, GD Tash Pavelin, GK Summer Artman. Replacements: Eboni Usoro-Brown, Chartie Curtis, Abi Robson, Rachel Shaw, Betsy Creak.
Changes: Q2: Usoro-Brown – bench to GK; Artman – GK to bench. Q3: Curtis – bench to GD; Robson – bench to C; Creak – bench to GS; Pavelin – GD to bench; Guthrie – C to bench; Borger – GS to bench. Q4: Artman – bench to GK; Guthrie – bench to WD; R Shaw – bench to WA; Borger – bench to GS; Creak – GA to GS; Allison – WD to bench; Drakeford-Lewis – GD to bench; Usoro-Brown – GK to bench; J Shaw – WA to bench.
Celtic Dragons starting 7: GS Amy Clinton, GA Rebekah Robinson, WA Laura Rudland, C Clare Jones, WD Christina Shaw, GD Abby Tyrrell, GK Annika Lee Jones. Replacements: Sophie Morgan, Leila Thomas, Lucy Howells, Shona O'Dwyer, Morganne Dunn.
Changes: Q3: Shaw – WD to GK; Jones – C to WD; Morgan – bench to C; O'Dwyer – bench to WA; Lee Jones – GK to bench; Rudland – WA to bench. Q4: Rudland – bench to WA; Lee Jones – bench to GK; Thomas – bench to GD; Shaw – GK to WD; Jones – WD to C; Morgan – C to bench; Tyrrell – GD to bench.
Quarter scores (Team Bath first): Q1 13-9; Q2 31-15 (18-6); Q3 49-20 (18-5). Q4 61-29 (12-9).
Player of the match: Betsy Creak (Team Bath Netball).