Posted 16th Jul 2019
Blue & Gold name U21, U19 and U17 squads for "exciting, fast-paced, action-packed" NPL Tournament in Nottingham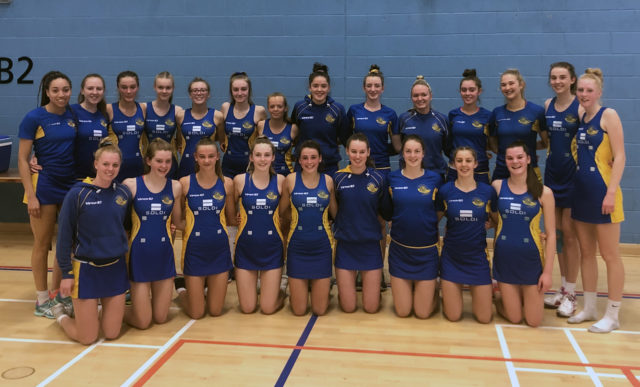 Nearly a year of preparation and planning will come to fruition when Team Bath Netball field three age-group squads in the England Netball NPL Tournament in Nottingham at the end of this month.
The Blue & Gold squads feature an exciting combination of Superleague stars, England age-group internationals and talented youngsters coming through the Team Bath Futures Pathway in the South West of England.
Lois Jackson, Team Bath Academy Head Coach, said: "Preparation for this tournament started in September last year, so I'm thrilled to see the finished product as all players and coaches have worked extremely hard.
"The NPL tournament is an exciting, fast-paced, action-packed weekend and it will be great to see Team Bath match up against the different franchises and play some top netball in front of the England selectors."
Team Bath's U21s will be looking to go one step further than last year when they were edged out in a high-quality final by Manchester Thunder.
This year's squad includes 2019 Vitality Superleague Young Player of the Year Sophie Drakeford-Lewis and fellow Superleague players Abi Robson and Hannah Passmore, who are captain and vice-captain respectively, as well as Rachael Fee who has just finished a tour of Australia and New Zealand with England U19s.
Rosie Bartlett and Molly Hole, who represented England at this year's Netball Europe U17 Championships, are in the U17 squad and there is a host of talent and experience in Team Bath's U19 ranks too.
The NPL Tournament is taking place at the University of Nottingham from July 25-28.
Team Bath's Futures Pathway programme is supported by Netball South West and sponsored by Soldi.
NPL squads
Team Bath U21: Hannah Passmore, Sophie Drakeford-Lewis, Georgia Jenkins, Anya LeMonnier, Kirsty Harris, Elisha New, Abi Robson, Annabel Staley, Caitlyn Rowley, Eleri Michael, Carys Allen, Rachael Fee.
Head Coach: Nikki Lloyd.
Assistant Coach: Rachel Shaw.
Team Manager: Tracey Philips.
Team Bath U19: Sophie Orchard, Emma Payne, Megan Conabeare, Millie Pearce, Emily Becconsall, Nia Evans, Olivia Mitchell, Maya Meredith, Anna Brophy, Annie O'Rourke, George Ford, Jo Leslie.
Head Coach: Philippa Hicks.
Assistant Coach: Tammie Anderson.
Team Manager: Vicky Carnall.
Team Bath U17: Molly Hole, Rosie Bartlett, Daisy Collett, Izzy Hopkins, Liberty Hartley, Fabienne Bull, Sophie Ewin, Ellie Jupp, Emily Cridland, Mia Regan, Isla May, Lucy Taylor-Hunt. Training partners: India Monllor, Charlotte Steer.
Head Coach: Lois Jackson.
Assistant Coach: Emma Isaac.
Team Manager: Nicky Savill.