Posted 12th May 2023
Emerging Team Bath Netball duo Daisy Harrison and Lily Rutland win NPL Player of the Season awards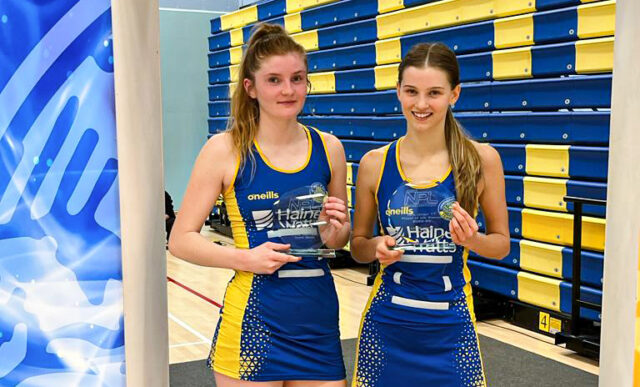 Two emerging Team Bath Netball talents are celebrating after being named as national Player of the Season in their respective NPL age-groups divisions.
Goal-shooter Lily Rutland, a member of Team Bath's Devon-based Athlete Development Centre (ADC) in Exeter, took the U17s honour after helping the Blue & Gold secure silver medals in the NPL South Division.
Stand-out player in the NPL U19 League was Team Bath's Daisy Harrison, a talented defender who also came through the Exeter ADC. She helped the Blue & Gold 19s finish fourth overall, an improvement on the previous season, as they narrowly missed out on bronze medals.
Natalie Roddy, Team Bath Netball Academy Head Coach, said: "This is a huge achievement by both Lily and Daisy. It is recognition of both their talent and their ability to consistently perform game in and game out. Well done Lily and Daisy, so deserved!"
Trials for the 2023-24 Athlete Development Centre programme are taking place in June 2023 at venues across the South West of England. Click here to find out more.
Pictured top: Daisy Harrison (left) and Lily Rutland (right) with their NPL Player of the Year awards.