Posted 21st Feb 2023
Team Bath Netball defeated by Dragons but show more signs of progress ahead of first home game of 2023 Super League season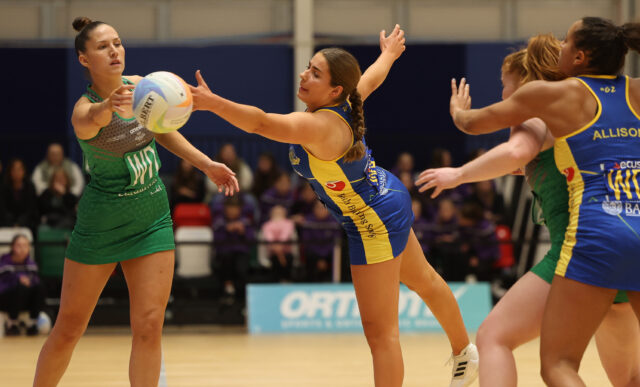 Asha Francis said she was happy to see more signs of progress from her Team Bath Netball squad during Monday's Super League defeat at Celtic Dragons.
The Haines Watts-sponsored Blue & Gold produced some of their best netball of the season so far as they went into half-time in Cardiff with a 28-27 lead having trailed 18-10 after the first quarter.
It remained a tight contest for much of the third period but Dragons were able to pull away and record a 54-45 victory.
Head Coach Francis had challenged her team to step it up in attack after Friday's defeat at London Pulse and she was pleased to see them do that, as well as be more vocal on court.
"I definitely saw progress," she said. "The work rate in our attack shifted to a whole other level and we had good on-court feedback during the game, with players helping to bring their team-mates back into the game and lift their confidence when they needed it.
"It's now about making sure we remain consistent and never fade. There were times when we always had options and times when we faded out a bit. That work rate has to stay – if you are going to be in a game for 60 minutes you have to work for 60 minutes."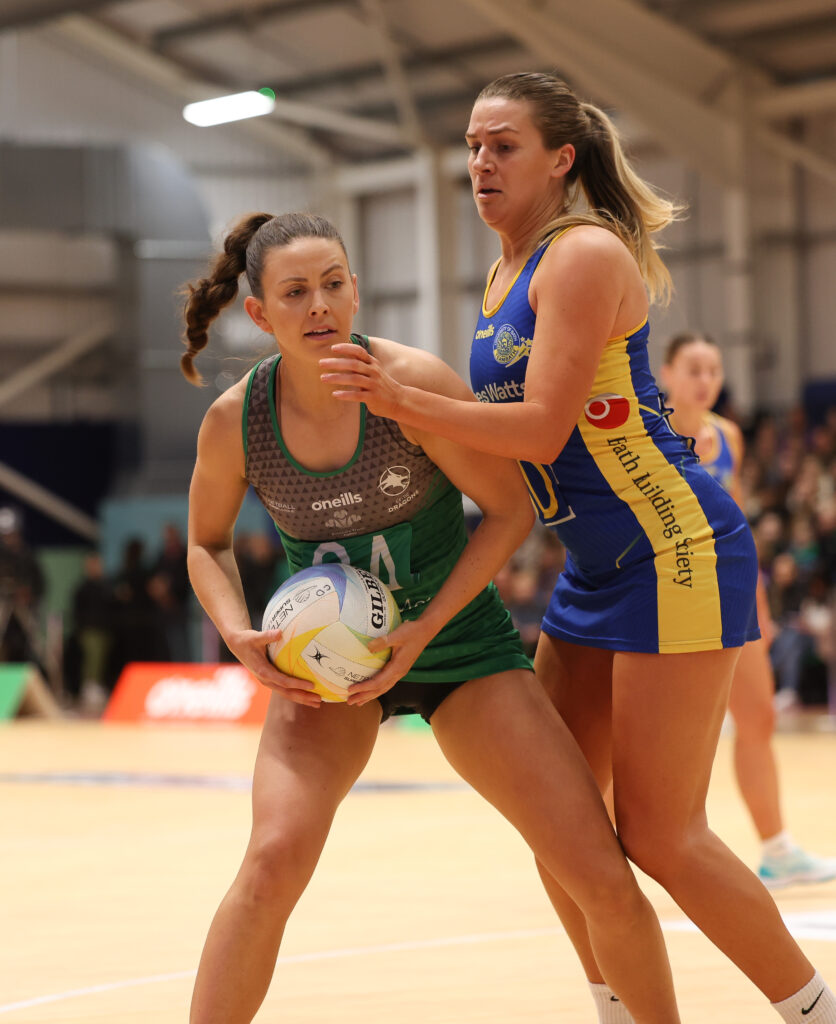 Both teams went into the televised match looking for their first win of the season and they were evenly matched in the opening stages before a quickfire five-goal burst midway through the first quarter gave Dragons the edge.
They went on to take an 18-10 lead into the second period but Team Bath turned the game on its head during their best quarter of the season so far. Strong in defence and fluid in attack, they moved the ball confidently and outscored their hosts 18-9 to take a 28-27 lead into half time.
Dragons regained the advantage just after the restart but Team Bath responded well and there were just a couple of goals in it going into the last two minutes of a well-contested third quarter, only for the home side to double their advantage and go 42-38 up.
The visitors tried to cut the gap but Dragons were able to edge further ahead in the final quarter and they went on to record their first Super League win against Team Bath since April 2014.
Team Bath will be looking for a lift from their home fans when they run out at the Team Bath Arena for the first time this season on Friday against Scottish franchise Strathclyde Sirens, who have one win on the board – at Severn Stars over the weekend.
Centre-pass on Friday is 7.30pm and remaining tickets can be purchased by clicking here.
Match stats
Celtic Dragons starting combination: GS Chelsea Beard, GA Gabby Sinclair, WA Shona O'Dwyer, C Clare Jones, WD Ella Powell-Davies, GD Annabel Roddy, GK Shaquanda Greene-Noel. Impact players: Hannah Leighton, Zoe Matthewman, Laura Rudland, Phillipa Yarranton, Ally Housley.
Team Bath Netball starting combination: GS Betsy Creak, GA Sophie Kelly, WA Kirsty Harris, C Ali Wilshier, WD Imogen Allison, GD Lily-May Catling, GK Jayda Pechova. Impact players: Summer Artman, Annie O'Rourke, Bethan Dyke, Kadeen Corbin, Hannah Passmore.
Quarter-scores (Celtic Dragons first): Q1 18-10; Q2 27-28 (9-18); Q3 42-38 (15-10); Q4 54-45 (12-7).