Posted 20th Feb 2023
Team Bath Netball looking to "keep the vision open" as they head to Celtic Dragons for live-streamed Netball Super League Round 3 clash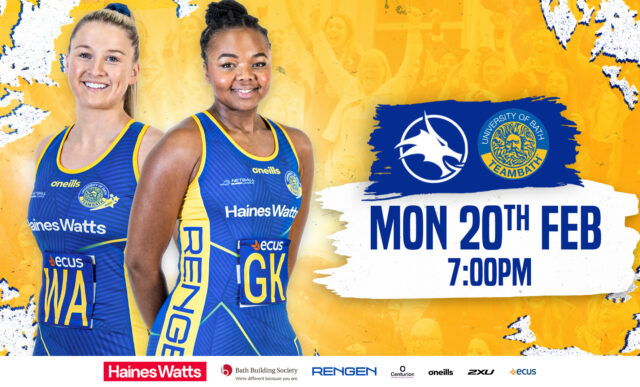 Team Bath match-day squad to face Celtic Dragons: Imogen Allison, Summer Artman, Lily-May Catling, Kadeen Corbin, Betsy Creak, Bethan Dyke, Kirsty Harris, Sophie Kelly, Annie O'Rourke, Hannah Passmore, Jayda Pechova, Ali Wilshier.
Team Bath Netball is supported by its Principal and Pathway Partner, chartered accountants Haines Watts; Bath Building Society and Rengen Developments, who are overall Team Bath Partners; Centurion Chartered Financial Planners; Ecus Ltd, our environment partner; and PDS Coaching, who provide performance mentoring. Team Bath's suppliers include O'Neills, 2XU and Pulseroll.
Match stats
London Pulse starting combination: GS Olivia Tchine, GA Sacha McDonald, WA Alicia Scholes, C Jade Clarke, WD Zara Everitt, GD Funmi Fadoju, GK Lindsay Keable. Impact players: Berri Neal, Ellie Rattu, Ashleigh Dekker, Chelsea Pitman, Halimat Adio.
Team Bath Netball starting combination: GS Betsy Creak, GA Kadeen Corbin, WA Kirsty Harris, C Ali Wilshier, WD Imogen Allison, GD Lily-May Catling, GK Jayda Pechova. Impact players: Summer Artman, Annie O'Rourke, Bethan Dyke, Sophie Kelly, Hannah Passmore.
Quarter-scores (London Pulse first): Q1 16-10; Q2 38-20 (22-10); Q3 57-29 (19-9); Q4 72-42 (15-13).