Posted 30th Aug 2022
Team Bath Netball thank quartet of players who are moving onto new challenges ahead of 2023 Superleague season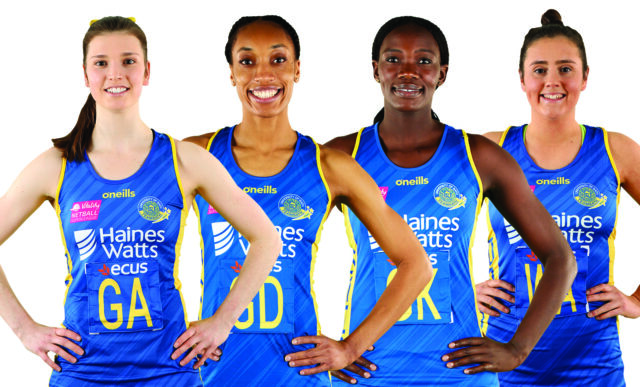 After revealing an exciting new-look 2023 Superleague squad, Team Bath Netball would like to thank four players who are leaving the club for new challenges.
Sophie Drakeford-Lewis, Layla Guscoth, Phumza Maweni and Jess Shaw all helped the Haines Watts-sponsored Blue & Gold win bronze medals during the 2022 league campaign.
Guscoth, who was named as Superleague Player of the Year last season, is moving on as her personal life and off-court career as a doctor take her away from the West Country. She enjoyed two outstanding spells with Team Bath, either side of a two-year stint playing professionally in Australia, where she cemented her status as arguably the world's best goal-defence.
She forged a brilliant defensive partnership last season with goal-keeper Maweni, who is returning to her native South Africa after completing her one-year contract with Team Bath. It was an impactful spell in Blue & Gold, with Maweni being voted by her fellow players into the Superleague's All-Star VII and named as Coaches' Player of the Year in Team Bath's end-of-season awards.
Goal-attack Drakeford-Lewis has emerged as one of England's most exciting attacking talents during five fantastic seasons with Team Bath, four of which she spent combining netball with studying Integrated Mechanical and Electrical Engineering at the University of Bath.
Having graduated in the summer of 2021, Drakeford-Lewis – named as the Superleague's Young Player of the Year in 2019 – has decided to move on to other netballing and career horizons. She recently competed at the Birmingham 2022 Commonwealth Games, as did Guscoth and Maweni, as England and South Africa finished fourth and sixth respectively.
Mid-courter Shaw, whose older sister Rachel has retired this summer, enjoyed two spells in Blue & Gold and helped Team Bath win their first-ever British Fast5 All-Stars title last October. She was part of the England U21 squad that won World Youth Cup bronze in 2017.
Team Bath Netball Head Coach Asha Francis said: "We would like to thank Layla, Sophie, Phumza and Jess for the contribution they have made to the Blue & Gold. They will be greatly missed but their impact will remain, particularly for the young players who got to learn so much by training alongside and against players of such quality. We wish all of them the very best in the next stage of their netballing journeys."
Stay up-to-date with all the squad, fixture and ticket information by signing up to the Blue & Gold newsletter at netball.teambath.com/newsletter.